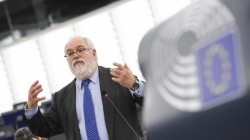 18 Mar 19 - The European Parliament have voted in favour of increasing the EU's 2030 emission cuts target to 55 per cent and a net-zero mid-century target, bringing an end to weeks of infighting.

11 Mar 19 - Norway is planning to ditch some oil and gas stocks from the country's $1 trillion sovereign wealth fund, but has exempted majors like Shell and Exxon Mobil.

11 Mar 19 - The largest body of ice in the northern hemisphere faces a problem scientists had not identified before: Greenland's winter rain is accelerating the loss of its vast store of ice.

6 Mar 19 - Extreme weather events have been the "main driver" of an olive harvest collapse that could leave Italy dependent on imports.

6 Mar 19 - Top business leaders believe that the transition to a climate neutral economy will create new opportunities for Europe.

4 Mar 19 - The Finnish parliament has approved a government proposal to ban the use of coal to produce energy from May 1, 2029.

4 Mar 19 - The European Commission has invested more than €10 billion in clean technology to boost its global competitiveness.
---
1 Mar 19 - An Italian who run a bookshop cafe is giving free books to children in exchange for plastic bottles and aluminum cans.
27 Feb 19 - A group of experts has published a draft treaty for a sweeping European climate finance pact, to inject more than a trillion euros into the fight against global warming.
26 Feb 19 - The German environment ministry is calling for an ambitious goal to cut emissions by "at least 95 per cent" by 2050 and remove the remainder from the atmosphere.
25 Feb 19 - Schoolkids are on climate strike "because we have done our homework" and listened to science, 16-year-old green activist Greta Thunberg has told EU policymakers in Brussels. "Just unite behind the...
20 Feb 19 - Most European companies have no target for reducing their greenhouse gas emissions even though 80% see climate change as a business risk, a survey has found.
19 Feb 19 - Ireland's struggle with climate change cuts to the heart of people's daily lives and reflects the country's revival after recession: more cars on the road and thriving cattle farms.
18 Feb 19 - Residents of a coalmining region in Siberia have been posting videos online showing entire streets and districts covered in toxic black snow that critics say highlight a manmade ecological...
13 Feb 19 - Sweden's shipping sector is preparing to end the use of fossil fuels domestically by 2045, in line with national climate goals.
13 Feb 19 - Russian environmental authorities have deployed a team of specialists to a remote Arctic region to sedate and remove dozens of hungry polar bears that have besieged the people living there.
13 Feb 19 - A small Danish island ends fossil fuel use by combining ambitious aims with ensuring that local people have a say in cleaner replacements.
11 Feb 19 - The French government has proposed legislation committing the country to carbon-neutrality by 2050.
29 Jan 19 - Germany will stop burning coal for electricity by 2038, under plans finalised by a commission at the weekend.
---