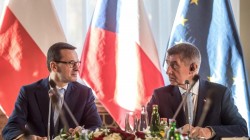 Monday - The European Council has failed to agree on a landmark climate strategy for 2050 as the Czech Republic, Estonia, Hungary and Poland baulked at the mention of a specific date.

19 Jun 19 - Germany, Greece, Italy and Slovenia have added their names to a growing list of EU countries supporting a carbon neutrality objective for 2050, increasing the chances that a deal will be struck at a summit later this week.

18 Jun 19 - Ireland has unveiled an ambitious plan to tackle the climate emergency by weaning the state, businesses, farms and households off fossil fuels.

5 Jun 19 - Finland is outbidding New Zealand in the drive to carbon-neutrality, saying its economy will be effectively carbon-free by 2035 - 15 years earlier than New Zealand plans to get there.

29 May 19 - Europeís Greens, big winners in the weekend's EU elections, will use their newfound leverage in a fractured parliament to push an agenda of urgent climate action, social justice and civil liberties, the movementís leaders say.

28 May 19 - With its new reactors needing modifications and its older ones awaiting costly updates, Franceís nuclear industry is in trouble.

27 May 19 - People across Europe must move to nine-hour week if carbon levels do not change, says a thinktank.
---
24 May 19 - The EUís global climate leadership is at stake as a new political cycle begins amid increasingly polarised public opinion.
14 May 19 - Students at Irish schools are being let down by the countryís education system, say lawmakers demanding full climate change literacy.
13 May 19 - Controversy has erupted over the environmental impact of football fans travelling across Europe in coming weeks Ė to watch English sides play each other hundreds of miles from home.
10 May 19 - Three of the largest ports in Europe will be used to capture and bury 10 million tonnes of CO2 emissions under the North Sea.
10 May 19 - More than 30 years after the nuclear accident that scared the world, the Chernobyl is inhabited by brown bears, bisons, wolves, lynxes, wild horses, and more than 200 bird species.
9 May 19 - The names of Germany, Italy and Poland were notably absent from an appeal to boost EU climate action ahead of a major summit on the future of Europe taking place in Romania tomorrow.
6 May 19 - Cars and motorbikes running on petrol or diesel will be banned from driving in Amsterdam from 2030.
1 May 19 - Spaniards have thrown their weight behind a Green New Deal programme in re-electing the pro-climate Spanish Socialist Party.
30 Apr 19 - The French professional football governing body and environmental group WWF have signed a partnership to reduce the ecological footprint of football clubs.
23 Apr 19 - Fears over climate change have led many to rethink the way they travel and, in Sweden, they've even invented a new word for the shame associated with flying.
18 Apr 19 - Europe needs its own Green New Deal to stave off the perfect storm of populism, climate change and economic crisis.
17 Apr 19 - A Finnish political party that campaigned against ambitious climate change policies has won the second-highest number of seats in parliamentary elections.
---