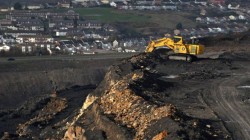 Friday - Future coal mining applications are set to be rejected as a matter of policy for the first time in Wales.

Friday - Three protesters jailed for blocking access to a UK fracking site have walked free after the court of appeal quashed their sentences, calling them "manifestly excessive".

18 Oct 18 - The Bank of England has told Britain's banks and insurers they must come up with credible plans for protecting themselves against risks from climate change and that they might need to hold more capital.

17 Oct 18 - The UK is taking a tentative step towards a radical "green" future with zero emissions of greenhouse gases.

16 Oct 18 - As she considers setting a date for the UK emissions to hit net-zero, UK energy and clean growth minister Claire Perry said fracking for new gas resources remained "pragmatic policy".

15 Oct 18 - One of the world's leading climate scientists, James Hansen, has launched a scathing attack on the UK government's fracking programme, accusing ministers of aping Donald Trump and ignoring scientific evidence.

15 Oct 18 - A 90-minute film with the working title Two Degrees will be shown on BBC television next March. It will be the first time BBC One has aired a primetime documentary dedicated to the topic of climate change since 2007.
---
8 Oct 18 - The UK Labour Party's plan for a low-carbon Britain breaks new ground and could offer a lifeline to a clean energy sector hit by the withdrawal of subsidies.
18 Sep 18 - Budget airline EasyJet and three other major companies have been reported to the UK's Financial Reporting Council for failing to adequately report to shareholders on their climate change exposure.
10 Sep 18 - The BBC, one of the world's largest and most respected news organisations, has issued formal guidance to its journalists on how to report climate change.
7 Sep 18 - The world's biggest offshore windfarm has officially opened in the Irish Sea, amid warnings that Brexit could increase costs for future projects.
16 Aug 18 - Some of the UK's largest pension funds are in danger of legal action over the risks posed by climate change.
6 Aug 18 - Some of the UK's oldest and most prominent church buildings are making the switch to 100 per cent renewable energy.
3 Aug 18 - A cross-party group of British MPs has called on the government to create a net-zero emissions target before 2050.
26 Jul 18 - The Cornwall community of Penzance last December became the UK's first plastics-free town. Now, 330 towns aim to follow suit.
25 Jul 18 - An investigation by a consumer body has found mixed results on the levels of recyclable plastic in the UK's largest supermarkets.
20 Jul 18 - England is on the brink of burning more of its rubbish in incinerators than it recycles for the first time, according to a new analysis.
16 Jul 18 - The UK can have low-carbon electricity, heat and transport in 2050 at the same cost as today's high-carbon energy system, according to infrastructure advisers.
11 Jul 18 - The Church of England will divest from all fossil fuel companies which are not taking steps to combat climate change.
---