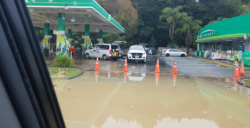 Wednesday - Insurance could be hard to get by mid-century on at least 10,000 homes vulnerable to flooding and storm surges, a new report shows.

Wednesday - Following today's planned climate emergency declaration, New Zealand will have to face up to the fact it has one of the worst climate records of industrialised nations.

Wednesday - Today is climate emergency day, when Prime Minister Jacinda Ardern will move in Parliament that New Zealand declares a climate emergency.

Wednesday - Ten years ago, as nations gathered in Cancun for international climate talks, China was promising to "do its bit" to cut global emissions.

Tuesday - Tomorrow's expected declaration by Parliament of a climate emergency in New Zealand should see an immediate scaling-up of investment in climate change funding and policies, businesses are telling the Government.

Tuesday - Climate activist organisation 350 Aotearoa will perform street theatre in the Octagon at lunchtime today in a bid to get the government-owned Accident Compensation Corporation to stop investing in fossil fuels.

Tuesday - Ten years ago, offers were rolling in for New Zealand's first buy tender under the Emissions Trading Scheme.
---
Monday - Joining a New Zealand-led trade pact on climate change could be more effective than putting up trade barriers on carbon, New Zealand will tell Europe and the United Kingdom.
Monday - By PATTRICK SMELLIE | There was an outburst of skeptical tongue-clicking last Thursday when Climate Change Minister James Shaw announced New Zealand will this week declare a state of 'climate...
Monday - Ten years ago, Opposition climate change spokesperson Charles Chauvel was having to pay his own way to international climate negotiations in Cancun, Mexico. Climate Minister Nick Smith and...
Monday - Parliament sits this week, with the James Shaw's climate emergency declaration expected in the House on Wednesday.
Friday - Genesis Energy – one of the country's biggest emitters of greenhouse gases – is considering selling its stake in the Kupe oil and gas field, freeing up money it could invest in renewable generation.
Friday - Climate minister James Shaw appears to be sticking with the new bullish approach he's adopted since the election.
Friday - Spot NZUs opened at $35.80 bid and $35.90 offered on CommTrade this morning, after last fixing at $35.80.
Friday - Kiwi singer Lorde has written an impassioned entreaty for the world to face the climate emergency head-on after visiting Antarctica.
Friday - Parliament sits on Tuesday, Wednesday and Thursday next week.
Friday - Ten years ago, South Korea said it would have carbon-capture-and-storage technology operating by 2020.
26 Nov 20 - One of New Zealand's largest emitters has made it on to the Dow Jones Asia-Pacific Sustainability Index.
26 Nov 20 - By GAVIN EVANS | Natural gas, especially when combined with carbon capture use and storage, can play a critical role meeting the world's net-zero carbon targets, BP economist Michael Cohen says.
---