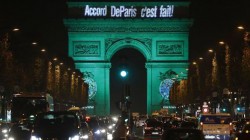 Friday - President Daniel Ortega has announced that Nicaragua will sign the Paris Agreement, leaving the US and Syria the only two countries not taking part in the global accord.

Friday - Theresa May has issued a veiled warning to Donald Trump, arguing that his plan to withdraw from the Paris climate change treaty ranks alongside North Korea's nuclear missile tests as a threat to global prosperity and security.

Friday - Fiji Prime Minister Frank Bainimarama has urged leaders in New York to look beyond narrow self-interest as he outlined his plans for the COP23 climate talks presidency.

Friday - The European Commission is preparing an update of its low-carbon economy roadmap for 2050, acknowledging that the bloc's current target of cutting greenhouse gas emissions at least 80 per cent by mid-century are insufficient.

Friday - Simplifying "sell by" dates should help to reduce food waste, which releases greenhouse gases as it rots in landfills. The move could save people money, too.

Friday - The extreme weather of the past months is a game-changer: surely now the world is ready to talk about climate change as a civilisation-collapsing catastrophe.

Friday - First prize in a tropical architecture design competition went to an 11-storey marvel built using recycled building materials, waste plastic and glass bottles.
---
Thursday - Spot NZUs opened today at $18.20 bid and $18.30 offered, after last fixing at $18.20.
Thursday - A coalition of global corporations has launched a global campaign to accelerate the shift to electric vehicles.
Thursday - India, the world's fifth-largest car market is readying for a stupendous transformation: moving completely toward electric vehicles by 2030.
Thursday - Right now, the capability of the UN's institutions to understand, prepare and respond to climate change risks is terrifyingly inadequate.
Thursday - Ignore Angela Merkel's reputation for supporting green initiatives. The German chancellor's record on environmental policy has been a disaster.
Thursday - Asian beverage giant San Miguel Corporation announced that it will soon discontinue its bottled water business as part of its strategy to limit plastic waste.
Thursday - The Arctic ice cap melted to hundreds of thousands of square miles below average this summer, according to data just released.
Thursday - The discovery of aquatic architecture has led scientists to compare the behaviour of cephalopods to humans – but octopus city life is no utopia.
Wednesday - Former UN climate chief Christiana Figures has called on the EU to step up regulatory action against deforestation in the global south by tackling emissions of imported agricultural goods like beef,...
Wednesday - The impact of rising temperatures on the Caspian Sea is gradually reducing the world's largest inland body of water to catastrophically low levels.
Wednesday - Vancouver - the mountain-fringed, bicycle-friendly, pot-loving host of the 2010 Winter Olympics - wants to be the world's greenest city by 2020.
Wednesday - Finance for electrification of developing countries is flowing at less than half the rate needed to achieve the global goal of universal access by 2030.
---