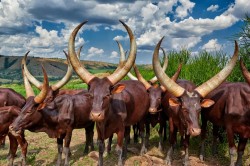 Tuesday - The drive for genetic selection means cattle are increasingly vulnerable to deadly new epidemics that could emerge as the climate warms.

Tuesday - The IPCC 1.5deg report wasn't strong enough and downplayed the full extent of the real climate threat, some scientists believe.

Tuesday - As she considers setting a date for the UK emissions to hit net-zero, UK energy and clean growth minister Claire Perry said fracking for new gas resources remained "pragmatic policy".

Tuesday - Australia's chief scientist Alan Finkel says the question facing the nation's energy future is not about renewables versus coal but how best to create "a whole-of-economy emissions reduction strategy".

Tuesday - The lush green lawns surrounding many homes, businesses, parks and other outdoor spaces might not be the greatest idea, according to scientists.

Monday - One of the world's leading climate scientists, James Hansen, has launched a scathing attack on the UK government's fracking programme, accusing ministers of aping Donald Trump and ignoring scientific evidence.

Monday - Incentives for consumers to buy hybrid and electric cars rather than diesel or petrol alternatives have been slashed by the UK government, adding thousands of pounds to the price of a new low-emission vehicle.
---
Monday - Sometime this month, a million electric vehicles will have been sold in the United States. But does it matter?
Monday - A new study shows that 43 per cent of Ausralian farmers accept climate change poses a risk to their region, compared with just 32 per cent five years ago.
Monday - A 90-minute film with the working title Two Degrees will be shown on BBC television next March. It will be the first time BBC One has aired a primetime documentary dedicated to the topic of climate...
Friday - Sponsored conifer plantations now cover hundreds of hectares of what once was rich farmland in Ireland, smothering the landscape and driving out endangered wildlife.
Friday - Sugary drinks giant Coca-Cola, a company valued at $US56.4 billion, has emerged as by far the most common brand in audits of plastic debris found on beaches and in waterways, parks and streets.
Friday - A major study finds huge changes to farming are needed to avoid destroying Earth's ability to feed its population.
Friday - When Canadian Prime Minister Justin Trudeau swept into power in 2015, he pledged to make fighting climate change a top priority for his government.
Friday - Some EU environment ministers admitted they were disappointed with the outcome after they voted to agree on a 35 per cent cut in car and van CO2 emission for 2030.
Friday - A vehicle powered by the sun and made out of plastic waste is set to explore Antarctica.
Thursday - US President Donald Trump says he 'will be looking at' the UN report warning that unprecedented changes are needed to avoid extreme heat, floods and poverty.
Thursday - Sometime in the next few weeks, global oil consumption will reach 100 million barrels per day - more than twice what it was 50 years ago - and it shows no immediate sign of falling.
Thursday - "Modern" bioenergy will lead the global expansion of renewable energy up to 2023, the International Energy Agency says in its latest forecast.
---