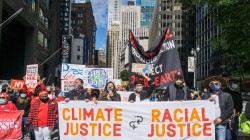 Today 11:15am - Youth activists are uniting to form a list of demands before President Biden's Earth Day summit.

Today 11:15am - Thirteen thousands scientists have declared that climate change is the biggest environmental emergency to beset the earth in millennia.

Wednesday - Landscape News reports that the newly popular field of soil microbiome restoration research could provide a major new tool for carbon capture.

Tuesday - Over a third of the Antarctic ice shelf is at risk of collapsing as Earth continues to warm.

Monday - A new study has found that economic growth and total greenhouse gas emission have been decoupled in 32 developed nations - including New Zealand... just.

Monday - European Union plans to impose taxes on carbon at its border are "discriminatory" and unfair to developing nations, ministers from Brazil, South Africa, India and China have warned.

9 Apr 21 - Climate change may be sparking more lightning in the Arctic, a study has found.
---
7 Apr 21 - Methane — a greenhouse gas far more potent than carbon dioxide — plays a major role in controlling the Earth's climate. But methane concentrations in the atmosphere today are 150% higher than before...
7 Apr 21 - While the pandemic has seen more of us get out of cars and onto our two feet or our bikes, it's also highlighted the differences in the availability of public spaces to men and women. As our cities...
6 Apr 21 - The first stratospheric test of geoengineering research technology, funded by Bill Gates, has been suspended under pressure from the indigenous people over whose heads it would take place, the Saami...
1 Apr 21 - Tired of being in relationships with people who don't live up to your sustainability credentials? ConsciousCupid matches earth-friendly singles with suitably woke partners.
31 Mar 21 - Nearly nine in 10 leading global climate economists think climate change will deepen income inequality between rich and poor countries, with most calling for urgent action to cut planet-warming...
24 Mar 21 - One in five of the world's 2000 largest publicly listed companies have now committed to a "net-zero" emissions target to help tackle climate change, researchers said on Tuesday.
23 Mar 21 - The world's biggest carbon-emitting companies are far from aligning with the Paris Climate Agreement, a report by the leading climate-focused investor group shows.
23 Mar 21 - Polluting industries are pouring hundreds of millions of pounds into sports sponsorship in an attempt to "sports-wash" their role in the climate crisis, according to the authors of a report published...
19 Mar 21 - An Icelandic startup has an intriguing solution to the emissions problem: turn carbon into stone.
12 Mar 21 - The idea that ecosystems have monetary value now has global support — and creates a route to protecting Earth's endangered regions.
8 Mar 21 - An Australian former minister widely criticised by environmentalists has made it to the final two contenders to lead the Organisation for Economic Co-Operation and Development
1 Mar 21 - The leaders of the International Monetary Fund and the World Bank are vowing to step up efforts to combat climate change by looking more closely at climate-related financial stability risk and using...
---