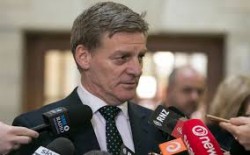 Monday - Carbon News is keeping count of the number of times political leaders talk in the lead-up to the September 23 general election about the biggest issue the world faces.

16 Jun 17 - New Zealand needs to set strong environmental limits and make polluters pay for the damage they do to the environment, the OECD says.

16 Jun 17 - A climate declaration backed by at least some parts of the business community will be launched in New Zealand on Sunday.

12 Jun 17 - The Government is spending $260,000 reviewing the extent of coastal litter problems.
6 Jun 17 - Prime Minister Bill English will raise the United States' withdrawal from the Paris Agreement when he meets with US Secretary of State Rex Tillerson today.

30 May 17 - Carbon prices need to a least quadruple by 2020 if the world is to avoid massive climate change, economists are warning.

25 May 17 - The Government is putting $4 million into figuring out how New Zealand can cut its greenhouse gas emissions.
---
25 May 17 - The $14.2 billion being bandied about this week as the cost of ­­­New Zealand's Paris Agreement pledge is not solely attributable to the purchase of international carbon credits.
24 May 17 - New Zealand should hedge its international carbon risk by buying European carbon units, a broker says.
16 May 17 - Free carbon credits for trade-exposed heavy emitters have cost taxpayers nearly $1.7 billion.
15 May 17 - The Government is getting ready to enact provisions that will actually cut New Zealand's greenhouse gas emissions.
10 May 17 - Parliament has again been told that the Government is getting advice on bringing agricultural emissions into the Emissions Trading Scheme.
4 May 17 - Officials are investigating whether a price should be put on agricultural greenhouse gas emissions, despite the issue being specifically excluded from the current review of the Emissions Trading...
3 May 17 - The Productivity Commission is to investigate the cost of decarbonising New Zealand's economy.
2 May 17 - Another Auckland University student has turned what might have been the biggest moment of her life to date – graduation – into a protest against the university's investment in fossil fuels.
1 May 17 - The Insurance Council's prediction that climate change-induced rising sea levels will burst the property bubble has been backed by a new report.
28 Apr 17 - Two major reports on climate change – one on the likely impacts on New Zealand, the other on ways the country can cut emissions – were released a year ago by the country's top scientific body, the...
20 Apr 17 - Higher carbon prices and a ban on new fossil-fuel electricity generation plants are the cornerstones of the Green Party's plan to get New Zealand to 100 per cent renewable generation by 2030.
18 Apr 17 - Talks to establish links between carbon markets in New Zealand and Korea are under way.
---