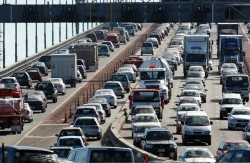 Tuesday - Decisions about transport infrastructure must line up with the Paris Agreement – and that means people living and working in the same area and almost zero emissions from vehicles, the Government says.

Tuesday - Plans to make companies disclose their climate risk have widespread support, if submissions are anything to go by.
Monday - Taxing oil and gas exploration and strengthening the Emissions Trading Scheme could be more effective ways of cutting greenhouse gas emissions than banning exploration, the Parliamentary Commissioner for the Environment says.

3 Apr 20 - Moves to make local councils consider greenhouse gas emissions in resource consents would have thrilled climate activist and former Green Party co-leader Jeanette Fitzsimons, says Environmental Defence Society chief executive Gary Taylor.

2 Apr 20 - A 2004 ban on considering greenhouse gas emissions in resource consents should be overturned, the Environment Select Committee has told Parliament.

2 Apr 20 - The Government is looking at ways to fast-track through the planning process projects under its covid-19 recovery package.

1 Apr 20 - The Government will back low-carbon projects in its post-covid-19 infrastructure spend-up – but only if they create jobs, says infrastructure minister Shane Jones.
---
1 Apr 20 - New wind turbines are among the projects the Government's Infrastructure Industry Reference Group is looking for to help to boost employment in the wake of the covid-19 pandemic.
31 Mar 20 - Reforming the Emissions Trading Scheme remains a priority for the Government, despite disruption caused by the covid-19 pandemic, says climate minister James Shaw.
23 Mar 20 - Political questions are being asked about the appropriateness of a State-owned company providing services in the carbon market.
20 Mar 20 - New Zealand could cut 1.5 million tonnes from its annual greenhouse gas emissions if it stopped wasting food, MPs say.
17 Mar 20 - Allowing emitters to use the Covid-19 pandemic as an excuse to slow action on climate change would be a mistake, environmental organisations are warning.
16 Mar 20 - New Zealand's national superannuation fund is hundreds of millions of dollars off because it has shed high-carbon investments, says chief executive Matt Whineray.
16 Mar 20 - Energy, transport, farming and forestry businesses are the first sectors to put their vision of a carbon-neutral New Zealand to the body charged with developing the country's carbon budgets.
12 Mar 20 - Most local authorities are talking big on climate action but failing to cut emissions in their own operations, the Green Building Council says.
11 Mar 20 - New clean-air rules for shipping will hit the Marsden Point oil refinery and some shipping operators in the pocket, the Ministry of Transport says.
11 Mar 20 - National's planned "bonfire" of regulations will be pyrotechnics if the Resource Management Act is thrown on the flames, the Environmental Defence Society says.
10 Mar 20 - The Climate Change Commission says controls on carbon prices should be lifted to about $50 a tonne now.
10 Mar 20 - The Ministry for the Environment says its staff numbers have increased as the Government has ramped up its workload.
---