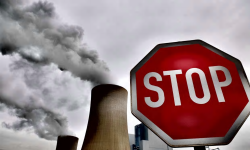 Today 11:00am - POWER plants in the EU will have to cut the amount of toxic pollutants such as nitrogen oxides they emit under new rules approved by member states.

Friday - Scientists have discovered massive amounts of a rare metal called tellurium, a key element in cutting-edge solar technology.

Thursday - The UK has launched a £8.6 million national research programme to investigate how to remove greenhouse gases from the atmosphere, the first of its kind.

Wednesday - Friday was Britain's first working day without coal power since the Industrial Revolution.

Wednesday - Three wind turbines in Scotland are generating electricity for the national grid and helping to raise funds to build affordable homes in rural communities.

21 Apr 17 - The Government is scrapping the Energy Star rating on home appliances.

21 Apr 17 - The fastest-growing occupation in the United States — by a long shot, according to the Bureau of Labor Statistics — is wind turbine technician.
---
21 Apr 17 - New York's thousands of food carts are generating carbon credits.
20 Apr 17 - Despite opposition from environmental groups and President Obama's 2016 ban on drilling in federal Arctic waters, exploration in Alaska has revealed massive new volumes of oil.
19 Apr 17 - Ekos founder Dr Sean Weaver is working on a new project – a non-market mechanism to raise private capital to fund climate-change adaptation projects in developing countries.
19 Apr 17 - Auckland swimming pool operator Northern Arena says switching to electric heat-pumps for its pools has been good for swimmers and good for the climate.
18 Apr 17 - Any lingering hope that a worldwide nuclear power renaissance would contribute to combating climate change appears to have been dashed by US company Westinghouse, the largest provider of nuclear...
12 Apr 17 - Technology that uses flying drones to generate electricity from the wind is getting a boost from a German utility.
10 Apr 17 - A Norwegian company plans to establish a solar-powered facility in the Aqaba desert in Jordan, capable of growing a variety of crops without wasting any fresh water.
7 Apr 17 - Uncertainty over the Government's plans to implement the Paris Agreement on climate change is keeping New Zealand's energy executives awake at night, says the World Energy Council.
7 Apr 17 - Brexit is undermining Europe's switch to renewable energy, the World Energy Council says.
7 Apr 17 - In a case of gamekeeper-turned-poacher, New Zealand's Green Building Council has improved the environmental performance of its own office.
7 Apr 17 - The European Parliament this week adopted a resolution calling the European Commission to phase out the use of biofuels based on vegetable oils by 2020, and to establish a single certification scheme...
6 Apr 17 - Europe's energy utilities have rung a death knell for coal, with a historic pledge that no new coal-fired plants will be built in the EU after 2020.
---