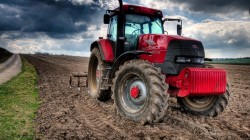 17 Jul 18 - While climate change takes a toll on agriculture and land use contributes to warming the planet, soils still find little attention from policymakers in their climate strategies.

17 Jul 18 - Researchers have compiled a database on food production around the world in order to determine the best means of reducing the environmental impacts of what we eat.

31 May 18 - A small amount of marine algae added to cattle food can reduce their methane emissions by as much as 99 per cent, scientists say.

16 May 18 - New Zealand's beef and sheep sector says it will be carbon-neutral by 2050.

10 May 18 - New Zealand's land-based primary industries need to get ready for more serious crop diseases as climate change causes longer droughts, warns new research.

8 May 18 - New Zealand is funding doctorate scholarships for nine young scientists to investigate ways to get greenhouse gas emissions out of food production.

23 Feb 18 - Nearly half of the world's pastureland is experiencing notable changes in precipitation, driving up the risk to grazing and herding communities.
---
13 Feb 18 - The warming climate could spell trouble for cabbages and broccoli. Research out today shows that seed dispersal by brassicas will be affected by rising temperatures.
2 Feb 18 - Agriculture stands at a crossroads between its current contributions to greenhouse gas emissions and the number of mouths it needs to feed in the developing world.
6 Dec 17 - Global greenhouse gas emissions would fall if people in rich countries like New Zealand ate healthily, Dutch scientists say.
5 Dec 17 - Americans need to halve the amount of beef they eat if the country's agriculture is to become sustainable, a new paper says.
22 Nov 17 - Climate change and other environmental risks now rank higher than economic issues in the minds of business and political leaders, according to a new report by New Zealand's dairy industry.
17 Nov 17 - Converting land from conventional agriculture to organic production could reduce greenhouse gas emissions, the run-off of excess nitrogen from fertilisers, and cut pesticide use.
15 Nov 17 - Fonterra says it is turning its back on coal as part of a drive towards being carbon-neutral by 2050.
15 Nov 17 - Last week, Fonterra's environmental manager, FRANCESCA EGGLETON, told a gathering at the COP23 climate talks in Bonn how the world's largest dairy producer is using data to reduce its environmental...
13 Nov 17 - Livestock emissions will have to be cut if the world is to keep warming down to Paris Agreement levels, two top New Zealand scientists are warning.
8 Nov 17 - An expensive Mediterranean black truffle has been cultivated in the UK for the first time, the farthest north that the species has been found.
8 Nov 17 - The weather is getting warmer, and gardens are coming alive with bees, flies, butterflies, dragonflies, praying mantises, beetles, millipedes, centipedes, and spiders.
7 Nov 17 - American agricultural conglomerate Cargill is testing the blockchain to track and trace the origin of turkey products produced by family farms.
---