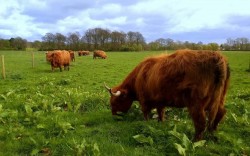 23 Feb 18 - Nearly half of the world's pastureland is experiencing notable changes in precipitation, driving up the risk to grazing and herding communities.

13 Feb 18 - The warming climate could spell trouble for cabbages and broccoli. Research out today shows that seed dispersal by brassicas will be affected by rising temperatures.

2 Feb 18 - Agriculture stands at a crossroads between its current contributions to greenhouse gas emissions and the number of mouths it needs to feed in the developing world.

6 Dec 17 - Global greenhouse gas emissions would fall if people in rich countries like New Zealand ate healthily, Dutch scientists say.

5 Dec 17 - Americans need to halve the amount of beef they eat if the country's agriculture is to become sustainable, a new paper says.

22 Nov 17 - Climate change and other environmental risks now rank higher than economic issues in the minds of business and political leaders, according to a new report by New Zealand's dairy industry.
17 Nov 17 - Converting land from conventional agriculture to organic production could reduce greenhouse gas emissions, the run-off of excess nitrogen from fertilisers, and cut pesticide use.
---
15 Nov 17 - Fonterra says it is turning its back on coal as part of a drive towards being carbon-neutral by 2050.
15 Nov 17 - Last week, Fonterra's environmental manager, FRANCESCA EGGLETON, told a gathering at the COP23 climate talks in Bonn how the world's largest dairy producer is using data to reduce its environmental...
13 Nov 17 - Livestock emissions will have to be cut if the world is to keep warming down to Paris Agreement levels, two top New Zealand scientists are warning.
8 Nov 17 - An expensive Mediterranean black truffle has been cultivated in the UK for the first time, the farthest north that the species has been found.
8 Nov 17 - The weather is getting warmer, and gardens are coming alive with bees, flies, butterflies, dragonflies, praying mantises, beetles, millipedes, centipedes, and spiders.
7 Nov 17 - American agricultural conglomerate Cargill is testing the blockchain to track and trace the origin of turkey products produced by family farms.
6 Nov 17 - There's the much-criticised battery hen egg, and then the pricier organic and free-range varieties. But for the truly ethically committed, how about the carbon-neutral egg, laid in what has been...
3 Nov 17 - Wellingtonians want rooftop gardens – and the idea is being investigated by the city's university.
20 Oct 17 - UN Environment has partnered with Dutch financial institution Rabobank to establish a $1 billion fund offering grants and loans to businesses interesting in investing in sustainable farming practices.
18 Oct 17 - Mergers in the agrifood sector squeeze farmers' income and consolidate current models of food production, aggravating environmental and social fallouts, according to experts.
9 Oct 17 - The global practice of feeding human foods, such as grain and soya, to farm animals will cost us $1.32 trillion a year by 2050, according to environmental campaigners.
5 Oct 17 - The world desperately needs joined-up action on industrial farming if it is to avoid catastrophic impacts on life on earth, according to the head of one of the world's most highly regarded animal...
---