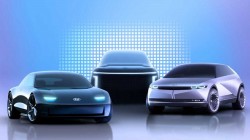 Tuesday - Hyundai to build three new EV models - including two new electric SUVs - under revamped and expanded Ioniq electric brand.

7 Aug 20 - The Government is putting $20 million into establishing a national network of hydrogen fuelling-stations.

6 Aug 20 - Greenhouse gas emissions from shipping increased by 9.6% from 2012 to 2018, as rising demand outweighed efficiency improvements.

5 Aug 20 - There aren't enough batteries in the world to electrify all the cars, so instead we should be focusing on trucks and buses.

3 Aug 20 - Air travel is resuming on many routes as restrictions to contain the spread of coronavirus ease.

31 Jul 20 - Rail operators could make big savings by choosing electric battery power over hydrogen fuel cells when replacing diesel engines, a new study has suggested, although the ever-changing price of energy means the jury is still out on the best power source.

29 Jul 20 - Europe's major airlines are likely to see their turnover drop by 50 per cent this year as a result of the covid-19 pandemic, while European airports expect to welcome 700 million fewer passengers.
---
27 Jul 20 - The world enjoyed cleaner air and clearer skies earlier this year as streets and highways largely emptied during coronavirus-related lockdowns. The sharp decline of oil-burning vehicles gave a...
24 Jul 20 - Electric vehicle-maker Tesla has posted its first full-year profit – not just beating analyst expectations but also cementing its position as the most valuable automaker in the world and highlighting...
22 Jul 20 - As with other parts of the global economy, covid-19 has led to rapid changes in transport trends.
10 Jul 20 - Electric vehicles can help to keep the air clean in cities – as we've seen recently with the reduction of traffic through covid-19 lockdowns – but they face two obstacles.
3 Jul 20 - The United Nations' aviation emissions offsetting scheme will not take 2020 into account when calculating how much airlines have to pay to neutralise their carbon dioxide output - a move...
29 Jun 20 - Nearly a quarter of Wellington's buses will be electric by 2023.
26 Jun 20 - The shipping industry is in urgent need of a makeover: while limited attempts are being made to lessen polluting emissions of climate-changing greenhouse gases in the road transport and aviation...
24 Jun 20 - The world's largest all-electric ferry completed 10 months of trials last week, as the EU-funded project revealed that battery-powered boats will save operators money compared to their diesel...
15 Jun 20 - The world's 14 biggest carmakers are on course to miss globally agreed climate targets, a leading sustainable finance think-tank has said, urging investors to do more to pressure boards to change...
5 Jun 20 - Hydrogen cars won't overtake electric vehicles because they're hampered by the laws of science.
29 May 20 - The coronavirus pandemic has grounded thousands of aircraft, contributing to the largest-ever annual fall in CO2 emissions. But at some point the planes will fly again and with them, global emissions.
26 May 20 - Bullet trains are back on Australia's political agenda. As the major parties look for ways to stimulate the economy after the COVID-19 crisis, Labor is again spruiking its vision of linking...
---