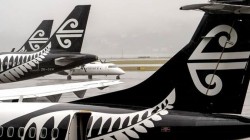 Tuesday - Air New Zealand's greenhouse gas emissions are rising faster than its emissions-reduction schemes are coping with, a new paper shows.

Tuesday - Ten years ago, aggregated bundles of New Zealand forestry credits were finding ready buyers overseas.

Tuesday - Greater Wellington Regional Council's environment committee meets today to set environmental priorities.

Monday - Greenhouse gas emissions from the Marsden Point oil refinery have fallen 20 per cent as a result of a deal exempting the refinery from the Emissions Trading Scheme, the company says.

Monday - Fewer than five per cent of the written questions to Government ministers lodged this year are about climate change.

Monday - Ten years ago, members of John Key's Cabinet were asking business leaders for information on climate change.

Monday - Cambridge University economist Professor Sir Partha Dasgupta will give a public talk in Wellington tomorrow on the economics of biodiversity (5.30pm-7pm, Lecture Theatre 1, Rutherford House, 23 Lambton Quay).
---
Friday - Tension is building over the allocation of free carbon credits to trade-exposed heavy emitters.
Friday - Climate change was on the lips of the leaders of two of the five parties in Parliament when it resumed this week.
Friday - The Government is considering introducing new rules to govern the use of inhibitors in agriculture to avoid a repeat of the 2013 DCD trade disaster.
Friday - Ten years ago, Korea was floating plans for a carbon tax. In 2015, it introduced an emissions trading scheme, which now covers 591 large emitting-companies.
Friday - Submissions close today on the Urban Development Bill, allowing what the Government calls better co-ordination of land, infrastructure and public assets in complex urban development projects.
Thursday - Climate change will be a major factor for more than a quarter of voters in this year's general election, a new poll suggests.
Thursday - The lack of a global carbon-trading market is holding back investment in offsets, a new report says.
Thursday - Ten years ago, a scientist calculated that when carbon was added into the mix, forest owners could afford to pay 10 times as much for land as they could if they were relying on income from wood...
Thursday - Parliament sits today, with MPs from the Environment Select Committee continuing hearing oral submissions on proposed changes to the Emissions Trading Scheme.
12 Feb 20 - Carbon dioxide emissions from energy production in the developed world has finally fallen to the level it was at in 1990, the Kyoto Protocol baseline year.
12 Feb 20 - Emissions from Australia's largest industrial emitters have surged to 60 per cent above 2005 levels, thanks to record growth in the oil and gas, transport and mining sectors, analysts say.
12 Feb 20 - Repeated mast years induced by climate change are damaging forests as pest numbers explode, new research shows.
---