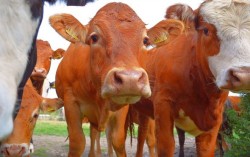 Wednesday - The Trump administration is tweaking how it measures the costs of emitting a potent greenhouse gas, a move that will have major impacts for climate rules.
Wednesday - Economist NICHOLAS STERN spoke in Oxford this month. The Conversation asked him about recent developments in the transition of the world toward an economy adapted to climate change.

Wednesday - What would happen if we treated climate change as a health problem rather than an environmental one?

Wednesday - Mexico is on track to generate the world's cheapest solar power — with prices as low as 1.77c a kilowatt hour.
Wednesday - Although abundant in captivity, the axolotl has nearly disappeared from its natural habitat - and that is a problem.

Tuesday - Former UN climate chief Christiana Figueres has made a rare intervention in Australian politics, urging the Turnbull government not to grant a controversial coal project a near A$1 billion loan.

Tuesday - European scientists have just reached two chilling conclusions about today's Earth by studying past climate lessons.
---
Tuesday - Cities account for 75 per cent of the world's energy use and 76 per cent of carbon dioxide emissions.
Tuesday - A German utility is planning a string of electric vehicle fast chargers every 120 to 180 kilometers along highways in seven European countries, from Italy to Norway.
Tuesday - A team of scientists is wondering if plants can protect us from climate change.
Tuesday - Worshippers in Indonesia, the world's largest Muslim-majority country, are set to go green with a new initiative that aims to establish 1000 eco-mosques by 2020.
Monday - One of the fathers of climate science is calling for a wave of lawsuits against governments and fossil fuel companies that are delaying action on what he describes as the growing, mortal threat of...
Monday - The climate talks in Bonn saw little drama other than some star turns and a pantomime villain. All eyes are now on Poland, the next summit host.
Monday - While the plight of low-lying Pacific islands should not be ignored, it is just as damaging to assume that their fate is already sealed.
Monday - Norway's $1 trillion fund is to consider divesting from oil and gas stocks to protect the country's economy from oil price risk.
Monday - Eastern Australia ranks in the top 10 of the world's major deforestation fronts – the only area in a developed nation.
Monday - Plans for more wired, networked, connected urban areas face challenges if they fail to account for existing, local, non-digital elements such as government and socioeconomic conditions.
Monday - Elon Musk has unveiled Tesla's first electric semi-truck at an event in Los Angeles that also included the surprise reveal of a new Tesla sports car.
17 Nov 17 - Carbon markets have become a vital piece of common ground for defenders of the climate. The tool is gradually extending around the world, bringing with it higher revenues.
---