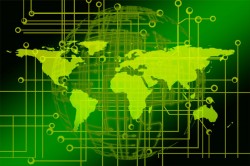 Friday - Our core ecological problem is not climate change. It is overshoot, of which global warming is a symptom

Friday - Supermarkets selling out-of-date produce and apps that identify food at risk of being binned are part of an ambitious plan to slash the nation's food waste

Friday - Fossil fuel not burnt because of wind and solar energy helped to avoid between 3000 and 12,700 premature deaths in the US between 2007 and 2015, says a new report.

Friday - Hyundai has confirmed it is placing electric vehicles at the centre of its product strategy — one that includes plans for a premium long-distance electric car as it seeks to catch up to Tesla and other rivals.

Friday - Al Gore's new film An Inconvenient Sequel: Truth to Power is different from his first film – it is much more biographical and focuses on how Gore became the great climate change communicator.
Friday - California scientists are sketching plans for a home-grown climate-research institute - to the tune of hundreds of millions of dollars per year.

Friday - A climate hazard that doesn't disappear when the rainclouds gather, drought's lingering death can delay recovery a very long time.
---
Friday - South Australia will build a 150MW solar thermal plant to bring clean, reliable power to the state.
Thursday - Indian mining giant Adani, seeking public funds to develop one of the world's largest coal mines in Australia, has been accused of fraudulently siphoning hundreds of millions of dollars of borrowed...
Thursday - Proposals for Adani's Carmichael coal mine in Queensland threatens not only the Great Barrier Reef, but also global efforts to reduce carbon emissions.
Thursday - An agreement to link the Swiss and European Union carbon markets could pave the way for other markets to link to the EU emissions trading scheme in future, says the International Emissions Trading...
Thursday - Inspired by national cricket hero Imran Khan, a province in Pakistan has planted a billion trees in just two years.
Thursday - The UK government this week is preparing to complete the $3 billion sale of its Green Investment Bank to a group led by Australia's Macquarie Group.
Thursday - At least 31 Alaskan communities face "imminent" existential threats from coastline erosion, flooding and other consequences of changing temperatures.
Thursday - The world can expect 3 per cent to 7 per cent less yield for each degree rise in temperature.
Wednesday - As the United States reverses its climate policies, the world's top greenhouse gas emitter, China, is in the midst of setting up a national carbon-trading system.
Wednesday - Climate policy in both Australia and the United States is being built upon alternative facts, fake news, outright lies, PR spin and industry-written talking points.
Wednesday - Despite public denials, the European Commission is considering implementing an electric car quota to be achieved by automakers by 2030.
Wednesday - Each summer, a large part of the Gulf of Mexico "dies". This year, the "dead zone" is the largest on record, stretching hundreds of miles from the mouth of the Mississippi, along the coast of...
---