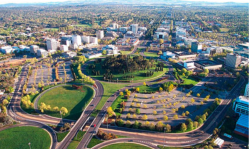 Monday - Canberra will become the first city outside Europe to shift from fossil fuel to 100% renewable energy.

Monday - A hoax photo that claims to show rubbish left behind by Australian climate strike protesters is circulating on Facebook, despite being revealed as fake months ago.
18 Sep 19 - A petition launched just days before the World Cup opens in Japan calls on the All Blacks to dump their principal sponsor AIG over ties to a controversial Australian coal mine development.

17 Sep 19 - More Australians are drowning as the country faces record high temperatures, lifesavers have warned.

12 Sep 19 - Faced with a ferocious summer with little rain forecast, the New South Wales government has embarked on a Noah's Ark type operation to move native fish to safe havens.
11 Sep 19 - Australians are increasingly concerned about droughts and floods, extinctions and water shortages associated with climate change, according to new research.

11 Sep 19 - Australia's minister responsible for drought and natural disasters, David Littleproud, has said that he doesn't "know if climate change is manmade".
---
6 Sep 19 - In Queensland, it seems the legacy coal generators are deciding not to ramp down as the market might expect. Instead, some observers suspect they are trying to force the solar plants out of the...
4 Sep 19 - The Australian Medical Association has formally declared climate change a health emergency, pointing to "clear scientific evidence indicating severe impacts for patients and communities now and into...
2 Sep 19 - Australia's greenhouse gas status has worsened again, showing a 0.6 per cent rise in the March quarter to a seven year high of 538.9 million tonnes of CO2 equivalent.
29 Aug 19 - Australia's Electric Vehicle Council is dismissing as nonsense claims that EVs emit more carbon dioxide than do fossil-fuel cars.
22 Aug 19 - The global engineering and consultancy firm Aurecon has severed a longstanding business relationship with the Adani Group, amid ongoing efforts by anti-coal activists to target firms working for the...
21 Aug 19 - Power stations in Victoria's Latrobe Valley and New South Wales's Lake Macquarie region have been named on a list of the world's biggest hotspots for toxic air pollution.
20 Aug 19 - Australia's role as a leader in the global fossil fuel trade is underscored by a report that finds it is the world's third-biggest exporter and fifth-biggest miner of fossil-related emissions.
16 Aug 19 - This week's Pacific Islands Forum comes at an important time in the overall trajectory of Prime Minister Scott Morrison's very personal commitment to an Australian "stepping up" in the Pacific.
15 Aug 19 - Modelling by the Australian Government shows 50 per cent of new domestic vehicle sales will be electric by 2035.
6 Aug 19 - Big miner BHP is again reviewing its membership of the Minerals Council of Australia lobby group following disagreements over environmental policy.
30 Jul 19 - Extreme climate events such as heatwaves, floods and drought damaged 45 per cent of the marine ecosystems along Australia's coast in a seven-year period.
18 Jul 19 - A freedom of information request has revealed Adani sought the names of Australian scientists involved in reviewing groundwater management plans related to its proposed Carmichael mine.
---