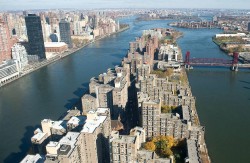 Friday - New York City's public housing authority is taking bids in a plan to lease its roofs for community solar projects that could power thousands of urban homes.

Friday - Climate change contributed to the wave of German immigration to the US that included Donald Trump's grandfather.

Thursday - California will collect $860 million from auctioning carbon-emissions permits after the allowances sold out at a record price for the second straight quarter.

Thursday - The US Senate Appropriations Committee this week introduced a bill that would cut nearly $150 million in funding for the Environmental Protection Agency next year.

Wednesday - The Trump administration is tweaking how it measures the costs of emitting a potent greenhouse gas, a move that will have major impacts for climate rules.

17 Nov 17 - As climate change fuels large wildfires, the pollution they're releasing is making Americans sick and undermining decades of progress in cleaning the air.

15 Nov 17 - Bill Gates is buying 25,000 acres near Phoenix, Arizona, on which to build a high-tech smart city named Belmont.
---
15 Nov 17 - To produce four US hamburger patties takes 25 kilogrammes of animal feed, 25 square metres of land, and about 220 litres of water.
9 Nov 17 - California State leaders are discussing banning the sale of the millions of cars that run on gasoline or diesel.
2 Nov 17 - US Environmental Protection Agency chief Scott Pruitt is poised to jettison scientists who have received grants from the EPA and replace them with industry experts and state government officials.
1 Nov 17 - Across the United States, the year's first freeze has been arriving further into the calendar, according to more than a century of measurements.
31 Oct 17 - As of late October, more than a dozen wildfires north of San Francisco had killed more than 40 people, burned approximately 160,000 acres and destroyed more than 7000 structures.
27 Oct 17 - The giant United States naval base at Norfolk is under threat by rising seas and sinking land - and little is being done to hold back the tides.
27 Oct 17 - The US Environmental Protection Agency has removed dozens of online resources dedicated to helping local governments address climate change.
27 Oct 17 - The risks to the US are big, and they're rising, a new report says - just as the Trump administration is changing how it calculates costs to make them look smaller.
25 Oct 17 - Texas power generator Luminant has announced it will close three coal-fired plants in early 2018. Combined, they account for 12 per cent of the state's coal power plant capacity.
19 Oct 17 - The mayor of Georgetown, Texas, Dale Ross is 'a good little Republican' – but ever since his city weaned itself off fossil fuels, he has become a hero to environmentalists.
16 Oct 17 - Fires, drought and warmer temperatures were to blame for excess carbon dioxide in the atmosphere during the 2015-2016 El Niño, say scientists with NASA's Orbiting Carbon Observatory-2.
12 Oct 17 - Hurricane-hit Puerto Rico has urged Tesla to turn the islands into a flagship project that can show the world what solar and batteries can do.
---