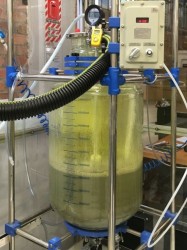 Today 5:00pm - An Auckland company looking to "mine" base and precious metals from electronic waste is being given a Government boost.

15 May 18 - UK supermarket giant Tesco cut its 2017-18 carbon emissions by 13 per cent on the previous year, and a full 26 per cent on 2015.
3 May 18 - BP's profits jumped 71 per cent during the first three months of the year, in the latest sign that the British oil company is back on the path to growth.

2 May 18 - Fonterra says it will replace some coal with wood at one of its factories, a move expected to cut greenhouse gas emissions by 2400 tonnes a year.

2 May 18 - Businesses wanting to disclose their carbon exposure to investors have a new tool.

23 Apr 18 - A massive cash burn and multiple factory snafus mean investors in Tesla are losing patience.

20 Apr 18 - New legal analysis shows that company directors in at least four Commonwealth countries must take action to address material climate risk or face legal and reputational risk.
---
17 Apr 18 - Declining numbers of bees, butterflies and midges could leave companies facing the prospect of reduced crop quality and a shortage of raw materials.
10 Apr 18 - Businesses ignore carbon liability at the country's peril, an international investment organisation is warning.
29 Mar 18 - All four of New Zealand's largest banks have received fail marks in a new climate change report analysing bank lending to fossil-fuel investments.
27 Mar 18 - Capital markets are "one of the most powerful tools in the fight against climate change" which is often "overlooked", says billionaire philanthropist Michael Bloomberg.
20 Mar 18 - Adidas chief executive Kasper Rorsted has let slip that his company last year sold one million shoes made out of ocean plastic.
12 Mar 18 - Finance experts are trying to figure out how to integrate environment, social and governance factors into investment planning by comparing returns of carbon-efficient and carbon-inefficient...
19 Feb 18 - Business lobbies in Europe and the US are pushing for a distinct, direct and formalised "business channel" into UN climate negotiations.
13 Feb 18 - Businesses are being told to price carbon into their forecasts now – regardless of whether they currently face a carbon price.
8 Feb 18 - A new global initiative to foster the circular economy principles has been backed by more than 30 major international companies.
7 Feb 18 - Swedish multinational Ikea has announced it is buying 25,000 acres of forest in Alabama.
26 Jan 18 - Tesla president and CEO Elon Musk stands to reap the word's biggest ever payday – $US70 billion ($NZ95b) by some estimates – if he can deliver on his company's new 10-year performance plan.
26 Jan 18 - The RE100 group of multinational companies pledging to run entirely on renewable energy has made astonishing progress over the past year.
---