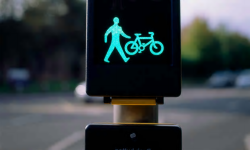 Today 11:00am - A new cycling and walking investment strategy is the first legislation of its kind to legally bind the UK government to long-term funding for cycling and walking provision.

Thursday - Governments around the world are looking for ways to increase consumers' use of fuel-efficient vehicles, including information in the form of labels.

21 Apr 17 - Toyota has again won the World Green Car-of-the-Year Award.

19 Apr 17 - By TIM RADFORD | Keep that seat belt buckled − it could be a bumpy flight. New research predicts that severe clear air turbulence in the stratosphere could increase by 149 per cent because of climate change.

19 Apr 17 - Seattle startup Zunum Aero has received funding from Boeing HorizonX and JetBlue Technology Ventures toward making its dream of electrified air travel a reality.

18 Apr 17 - German motorists are ready, in theory at least, to abandon their cars in favour of buses, trains and bikes, according to a new study.

18 Apr 17 - Tesla has announced it will launch its first all-electric truck toward the end of this year.
---
11 Apr 17 - Do you wear runners, drink coffee or own a mobile phone? The chances are that these products cruised to you on a ship.
6 Apr 17 - Elon Musk's electric car company has been valued at $49 billion, leaving the 100-year-old Ford motor manufacturer lagging behind.
5 Apr 17 - Diesel vehicles will disappear from roads much faster than expected, according to the European Union's industry commissioner.
3 Apr 17 - The city where the automobile was born has the dirtiest air in Germany – and a global drive to electric vehicles threatens its future.
31 Mar 17 - India's oil majors are eyeing up the lithium-ion battery market in preparation for an electric-vehicle boom.
30 Mar 17 - Better infrastructure for transporting people by bike is great. But cycle freight could free up roads and transform cities and towns, too.
27 Mar 17 - Small tweaks to flight paths could reduce the effects that aircraft have on climate by as much as 10 per cent, a new study shows.
24 Mar 17 - Carbon fibre is increasingly celebrated as a wonder material for the clean economy.
24 Mar 17 - London's iconic black cabs are going green with the opening of a £300 million electric vehicle manufacturing plant.
17 Mar 17 - Air New Zealand and Virgin Australia say they now have a shortlist of companies to supply them with biofuels.
17 Mar 17 - Britain and Europe's largest airport is not the most obvious target for an eco-friendly rebranding. Yet Heathrow Airport recently unveiled a new sustainability strategy.
16 Mar 17 - Mixing biofuels into aviation gas cuts chemtrails, new research shows.
---