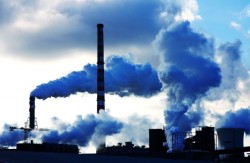 Today 11:00am - Global energy-related carbon emissions rose to a record high last year as energy demand and coal use increased, mainly in Asia.

Today 11:00am - UN chief Antonio Guterres is calling on world leaders to bring plans, not speeches to a climate summit he is hosting in September.

Today 11:00am - Should we become vegetarians? Is it OK to fly? The author of There Is No Planet B, a Handbook for the Make or Break Years, answers the big questions.

Tuesday - New analysis shows 22 of Australia's largest companies are actively working to undermine the Paris Agreement targets, betting shareholders' money on strategies that assume global climate change action fails.

Tuesday - Warren Buffett's home state of Nebraska is dealing with the aftermath of record flooding, but don't expect the billionaire investor to jump to the conclusion that climate change is responsible.

Tuesday - The day in 1815 when the world's climate went berserk was only the start of months and years of global climate disruption and social unrest.

Tuesday - While the push for a more sustainable fashion market is in its early days, individuals can still make easy choices right now to have a more environmentally friendly style.
---
Tuesday - Conservationists, researchers and volunteers are findng new technology in the form of drones is making their jobs a whole lot easier.
Monday - Russia is considering climate legislation that could give the world's fifth largest emitter a framework for regulating carbon emissions for the first time.
Monday - Insurers have warned that climate change could make cover for ordinary people unaffordable after the world's largest reinsurance firm blamed global warming for $24bn of losses in the Californian...
Monday - Local councillors in Cumbria have voted unanimously to approve a new deep coal mine, Britain's first in three decades.
Monday - Melting glaciers on Mount Everest have begun exposing the bodies of climbers who died on the mountain.
Monday - The BBC has just announced that David Attenborough, 92, will present a 60-minute film, Climate Change - The Facts, which will be screened this northen spring.
Friday - Ten years ago, Kiwi start-up CarbonScape was being recognised for its carbon-reducing potential.
Friday - In the first significant check on the Trump administration's "energy-first" agenda, a US judge has temporarily halted hundreds of drilling projects for failing to take climate change into account.
Friday - Australia, like its competitors Qatar, Canada and the US, aspires to become the world's largest exporter of gas, arguing this helps importing nations reduce their greenhouse emissions by replacing...
Friday - Waste from plants and trees could soon be fueling jet planes.
Friday - Toyota and the Australian Renewable Energy Agency will kick in $7.4m to transform part of the carmaker's decommissioned Melbourne car manufacturing site into a commercial-grade hydrogen production...
Friday - About 70 per cent of fresh produce sold in the US has pesticide residues on it even after it is washed, according to a health advocacy group.
---