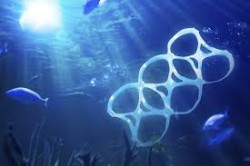 Today 10:00am - Climate change is the result of the greatest market failure the world has ever seen.

Today 10:00am - UK billionaire Sanjeev Gupta is looking to buy equipment from and use part of the old Holden factory in South Australia to create an electric vehicle production line.

Today 10:00am - Australia has been named among the top 10 nations investing in clean energy, with more than $11.3 billion spent on renewables in 2017.

Today 10:00am - Côte d'Ivoire's brown gold has gradually destroyed the country's national parks and protected forests.

Today 10:00am - The latest weapon in Cape Town's water saving arsenal is a map that exposes private meter readings to public scrutiny.

Today 10:00am - Saltwater intrusion and drought are destroying crops in one of the most fertile places on earth, prompting an exodus of farmers.

Today 10:00am - In recent months, our local supermarket has been purchasing silver beet wrapped in plastic.
---
Tuesday - Geoengineering to reverse climate change could wipe out more species than it saves, scientists are warning.
Tuesday - As other major powers find themselves in climate denial or atrophy, China might well boost its power and status by becoming the global energy leader of tomorrow.
Tuesday - All of Norway's short-haul airliners should be entirely electric by 2040, says the country's airport operator, cementing the Nordic nation's role as a pioneer in the field of electric transport.
Tuesday - Lloyd's of London, the world's oldest insurance market, has become the latest financial firm to announce that it plans to stop investing in coal companies.
Tuesday - In an age of worrying climate change and looming fossil energy decline, home-produced biogas is an extremely promising technology whose time has come.
Tuesday - Re: your article about Eugenie Sage and our waste problem.
Monday - Last year was the hottest since global records began that was not given an additional boost by the natural climate cycle El Niño, according to new data.
Monday - As Australian sports fans and players swelter through another summer season, questions of stadium design to deal with extreme heat are becoming more urgent.
Monday - The world's largest lithium ion battery has brought much needed flexibility to the South Australian grid, encouraging other Australian states to follow suit.
Monday - Taiyuan, capital of Shanxi province in China, replaced 8000 petrol-powered taxis with electric vehicles in a single year.
15 Dec 17 - Antarctic ice sheet models double the sea-level rise expected this century if global emissions of heat-trapping pollution remain high, according to a new study.
15 Dec 17 - Poland is in no hurry to ditch coal power any time soon but the new prime minister insists nuclear energy and renewable sources are a part of the country's future energy mix.
---