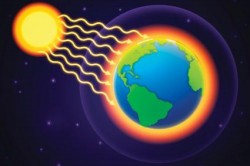 Wednesday - An increasing number of reports are identifying limiting global warming to 1.5deg as critical for the future of humans and nature.

Wednesday - US Navy town Norfolk sees itself as a living lab for coastal resilience, one in desperate need of solutions as flooding worsens. Not every neighborhood will be saved.

Wednesday - Humankind is revealed as simultaneously insignificant and utterly dominant by a groundbreaking new assessment of all life on the planet.

Wednesday - A former coal plant in the north of England will become the test site for a new way to remove carbon dioxide from electricity generation.

Wednesday - New York State has proposed telling coal plants to change the way they operate, or close down.

Wednesday - Researchers found a way to turn carbon pollution into graphite, a component widely used in batteries.
Tuesday - Royal Dutch Shell faces a shareholder challenge over climate change this week, as investors insist oil and gas firms should offer more transparency and action on carbon emissions.
---
Tuesday - Concerns over urban air quality and the rise in global temperatures have spurred technological innovation by car makers, meaning that the era of dirty diesel is now over.
Tuesday - The United Nations has warned the UK government that the country's reputation is at risk over plans that would significantly weaken protections for the environment after Brexit.
Tuesday - Electronic devices need to be repaired - and upgraded - if we are to slow our production of e-waste.
Tuesday - The kelp forests – those towering submarine tangles of brown seaweeds – might not survive the steady change of ocean chemistry.
Tuesday - Climate change means warmer and earlier springs. And that may be of no help to those bird species that get the timing wrong.
Monday - The shipping industry is concerned that compared with traditional fuels, greener alternatives have a greater potential to cause major accidents.
Monday - Elon Musk might need to tap capital markets for more than $10 billion by 2020 to fund Tesla's automaking operations, new products and an expected expansion into China,
Monday - Alaska, a major oil and gas producer, is crafting a plan to address climate change.
Monday - The Earth is not warming. The White Cliffs of Dover are tumbling into the sea and causing sea levels to rise. Global warming is helping grow the Antarctic ice sheet. Those are some of the skeptical...
Monday - Point Nemo in the Pacific is so far flung that the nearest humans are often those aboard the International Space Station. But even that hasn't saved it from the scourge of microplastics.
Friday - Scientists have detected a sharp and mysterious rise in emissions of a key ozone-destroying chemical centred somewhere in east Asia.
Friday - The Paris climate agreement will create 24 million jobs by 2030, according to a report released by the International Labor Organisation
---