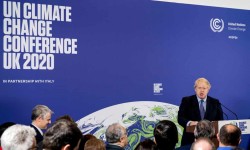 Friday - Green campaigners vowed to keep up the pressure on governments to make stringent new commitments on the climate crisis, as the COP26 climate summit was delayed until next year.

Friday - Analysts say the coronavirus pandemic and a savage price war means the oil and gas sector will never be the same again.

Friday - Former US president Barack Obama has urged voters to "demand better" of the government after the Trump administration rolled back a key Obama-era fuel standard intended to combat climate change.

Friday - The amount of energy generated by tides and waves in the past decade has increased 10-fold. Now governments around the world are planning to scale up these ventures to tap into the oceans' vast store of blue energy.

Thursday - Barclays has bowed to investor pressure over its climate track record and announced plans to shrink its carbon footprint to net zero by 2050.

Thursday - Renewable hydrogen has the potential to slash the global greenhouse gas emissions of fossil fuel power generation by more than one-third, but it's not the answer for low-carbon automotive transport, says a new report.

Thursday - Record heat and drought across Australia delivered the worst environmental conditions across the country since at least 2000, with river flows, tree cover and wildlife being hit on an unprecedented scale, says a new report.
---
Thursday - A surge in Asia Pacific carbon emissions and the degradation of its environmental resources is alarming, says the UN.
Wednesday - A group of Australian scientists, business leaders, public servants and academics is calling for nations to work together to develop a strategy for humans to survive climate change, pandemics and...
Wednesday - From an economic perspective, there are four possible futures post-covid-19: a descent into barbarism, a robust state capitalism, a radical state socialism, and a transformation into a big society...
Wednesday - Four global drinks giants are responsible for more than half-a-million tonnes of plastic pollution in six developing countries each year, enough to cover 83 football pitches every day, according to a...
Tuesday - The Global covid-19 crisis and the climate and biodiversity crises are deeply connected, health experts say.
Tuesday - Japan has laid out its plans to tackle greenhouse gas emissions under the Paris agreement in the run-up to UN climate talks this year, becoming the first large economy to do so.
Tuesday - The Trump administration's unprecedented decision to suspend enforcement of US environmental laws amid the covid-19 crisis throws a lifeline to the oil industry.
30 Mar 20 - The coronavirus pandemic and its economic fallout will trigger a skyward surge in sustainable, responsible and impactful investing over the next 12 months, says the CEO of one of the world's largest...
30 Mar 20 - The global response to the coronavirus pandemic is disrupting climate science.
30 Mar 20 - Governments and financial institutions are under growing pressure to make economic bailouts designed to counter the coronavirus pandemic dependent on climate action in the longer term.
27 Mar 20 - Scientists are monitoring the atmosphere at a mountaintop in Hawaii for clues that the coronavirus will be the first economic shock in more than 60 years to slow a rise in carbon dioxide levels that...
27 Mar 20 - The coronavirus pandemic is shutting down industrial activity and temporarily slashing air pollution levels around the world, satellite imagery shows.
---