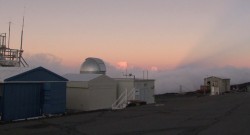 Friday - Scientists are monitoring the atmosphere at a mountaintop in Hawaii for clues that the coronavirus will be the first economic shock in more than 60 years to slow a rise in carbon dioxide levels that are heating the planet.

Friday - The coronavirus pandemic is shutting down industrial activity and temporarily slashing air pollution levels around the world, satellite imagery shows.

Friday - East Antarctic's Denman Canyon is the deepest land gorge on Earth, reaching 3500m below sea level. It's also filled top to bottom with ice which has a significant vulnerability to melting.
Thursday - The World Meteorological Organisation says it's too soon to predict the impact the covid-19 pandemic will have on climate change.

Thursday - The world might soon run out of space to store its extra oil as Saudi Arabia prepares to increase fossil fuel production.

Thursday - Smoke from Australia's recent bushfires killed hundreds of people and sent thousands to hospitals and emergency rooms, according to a new study.

Wednesday - Royal Dutch Shell plans to slash $9 billion from its spending plans to weather the collapse in oil market prices in the wake of the coronavirus outbreak.
---
Wednesday - Ten miles north of Pensacola, Florida, an aging chemical plant, its tanks, smokestacks and stainless steel pipes sprawling across hundreds of acres, is a climate killer hiding in plain sight.
Wednesday - Electric vehicles produce less carbon dioxide than petrol cars across the vast majority of the globe – contrary to the claims of some detractors, who have alleged that the CO2 emitted in the...
Tuesday - By MARK VICTORY | Concerns over the long-term impact of the coronavirus outbreak on key European recycling markets sharply escalated this week, following the adoption of further containment measures...
Tuesday - Changeable weather in mid-latitude countries might have masked the impact of climate crisis up to now, a new study finds.
Tuesday - Predictions based on past weather extremes are dramatically underestimating growing threats of extreme heat and rain linked to warming, researchers find.
23 Mar 20 - Decades of chronic underfunding of water infrastructure is putting many countries at worse risk in the coronavirus crisis, experts said as the UN marked World Water Day.
23 Mar 20 - The coronavirus pandemic has created a quandary for the climate activists just as the movement has achieved unprecedented momentum.
20 Mar 20 - Australia's Government has been told to implement comprehensive climate-change policies in the national interest.
20 Mar 20 - Greenland lost 600 billion tonnes of ice last summer due to an exceptionally warm season, according to a new study.
20 Mar 20 - In November 2002, a 46-year-old man from the Chinese coastal province of Guangdong developed a fever and struggled to breathe.
20 Mar 20 - General Motors' Bolt and Volt models never sold well, but now the company is touting a battery that has more range than Tesla's.
20 Mar 20 - Southeast Asia's aggressive development to spur economic growth are stripping the region's coasts of mangrove forests at rates faster than anywhere.
---