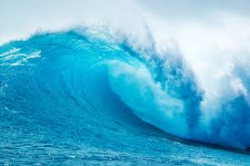 Thursday - Ocean waves are now hitting harder than ever. As the world warms, they gain in energy, impact and height.

Thursday - The founding companies behind a self-styled alliance to end plastic waste are among the world's biggest investors in new plastic-production plants, according to a European NGO.

Thursday - Nearly half of Americans say people in the US are being harmed by global warming "right now" - the highest point ever in a decade-long national survey called Climate Change in the American Mind.

Wednesday - Rising temperatures can be charted back to the late 1950s, and the past five years were the five hottest on record.

Wednesday - Sir David Attenborough has warned that "the Garden of Eden is no more", as he urged political and business leaders from around the world to make a renewed push to tackle climate change.

Wednesday - Fiji Prime Minister Frank Bainimarama used the Australian leader's visit to call out his promotion of fossil fuels, showing Scott Morrison is on the wrong side in the Pacific as well as at home.

Wednesday - A new Pentagon report identifies significant risks from climate change at scores of military bases and says the Defense Department is taking protective measures against the looming threat.
---
Wednesday - The French National Assembly has passed a bill explicitly saying palm oil "is not a biofuel" and won't be eligible for tax breaks as of January1, 2020.
Tuesday - Rising global temperatures could lead to many more deaths than the 250,000 a year predicted just five years ago, a new report says.
Tuesday - It was 48.9C last Tuesday in Port Augusta, South Australia, an old harbour city that now harvests solar power.
Tuesday - Sea-ice cover in Antarctica shrank rapidly to a record low in late 2016 and has remained well below average. But what's behind this dramatic melting and low ice cover since?
Tuesday - Tesla is cutting its full-time staff headcount by about 7 per cent, as it tries to reduce the price of its cars and boost margins, CEO Elon Musk has announced
21 Dec 18 - Spot NZUs opened at $25.00 bid and $25.10 offered this morning, after last fixing at $25.05.
21 Dec 18 - Miami's poor are being pressured to leave their high-ground homes as rising sea levels threaten the city's wealthy coastal suburbs.
21 Dec 18 - Even in a world with more intense rain, communities could begin to run short of water.
21 Dec 18 - Policymakers have severely underestimated the risks of ecological tipping points, according to a study that shows 45 per cent of all potential environmental collapses are interrelated and could...
21 Dec 18 - Strange as it might sound, the coal-promoting host of this year's climate negotiations, Poland, has one of the strongest carbon prices in the world.
21 Dec 18 - The deepest point on Earth is heavily polluted with plastic, scientists have discovered, showing how pervasively the world has been contaminated.
20 Dec 18 - Spot NZUs opened at $24.85 bid and $25.00 offered this morning, after last fixing at $24.85.
---