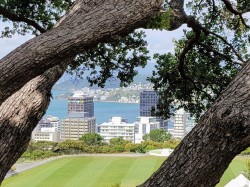 26 May 20 - One of the country's largest local authorities says the Government 's plans for urban development are at odds with its programme for combatting climate change.

19 May 20 - The Government will make no announcements about changes to the Emissions Trading Scheme until after surrender date on May 31.

18 May 20 - The Sustainable Business Council is calling for aa cross-party consensus over the spending of covid-19 pandemic recovery money on decarbonising the economy.

14 May 20 - The Government's plans for urban development are at odds with its programme for dealing with climate change, says Greater Wellington Regional Council.
11 May 20 - Businesses should not be forced to disclose their exposure to risks from climate change, Business New Zealand says.
5 May 20 - The biggest overhaul of the Emissions Trading Scheme since it was gutted in 2010 is back before Parliament.

5 May 20 - Farmers might be forced into the Emissions Trading Scheme before 2025 if they fail to make sufficient progress towards cutting greenhouse gas emissions.
---
5 May 20 - The National Party wants changes to the Emissions Trading Scheme put on hold for a year, citing economic uncertainty caused by the covid-19 pandemic.
4 May 20 - Plans to fast-track some covid-19 recovery projects through the Resource Management Act are winning approval from business and environmentalists.
30 Apr 20 - Greenhouse gas emissions are set to come back into the Resource Management Act, making it compulsory for councils to consider climate change in granting resource consents.
28 Apr 20 - The actions governments take now to stimulate their economies in the wake of the covid-19 pandemic will either slow or exacerbate climate change, international experts say.
28 Apr 20 - The Government is shelving plans to review the way electricity costs are calculated in deciding how many free carbon credits should be given to industry.
23 Apr 20 - New Zealand seems set to increase its Paris Agreement emissions reduction target.
17 Apr 20 - The Government has two months to get emissions reductions into covid-19 economic recovery plans before the public starts getting angry and demanding a return to the way things were, says Z Energy...
15 Apr 20 - Parliamentary Commissioner for the Environment Simon Upton says New Zealand should be thinking about a moratorium on new coal mines.
14 Apr 20 - The Climate Change Commission is calling on the Government to use its covid-19 recovery plan to kick-start the country's decarbonisation and says reform of the Emissions Trading Scheme should...
7 Apr 20 - Decisions about transport infrastructure must line up with the Paris Agreement – and that means people living and working in the same area and almost zero emissions from vehicles, the Government says.
7 Apr 20 - Plans to make companies disclose their climate risk have widespread support, if submissions are anything to go by.
6 Apr 20 - Taxing oil and gas exploration and strengthening the Emissions Trading Scheme could be more effective ways of cutting greenhouse gas emissions than banning exploration, the Parliamentary Commissioner...
---