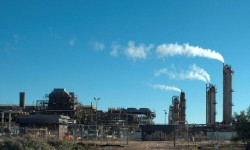 Tuesday - Fossil-fuel industry leaders and a controversial economist have joined a committee responsible for ensuring the integrity of projects that get climate funding in Australia.

10 Dec 20 - Australia's hottest spring on record, which saw temperatures more than 2deg above average, would have been "virtually impossible" without human-caused climate change, new analysis has found.

8 Dec 20 - Australian Prime Minister Scott Morrison does not yet have a speaker's spot at a global climate ambition summit this weekend, despite telling his parliament last week he intended to use an appearance at the event to "correct mistruths" about the government's heavily criticised record on emissions reduction.

2 Dec 20 - Australia has sweltered through its hottest spring and November on record, with both the season and the month more than 2deg warmer than the long-term average.

30 Nov 20 - Parts of Australia, including Sydney, have sweltered through the hottest November night on record with temperatures likely to stay high, prompting authorities to issue a total fire ban.

27 Nov 20 - Australia's top corporate leaders have met to discuss tackling climate change in line with the Paris Agreement as part of an environmental initiative backed by Richard Branson's The B Team.

17 Nov 20 - Steel giant BlueScope has announced a $A20 million investment to expand Australian manufacturing of components used in wind and solar projects, as the company prepares to meet a surge in demand for wind and solar components.
---
10 Nov 20 - The New South Wales Government is promising a $32bn private investment boom in renewable energy in regional areas under a plan to transform the state's electricity infrastructure.
3 Nov 20 - One of Australia's largest pension funds has agreed to settle a landmark climate risk litigation filed by a 25-year-old member who alleged it was failing to protect his retirement savings against...
2 Nov 20 - Australia's economy will be six per cent smaller, there will be 880,000 fewer jobs and $3.4 trillion in economic opportunities will be lost if the climate crisis goes unchecked for next 50 years, new...
2 Nov 20 - Australia must prepare for an "alarming" future of simultaneous and worsening natural disasters, says a long-awaited report into the country's bushfires.
30 Oct 20 - New polling shows 79 per cent of Australians care about climate change. So why doesn't the Government listen?
22 Oct 20 - Australian company directors want a more radical policy reset to recover from the covid-19 recession including bigger investments in infrastructure, reforms of industrial relations and a Green New...
21 Oct 20 - Former Australian Prime Minister Kevin Rudd says the spreading of misinformation about climate change and other issues warrants a Royal Commission investigation into Rupert Murdoch's media monopoly.
16 Oct 20 - Australian resources giant BHP may finally be starting to establish itself as a primary supplier of materials to the battery and electric vehicle markets, confirming that it has started to boost...
12 Oct 20 - Australia could unlock an investment boom of $A63 billion over the next five years if it aligns its climate policies with a target of net-zero emissions by 2050, according to new economic modelling.
29 Sep 20 - Picking winners has been anathema to Australian policy-making for decades. The federal government's technology investment roadmap bucks the trend, targeting public investments in specific...
29 Sep 20 - Veteran New South Wales Labor right-winger Joel Fitzgibbon has threatened to quit the shadow cabinet if the opposition adopts a medium-term emissions reduction target he cannot live with.
21 Sep 20 - Australian Prime Minister Scott Morrison has declined to sign up to a net-zero target by 2050 because he is "more interested in the doing".
---