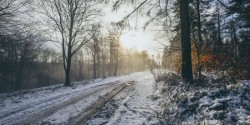 Friday - US scientists have found a new way to cut or offset 22% of the greenhouse gas emissions from American factory chimneys, car exhausts and power stations -- better land use.

12 Dec 18 - Outdoor clothing company Patagonia will be giving to the planet the $10 million it made as a result of President Trump's tax cuts.

10 Dec 18 - Ocean-front homes could be demolished along California's coastline under a groundbreaking proposal to preserve the state's made-for-movies beaches before they're destroyed by rising seawater.

10 Dec 18 - Among the tributes paid to former US president George H.W. Bush has been plenty of reflection on his war record – but less on how he handled himself during the early skirmishes of the climate battle.

5 Dec 18 - On a Pacific archipelago 2400 miles southwest of Hawaii, the United States' enormous military capability collides with the accelerating climate risk that threatens to erode it.

3 Dec 18 - The Trump administration is minimising warnings from scientists by arguing that they are exaggerated and based on the worst-case scenario.

26 Nov 18 - The US government's own climate scientists have issued a blunt warning that global warming is a growing threat to human life, property and ecosystems across the country, and that the economic damage will spiral in the coming decades.
---
26 Nov 18 - The Trump administration has tried to downplay the stark findings of its own climate change assessment, as Democrats sought to pressure the White House to avert looming economic and public health...
23 Nov 18 - US coal exporters have effectively lost a promising market in China since the imposition of tariffs but have managed to find other buyers in Asia, chiefly India.
20 Nov 18 - In a Democratic clash on Capitol Hill, progressives are pushing an ambitious plan to wean the U.S off fossil fuels. Meet the "Green New Deal."
20 Nov 18 - Damage from climate change to key US military shipyards would undermine the Pentagon's ability to respond to military crises and counter China's ambitions.
19 Nov 18 - The largest US West Coast commercial fishing association is suing 30 fossil fuel companies it says are accountable for harming shellfish and livelihoods as the ocean warms.
15 Nov 18 - The Trump administration plans to cut air pollution from heavy-duty trucks, marking one of its first moves to regulate US industry rather than roll back environmental standards.
13 Nov 18 - They've taken on polluters and built climate solutions. Now they're bringing activism to Congress in one of the most diverse freshmen classes in US House history.
13 Nov 18 - Since his first day on the job, when he surrounded himself with a police escort and rode through Washington on a horse named Tonto, US Interior Secretary Ryan Zinke has exhibited a flair for...
9 Nov 18 - John F. Kennedy was warned about "climate control" in February 1961, becoming perhaps the first American president to learn about people's impact on planetary temperatures.
8 Nov 18 - With their win of control of the US House of Representatives, Democrats will now have the numbers to put climate change issues back on the Congressional agenda.
6 Nov 18 - Two weeks after it put the case on hold, the US. Supreme Court has allowed a lawsuit brought by 21 children and young adults against the federal government over climate change to proceed.
2 Nov 18 - The big three US vehicle makers - GM, Ford and Fiat Chrysler - talk about a cleaner future, but in reality are pushing the sales of gas-guzzling SUVs and utes.
---