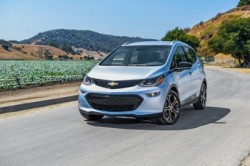 Friday - Sales of electric vehicles in California increased 91 per cent in the first quarter of this year, compared with the same period in 2016.

Thursday - As countries write the rules for airlines to offset their emissions growth, they must make sure there is no double-counting.

18 May 17 - Slow-steaming - the most effective method of cutting shipping emissions – will cause problems for New Zealand's fresh food exporters, Cabinet has been told.

17 May 17 - The global human health impact of the diesel emissions scandal has been revealed by new research showing a minimum of 38,000 people a year die early due to the failure of diesel vehicles to meet official limits in real driving conditions.

8 May 17 - The government's new plan to tackle the UK's toxic air crisis is "much weaker than hoped for", according to the environmental lawyers that forced ministers to deliver the proposals.

5 May 17 - Layering autonomous and electric tech with ride-sharing could cut carbon emissions 80 per cent by 2050, says a new report.

4 May 17 - Drivers of the most-polluting diesel cars in the UK will receive compensation if they trade in their vehicles for newer, cleaner models.
---
3 May 17 - The science now tells us that diesel vehicles cause more than four times the pollution than petrol cars.
1 May 17 - A new cycling and walking investment strategy is the first legislation of its kind to legally bind the UK government to long-term funding for cycling and walking provision.
27 Apr 17 - Governments around the world are looking for ways to increase consumers' use of fuel-efficient vehicles, including information in the form of labels.
21 Apr 17 - Toyota has again won the World Green Car-of-the-Year Award.
19 Apr 17 - By TIM RADFORD | Keep that seat belt buckled − it could be a bumpy flight. New research predicts that severe clear air turbulence in the stratosphere could increase by 149 per cent because of...
19 Apr 17 - Seattle startup Zunum Aero has received funding from Boeing HorizonX and JetBlue Technology Ventures toward making its dream of electrified air travel a reality.
18 Apr 17 - German motorists are ready, in theory at least, to abandon their cars in favour of buses, trains and bikes, according to a new study.
18 Apr 17 - Tesla has announced it will launch its first all-electric truck toward the end of this year.
11 Apr 17 - Do you wear runners, drink coffee or own a mobile phone? The chances are that these products cruised to you on a ship.
6 Apr 17 - Elon Musk's electric car company has been valued at $49 billion, leaving the 100-year-old Ford motor manufacturer lagging behind.
5 Apr 17 - Diesel vehicles will disappear from roads much faster than expected, according to the European Union's industry commissioner.
3 Apr 17 - The city where the automobile was born has the dirtiest air in Germany – and a global drive to electric vehicles threatens its future.
---