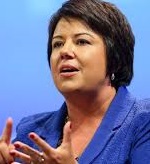 Today 9:00am - New Zealand isn't ready for a climate budget, says climate minister Paula Bennett.

Thursday - New Zealand should adopt a UK-style Climate Change Commission and all political parties should support it, says the Parliamentary Commissioner for the Environment.

Thursday - The latest changes to the Emissions Trading Scheme have met with mixed reactions.

Wednesday - The $25 price cap is staying for now, but the importation of international units will be restricted when the New Zealand carbon market opens to the world again, the Government has just announced.

Monday - The Ministry for the Environment has given the Government no advice on the climate implications of developing 13 new coal mines.

Monday - Climate change wasn't on the lips of New Zealand's political leaders last week, despite serious flooding in Canterbury and Otago and financial warnings from the world's first professor of the economics of disasters.

21 Jul 17 - Threats from climate change-induced sea-level rise and storms are not reflected in the market value of coastal New Zealand property, putting many people at risk of financial disaster.
---
20 Jul 17 - Planning to cut New Zealand's greenhouse gas emissions in line with the country's Paris Agreement commitments has been delayed because of the Ministry for the Environment's heavy workload,...
13 Jul 17 - The pan-political Globe climate group says cutting New Zealand's greenhouse gas emissions to net-zero by 2050 is worth serious discussion.
12 Jul 17 - The Government has been looking at approving new coal mines by creating special economic zones bypassing usual planning rules, Forest & Bird says.
11 Jul 17 - Young Green Party supporters are joining young National and Labour in supporting the Zero Carbon Act.
10 Jul 17 - Climate-related disasters have cost New Zealand more than $150 million this year.
7 Jul 17 - By publisher ADELIA HALLETT | Two political actions this week give us some hope that New Zealand might one day get the leadership it needs to survive and prosper in a carbon-constrained world.
4 Jul 17 - Lack of political certainty is damaging the effectiveness of carbon markets, says new research.
3 Jul 17 - The National Party's youth arm supports legislation to make New Zealand carbon-neutral by 2050, saying climate change is "bigger than politics".
3 Jul 17 - Climate change wasn't on the agenda for public statements by any of our political leaders last week.
27 Jun 17 - The Department of Conservation has not raised with its minister the climate implications of coal mining, despite being involved in a proposal to allow mining on conservation land on the Buller...
26 Jun 17 - Carbon News is keeping count of the number of times political leaders talk in the lead-up to the September 23 general election about the biggest issue the world faces.
16 Jun 17 - New Zealand needs to set strong environmental limits and make polluters pay for the damage they do to the environment, the OECD says.
---