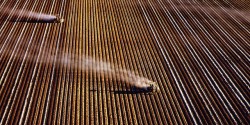 Today 9:00am - One of the biggest contributors to climate change is the agricultural food industry, but the political will to tackle the issue is lacking.

Friday - New Zealand's greenhouse gas emissions fell slightly in 2015 - but only because a drought forced dairy farmers to cut production.

Friday - The Government's Budget will not get landowners planting trees on the scale needed to meet New Zealand's Paris Agreement commitments, forest owners say.

Thursday - The Government is putting $4 million into figuring out how New Zealand can cut its greenhouse gas emissions.

23 May 17 - Substantial cuts to greenhouse gas emissions now will prevent New Zealanders alive today being exposed to temperatures they have never experienced before, says the New Zealand lead author of research published today.

16 May 17 - Free carbon credits for trade-exposed heavy emitters have cost taxpayers nearly $1.7 billion.
11 May 17 - A price range for carbon and a promise that changes to the Emissions Trading Scheme will be backdated would get landowners planting carbon-sequestering trees now, says the Forest Owners' Association.
---
10 May 17 - Parliament has again been told that the Government is getting advice on bringing agricultural emissions into the Emissions Trading Scheme.
9 May 17 - Planting forests to clean up waterways could cut New Zealand's net greenhouse gas emissions from land use by 80 per cent.
8 May 17 - Ingenuity in laboratories worldwide is harnessing microbes, water and hot air to produce different types of renewable energy from greenhouse gas.
4 May 17 - Officials are investigating whether a price should be put on agricultural greenhouse gas emissions, despite the issue being specifically excluded from the current review of the Emissions Trading...
3 May 17 - The Productivity Commission is to investigate the cost of decarbonising New Zealand's economy.
3 May 17 - European researchers stress urgency in tackling global warming to meet climate targets, and say the goal of a less than 2deg rise may be unrealistic.
3 May 17 - The 400 million people who depend on the predictability of the River Nile face an uncertain future as global warming delivers more extreme weather.
2 May 17 - Nitrite pollution caused by rising temperatures is changing the chemistry of coastal waters, threatening more algal blooms and zones devoid of fish.
28 Apr 17 - The Government is publicly acknowledging that the dairy industry is running into environmental limits.
28 Apr 17 - Two major reports on climate change – one on the likely impacts on New Zealand, the other on ways the country can cut emissions – were released a year ago by the country's top scientific body, the...
27 Apr 17 - Water quality in New Zealand's rivers is getting worse, says an official government report out today – and there's yet another warning that the country is running up against its environmental limits.
26 Apr 17 - Landowners with 10,000 hectares of native forest could earn $1.5 million a year in carbon credits, a new report says.
---