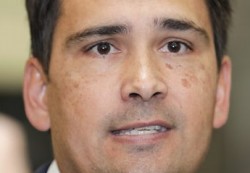 Today 11:00am - The National Party says it will continue to oppose bringing agricultural emissions into the Emissions Trading Scheme.

Friday - Directors should bear as much personal responsibility for the environmental damage their companies cause as they now do for the health and safety of their workers, the Government has been told.
Thursday - Britain is following New Zealand's lead in saying it will probably use international carbon markets in its drive to carbon neutrality - despite the advice of its own experts.

Thursday - Ten years ago, one of the world's largest carbon traders decided it would set up shop in New Zealand after all.

11 Jun 19 - Ten years ago, experts were saying that a quarter of the world's fossil-fuel emissions could be offset by changing the way we farm.

10 Jun 19 - The farming sector isn't the only industry that should be targeted for methane reductions, the National Party says.

6 Jun 19 - Just one New Zealand company has signed up to international guidelines on disclosing climate exposure to investors.
---
5 Jun 19 - It's World Environment Day – and officials are telling New Zealanders to mark it by eating less meat.
5 Jun 19 - Ten years ago, the Ministry of Agriculture and Forestry was telling farmers to get with the programme on climate change.
4 Jun 19 - Almost half New Zealand's farmers don't think they should have to cut greenhouse gas emissions from their operations – yet most are willing to do it if they can be convinced it won't cost them money,...
4 Jun 19 - Ten years ago, the Government announced the establishment of an international research centre to find ways to reduce greenhouse gas emissions from agriculture.
4 Jun 19 - Soils could store more carbon if they were managed better, scientists say.
30 May 19 - By BRIAN EASTON | Can we consume limited resources forever? Is economic growth just a Ponzi scheme in which we borrow from the future? Is economic growth as we know it coming to an end?
29 May 19 - Years of economic uncertainty, growing inequality and fear of an inhospitable planet have created two generations prepared to punish companies whose motives they suspect, a new survey shows.
28 May 19 - New Zealand's trade-exposed industrial emitters – who between them are given more than five million free carbon credits a year – have produced a plan to help to cut the country's greenhouse gas...
28 May 19 - New Zealand's largest private energy company is increasing its investment in renewables.
27 May 19 - The mining sector is positioning itself as part of the solution to climate change, as protesters gear up to disrupt the industry's annual gathering this week.
27 May 19 - Got an idea to save the world? It might just qualify for support under a new billion-dollar scheme.
24 May 19 - Companies in New Zealand could face compulsory climate-risk disclosure through new accounting standards.
---