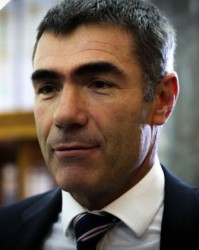 Today 10:00am - The Government is publicly acknowledging that the dairy industry is running into environmental limits.

Today 10:00am - Two major reports on climate change – one on the likely impacts on New Zealand, the other on ways the country can cut emissions – were released a year ago by the country's top scientific body, the Royal Society. Energy expert RALPH SIMS, who chaired the report committee, reflects on progress.

Thursday - Water quality in New Zealand's rivers is getting worse, says an official government report out today – and there's yet another warning that the country is running up against its environmental limits.

Wednesday - Landowners with 10,000 hectares of native forest could earn $1.5 million a year in carbon credits, a new report says.

21 Apr 17 - Changes to New Zealand's weather caused by global warming are starting to affect the country's agricultural earnings.

20 Apr 17 - The Harvard scientist who pioneered a "bionic leaf" that could generate the production of fuel has taken artificial photosynthesis a step further.

18 Apr 17 - Climate minister Paula Bennett says carbon prices need to go higher, but she won't be putting a price on agricultural emissions and she doesn't think New Zealand needs a climate commission.
---
12 Apr 17 - New Zealand's waterways are in trouble and climate change is making it worse, the Prime Minister's chief science adviser is warning.
12 Apr 17 - Auckland Council has joined the fossil-fuel divestment movement.
10 Apr 17 - Proposals for a carbon-neutral New Zealand will go before Parliament this week, as the nation's youth start to apply political pressure over the world they will inherit.
10 Apr 17 - The world is "meandering into a failed future" because of its unwillingness to take decisive action on climate change, a leading UK academic has warned.
10 Apr 17 - Even in the white-out world of ice, the Arctic is growing greener. Plankton blooms below the frozen ocean and in Greenland's icy mountains meltwater ponds become little ecosystems that will...
7 Apr 17 - Spare a thought for the farmers of America: climate change is going to make their lives more difficult.
6 Apr 17 - The state of New Zealand's environment is on the agenda for the country's politicians today.
5 Apr 17 - Myrtle rust – a fungus disease that could kill native and commercial trees – is in New Zealand.
5 Apr 17 - China, the world's most populous country, doubled within just 10 years its use of irreplaceable groundwater from underground reservoirs that are replenished more slowly than they are drained.
4 Apr 17 - Researchers from Ohio State University have found a way to recycle food waste, specifically eggshells and tomato skin, into car tyres, replacing carbon black, a petroleum-based filler used in...
4 Apr 17 - By 2020, fossil fuels will no longer be subsidised by the taxpayer, anywhere in the world. And by then, carbon dioxide emissions worldwide will have started to fall.
3 Apr 17 - The man likely to be the next Parliamentary Commissioner for the Environment says there might not be enough international carbon credits available to meet New Zealand's Paris Agreement targets.
---