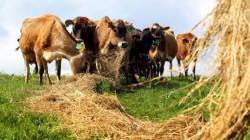 14 Dec 17 - New Zealandís greenhouse gas emissions from farming could have fallen by 20 per cent on 1990 levels if the efficiency gains of the past 25 years hadnít been used to boost production.

13 Dec 17 - In late 2015, officials gave new climate minister Paula Bennett as list of five things they thought should be done over the next two years.
12 Dec 17 - Climate minister James Shaw says the new climate commission will play a role in dealing with agricultural greenhouse gas emissions.

7 Dec 17 - Floods, fires, droughts, storms, slips, pests and diseases are Aucklandís future, threatening primary production and human health, warns a new report.

6 Dec 17 - Understanding why farmers are not taking advantage of ways to make more money while cutting greenhouse gas emissions is critical to getting New Zealandís emissions down, says a leading scientist.

6 Dec 17 - Global greenhouse gas emissions would fall if people in rich countries like New Zealand ate healthily, Dutch scientists say.

6 Dec 17 - This spring has set a mark as second-equal warmest on record.
---
5 Dec 17 - Americans need to halve the amount of beef they eat if the countryís agriculture is to become sustainable, a new paper says.
4 Dec 17 - New climate minister James Shaw has a clear message for business: get your house in order because New Zealand is decarbonising ... fast.
1 Dec 17 - New Zealand is being challenged to show the world how to decarbonise without tanking.
29 Nov 17 - As many as one in six species faces extinction as a result of climate change, scientists are warning in a new report.
24 Nov 17 - Parts of New Zealand are on track for the driest November on record.
22 Nov 17 - Climate change and other environmental risks now rank higher than economic issues in the minds of business and political leaders, according to a new report by New Zealandís dairy industry.
22 Nov 17 - The Trump administration is tweaking how it measures the costs of emitting a potent greenhouse gas, a move that will have major impacts for climate rules.
17 Nov 17 - New Zealand has just committed itself on the world stage to being carbon-neutral by 2050 and being a Pacific leader on climate change.
17 Nov 17 - New Zealand has signed up to a plan to cut methane and black carbon emissions from agriculture and waste.
15 Nov 17 - Fonterra says it is turning its back on coal as part of a drive towards being carbon-neutral by 2050.
15 Nov 17 - Last week, Fonterraís environmental manager, FRANCESCA EGGLETON, told a gathering at the COP23 climate talks in Bonn how the worldís largest dairy producer is using data to reduce its environmental...
13 Nov 17 - Livestock emissions will have to be cut if the world is to keep warming down to Paris Agreement levels, two top New Zealand scientists are warning.
---