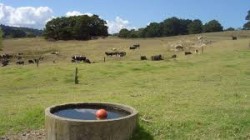 Monday - Sheep and beef farms are sequestering much less carbon than the drystock sector claims, officials say.

Friday - National Party leader Judith Collins seems to have abandoned her dismissal of the need for urgent action on climate change – and found a love for the Emissions Trading Scheme.

Thursday - Spot NZUs opened at $39.00 bid and $39.60 offered on CommTrade this morning, after last fixing at $39.20.

Thursday - Agriculture's impact on the planet is massive and relentless. Roughly 40 per cent of the Earth's suitable land surface is used for cropland and grazing.

23 Feb 21 - Greater Wellington and Waikato regional councils' climate change committees both meet this afternoon to consider, among other things, responses to the Climate Change Commission's 2021 draft report.

23 Feb 21 - Ten years ago, New Zealand farmers were using Australia's decision to keep agricultural emissions out of its carbon-pricing regime as an argument to do the same here.

22 Feb 21 - The Australian Government is backing soil carbon – drawing carbon from the atmosphere and storing it in the land – as a major part of its response to the climate crisis.
---
17 Feb 21 - The Farm to Fork Strategy is at the heart of the European Green Deal, aiming to make food systems fair, healthy and environmentally-friendly.
12 Feb 21 - China's National Energy Administration is considering an increase in the ambition of the country's clean energy programme this decade.
12 Feb 21 - The United States − per head of population perhaps the world's most prodigal emitter of greenhouse gases − can reverse that and have a carbon-free future within three decades, at a cost...
10 Feb 21 - Debate on the first reading of the Climate Change Response (Auction Price) Amendment Bill continues today.
9 Feb 21 - Parliament sits today for the first time this year, with the first reading of the Climate Change Response (Auction Price) Amendment Bill expected today.
9 Feb 21 - Australian Prime Minister Scott Morrison might be warming to the goal of net-zero emissions by 2050, but federal Nationals leader Michael McCormack has thrown a spanner in the works by suggesting...
5 Feb 21 - Parliament resumes on Tuesday, and select committees are back into full swing.
5 Feb 21 - Scientists are working on recovering atmospheric carbon to conjure aviation jet fuel from thin air.
4 Feb 21 - We need more than electric cars to save us - it's time to think about a whole new transport system, says applied mathematician Professor Robert McLachlan.
4 Feb 21 - Toitu Envirocare holds a webinar today on the impact of covid-19 on greenhouse gas emissions, include accounting for people working from home.
4 Feb 21 - The global food system is the biggest driver of destruction of the natural world, and a shift to predominantly plant-based diets is crucial in halting the damage, according to a report.
3 Feb 21 - Wairarapa farmer Mike Ashby feels the Government's 2025 deadline for bringing agriculture into the Emissions Trading Scheme hanging over his head like a Sword of Damocles.
---