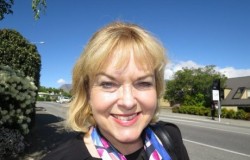 Today 11:00am - New National Party leader Judith Collins says zero-carbon legislation will stay in place under a government led by her, but there will be changes.

Tuesday - The majority of New Zealanders are satisfied with the Government's climate-change programme, new research suggests.

Monday - The future of the Marsden Point oil refinery, the Glenbrook steel mill and large-scale wood processing are all at risk as New Zealand decarbonises, infrastructure and regional development minister Shane Jones is warning.

9 Jul 20 - By ERIK MEIJAARD | Born in the Netherlands and brought up in Germany, it wasn't until I was 21 that I met my first coconut.

8 Jul 20 - The Government has unveiled a plan for the primary sector that includes a substantial switch to regenerative agriculture.

7 Jul 20 - A push to cut greenhouse gas emissions from the construction sector will inevitably lead to more wood in buildings, forest owners say.

7 Jul 20 - The livestock sector is being singled out in new research for hugely increasing global nitrogen pollution.
---
6 Jul 20 - MEDIA RELEASE - FOREST OWNERS ASSOCIATION - The Forest Owners Association is startled that the new Federated Farmers Meat and Wool Chair is asking the government to restrict the right of farmer...
2 Jul 20 - Agricultural industry leaders say they need to feed New Zealanders before the rest of the world.
1 Jul 20 - Infrastructure minister Shane Jones says New Zealand should be focusing its climate-change action on preparing for the impacts of a warming climate.
26 Jun 20 - The third leg of the Government's climate change legislation trifecta came home this week.
23 Jun 20 - Government suggestions that it will limit forestry conversions to 40,000 hectares a year could prevent the country being carbon-neutral by 2050, forest owners says.
22 Jun 20 - A powerful public-private lobby group – including the head of the Ministry for the Environment – wants money generated by the Emissions Trading Scheme put into a $2 billion fund to help companies to...
22 Jun 20 - Ten years ago, New Zealand scientists were hopeful that "switching on" a gene in white clover would reduce greenhouse gas emissions from grazing animals.
18 Jun 20 - A report on the global dairy industry hugely overstates Fonterra's carbon footprint, the New Zealand co-operative says.
17 Jun 20 - Parliament has passed major changes to the Emissions Trading Scheme, bringing agricultural emissions into the scheme and, for the first time, setting a cap on emissions.
17 Jun 20 - The Climate Change Commission will be consulted about projects being fast-tracked through resource consent as part of the covic-19 pandemic economic recovery.
16 Jun 20 - Fonterra is among 13 global dairy companies criticised for continuing to increase greenhouse gas emissions despite their climate damage.
16 Jun 20 - Climate Leaders' Coalition member Unilever says it will spend nearly $2 billion globally over the next decade on low-carbon projects ranging from regenerative agriculture to carbon sequestration.
---