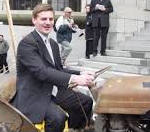 Friday - Political protests this week over fart taxes and water charges are at odds with research showing the agricultural sector knows it has to pay for its pollution.
18 Sep 17 - With less than one week left in the election campaign, Prime Minister Bill English has yet to mention climate change in any of his formal speeches or statements.

15 Sep 17 - The most commonly grown variety of kiwifruit around Te Puke will not be commercially viable in the area by the end of the century, say scientists.

12 Sep 17 - National is promising to almost triple the money it allocates to the Sustainable Farming Fund if it is returned to power.

11 Sep 17 - Two of the parties that could be involved in any centre-left coalition after the election want to scrap the Emissions Trading Scheme.

11 Sep 17 - The refusal by TVNZ to include The Opportunities Party in televised election debates does the public a disservice.

7 Sep 17 - New Zealand wonít get more carbon-sequestering forests until land prices fall.
---
7 Sep 17 - Maori need to get involved in fighting climate change, says Maori Party Kelston candidate Cinnamon Whitlock.
6 Sep 17 - National is taking a business-as-usual approach to climate policy, warning that Labour and the Greens would go too far if they got into government.
30 Aug 17 - New Zealand is supporting a new $400,000 scholarship programme to build global expertise on climate change and food security.
30 Aug 17 - Australasiaís biggest poultry company has been recognised for the sustainable way it manages water use at a New Zealand plant.
29 Aug 17 - Three-and-a-bit weeks out from the general election, what do we know about the partiesí approach to climate change?
25 Aug 17 - What will the political parties vying to run our country do about renewable energy?
24 Aug 17 - The extraction and burning of fossil fuels is responsible for much more methane in the atmosphere than scientists thought, research published today shows.
23 Aug 17 - Carbon offsetting by the two major domestic airlines operating in New Zealand doesnít fully reflect carbon emissions caused by air travel, says Consumer New Zealand.
23 Aug 17 - Rising carbon prices mean carbon farming, backed by manuka honey production, is becoming a viable use of Maori land, says the head of a Ruatoria charitable company.
11 Aug 17 - New Zealandís reported greenhouse gas emissions are on the rise again, new figures show.
11 Aug 17 - Every dollar spent on planting New Zealandís waterways would pay returns of at least $3.
11 Aug 17 - By 2050, heat waves, floods and other climate change effects wonít be the only worry. Thereís also the evidence that warming affects diet.
---