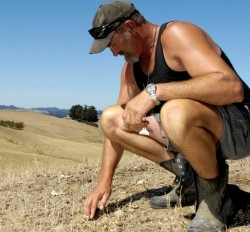 6 Dec 18 - New reports on drought and sea-level rise highlight New Zealand's lack of preparation for the impacts of climate change.

22 Nov 18 - Three New Zealand-owned banks are the new targets of anti-fossil-fuel campaigners.

21 Nov 18 - New Zealand needs an impact investment plan to push financing of the new economy, says a report out today.
12 Nov 18 - Climate mismanagement under the National government means New Zealand will have to use international carbon credits to meet its emissions reduction targets, says a leading carbon forestry executive.

9 Nov 18 - Air New Zealand is preparing the way to operate hybrid planes on its domestic regional routes.

8 Oct 18 - The International Panel on Climate Change's 1.5deg report delivers a wake-up call for two of New Zealand's biggest industries – agriculture and tourism.

26 Sep 18 - The Ministry for the Environment says it likes environmental taxes – especially for dealing with climate change and water problems.
---
27 Aug 18 - The Government's Provincial Growth Fund should be backing production in New Zealand of biofuel, says one of the players in a biojet consortium.
23 Aug 18 - Half of New Zealanders support carbon trading as a way of cutting the country's greenhouse gas emissions, a survey shows.
2 Aug 18 - More native trees would be planted if the Emissions Trading Scheme were simplified, says Air New Zealand.
4 Apr 18 - Frequent, affordable public transport is in and highways are out as the government battles to get New Zealand's runaway transport emissions under control.
1 Mar 18 - Fifteen per cent of global greenhouse gas emissions are now covered by trading schemes.
27 Feb 18 - Biofuels, liquid and gaseous, will have a role to play in moving towards net zero greenhouse gas emissions by around mid-century in both New Zealand and globally, says Professor Ralph Sims.
22 Nov 17 - Air New Zealand wants to set up a private afforestation scheme under the Emissions Trading Scheme to offset some of its greenhouse gas emissions.
8 Nov 17 - Carbon markets need to do things differently to avoid the mistakes of the Kyoto Protocol, a market watchdog says.
6 Oct 17 - Brisbane is set to become a hub for sustainable aviation fuel under an agreement between Virgin Australia and United States-based biofuel producer Gevo.
8 Sep 17 - New Zealand is burning more oil than ever, despite pledges to cut greenhouse gas emissions.
23 Aug 17 - Carbon offsetting by the two major domestic airlines operating in New Zealand doesn't fully reflect carbon emissions caused by air travel, says Consumer New Zealand.
19 Apr 17 - By TIM RADFORD | Keep that seat belt buckled − it could be a bumpy flight. New research predicts that severe clear air turbulence in the stratosphere could increase by 149 per cent because of...
---