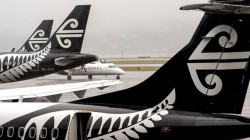 9 Nov 18 - Air New Zealand is preparing the way to operate hybrid planes on its domestic regional routes.

30 Oct 18 - Decarbonising the New Zealand economy cannot be a repeat of Rogernomics, says Environment Secretary Vicky Robertson.

25 Oct 18 - Tougher resource management rules and incentives to store carbon in native forests are among just-released recommendations to protect New Zealandís native species from climate change.

24 Oct 18 - New Zealand and Japan are working together to transition away from a reliance on fossil fuels with the signing of an agreement on hydrogen, says energy minister Megan Woods.

23 Oct 18 - Key companies and government officials are joining forces to prepare New Zealandís financial system for the low-carbon economy.
18 Oct 18 - Air pollution from vehicles and woodfires is affecting the climate and threatens the health of New Zealanders, a new report shows.

12 Oct 18 - By publisher ADELIA HALLETT | Depending on your viewpoint, the world moved closer to Ė or further away from Ė climate destruction this week.
---
10 Oct 18 - Cutting global emissions by 6 per cent a year should keep warming to no more than 1.5deg, one of New Zealandís top mathematicians has calculated.
8 Oct 18 - The International Panel on Climate Changeís 1.5deg report delivers a wake-up call for two of New Zealandís biggest industries Ė agriculture and tourism.
8 Oct 18 - Keeping global warming to no more than 1.5deg is possible and sensible, but it will not be easy, the International Panel on Climate Change says.
3 Oct 18 - By publisher ADELIA HALLETT | One of the most important scientific papers ever produced will be released on Monday, and the ramifications for New Zealand could be huge.
28 Sep 18 - Companies are being told to take a hard look at what they can do for New Zealandís struggling biodiversity Ė because itís good for business.
28 Aug 18 - Cutting New Zealandís greenhouse gas emissions was on the Prime Ministerís menu at a business breakfast in Auckland this morning.
27 Aug 18 - The Governmentís Provincial Growth Fund should be backing production in New Zealand of biofuel, says one of the players in a biojet consortium.
23 Aug 18 - Half of New Zealanders support carbon trading as a way of cutting the countryís greenhouse gas emissions, a survey shows.
2 Aug 18 - More native trees would be planted if the Emissions Trading Scheme were simplified, says Air New Zealand.
31 Jul 18 - Green Party co-leader James Shaw might be the climate minister, but itís in his statistics portfolio that he is about to change everything.
13 Jul 18 - New central bank head Adrian Orr is warning of financial crisis and mass social unrest if the world doesnít urgently address climate change.
4 Apr 18 - Frequent, affordable public transport is in and highways are out as the government battles to get New Zealandís runaway transport emissions under control.
---