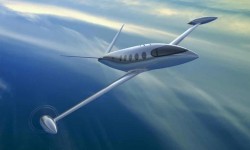 Today 11:00am - Aerospace companies gathering for the Paris air show this week are turning their thoughts to a future run on electricity rather than fossil fuels.

10 Jun 19 - The farming sector isn't the only industry that should be targeted for methane reductions, the National Party says.

6 Jun 19 - Just one New Zealand company has signed up to international guidelines on disclosing climate exposure to investors.

30 May 19 - The Government's $100 million Green Investment Finance fund says it is about to start investing.
30 May 19 - By BRIAN EASTON | Can we consume limited resources forever? Is economic growth just a Ponzi scheme in which we borrow from the future? Is economic growth as we know it coming to an end?

29 May 19 - Years of economic uncertainty, growing inequality and fear of an inhospitable planet have created two generations prepared to punish companies whose motives they suspect, a new survey shows.

27 May 19 - The mining sector is positioning itself as part of the solution to climate change, as protesters gear up to disrupt the industry's annual gathering this week.
---
27 May 19 - Got an idea to save the world? It might just qualify for support under a new billion-dollar scheme.
24 May 19 - Companies in New Zealand could face compulsory climate-risk disclosure through new accounting standards.
21 May 19 - National Party MPs are meeting this morning to decide whether they will support the Government's zero carbon bill.
17 May 19 - The Government is exposing the country to significant risk by delaying changes to the carbon pricing regime, says one of the architects of the Emissions Trading Scheme.
16 May 19 - The Government's new Tourism Strategy released today says the sector must "play its role" in dealing with climate change.
10 May 19 - The Government will have to explain why it ignores any recommendations on the Emissions Trading Scheme from the proposed Climate Change Commission, officials say.
9 May 19 - A poll to be released today shows a majority of New Zealanders – including National Party supporters - think the country needs to take action now on climate change.
9 May 19 - New Zealand's farmers might have to reduce methane emissions from animals by nearly four million tonnes a year under the Government's climate change plans.
8 May 19 - New Zealand's agricultural emissions will be cut – but not as much as other gases.
7 May 19 - New Zealand is being asked to declare a climate emergency just as the world is again reminded of the precarious state of the planet.
3 May 19 - Help is at hand for businesses and other organisations wanting to track their greenhouse gas emissions.
2 May 19 - The long-awaited Zero Carbon Bill is close – and New Zealand First expects its supporters will like it.
---