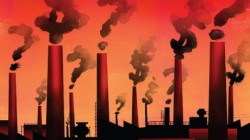 13 Dec 18 - Record carbon prices have failed to convince the Government that the price cap should be lifted immediately.

13 Dec 18 - Permanent forests are to come into the Emissions Trading Scheme, but there's no decision yet on recognising the carbon stored in timber products and whether landowners will be able to average out carbon stored in their forests.

12 Dec 18 - A cap on emissions, a system to manage carbon credits supply and prices, the inclusion of permanent forests, and the possibility of a price a price floor are the major changes to the Emissions Trading Scheme just announced by the Government.

12 Dec 18 - Using revenue from the Emissions Trading Scheme to fund carbon sequestration by farmers is one of the options the Government is considering as it opens discussion with other countries on ways of dealing with agricultural greenhouse gas emissions.

12 Dec 18 - New Zealand's efforts on climate change remain "highly insufficient" and consistent with twice the level of warming that scientists say we should not go beyond.

7 Dec 18 - Another report has confirmed that New Zealand cannot meet its Paris Agreement commitments without reducing the number of farm animals – and says that carbon prices up to $80 a tonne are needed to do it.

28 Nov 18 - A report out today saying that global emissions are rising again because of economic growth should be the bomb needed to blast us out of our self-congratulatory complacency.
---
28 Nov 18 - The National Party says the Government is "confused" over hydrogen technology and the use of natural gas.
27 Nov 18 - New Zealand should keep producing food and buy international carbon credits to cover its greenhouse gas emissions, says fertiliser co-operative Ravensdown.
9 Nov 18 - Air New Zealand is preparing the way to operate hybrid planes on its domestic regional routes.
30 Oct 18 - Decarbonising the New Zealand economy cannot be a repeat of Rogernomics, says Environment Secretary Vicky Robertson.
25 Oct 18 - Tougher resource management rules and incentives to store carbon in native forests are among just-released recommendations to protect New Zealand's native species from climate change.
24 Oct 18 - New Zealand and Japan are working together to transition away from a reliance on fossil fuels with the signing of an agreement on hydrogen, says energy minister Megan Woods.
23 Oct 18 - Key companies and government officials are joining forces to prepare New Zealand's financial system for the low-carbon economy.
18 Oct 18 - Air pollution from vehicles and woodfires is affecting the climate and threatens the health of New Zealanders, a new report shows.
12 Oct 18 - By publisher ADELIA HALLETT | Depending on your viewpoint, the world moved closer to – or further away from – climate destruction this week.
10 Oct 18 - Cutting global emissions by 6 per cent a year should keep warming to no more than 1.5deg, one of New Zealand's top mathematicians has calculated.
8 Oct 18 - The International Panel on Climate Change's 1.5deg report delivers a wake-up call for two of New Zealand's biggest industries – agriculture and tourism.
8 Oct 18 - Keeping global warming to no more than 1.5deg is possible and sensible, but it will not be easy, the International Panel on Climate Change says.
---