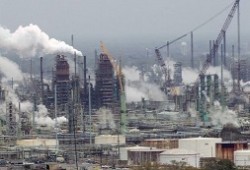 15 May 17 - With oil prices remaining low, hopes of combating climate change through emissions reduction are improving as the oil industry shrinks.

8 May 17 - Ingenuity in laboratories worldwide is harnessing microbes, water and hot air to produce different types of renewable energy from greenhouse gas.

7 Apr 17 - Uncertainty over the Government's plans to implement the Paris Agreement on climate change is keeping New Zealand's energy executives awake at night, says the World Energy Council.
4 Apr 17 - By 2020, fossil fuels will no longer be subsidised by the taxpayer, anywhere in the world. And by then, carbon dioxide emissions worldwide will have started to fall.

24 Mar 17 - A cross-party report on how New Zealand can get to net-zero emissions in the second half of the century ignores some immediate opportunities, the Bioenergy Association says.
17 Mar 17 - Air New Zealand and Virgin Australia say they now have a shortlist of companies to supply them with biofuels.

16 Mar 17 - Mixing biofuels into aviation gas cuts chemtrails, new research shows.
---
7 Mar 17 - New Zealand's largest liquid-fuel retailer says it could build another six biodiesel plants – if it gets the right support.
6 Mar 17 - A company whose products are responsible for 9 per cent of New Zealand's greenhouse gas emissions is asking the public what it can do to reduce them.
2 Mar 17 - New Zealand's own scientists' advice – that the country must move urgently to a low-carbon energy system – has been endorsed by the International Energy Agency, albeit in a sanitised way.
1 Mar 17 - When it comes to reducing carbon emissions, one of the biggest hurdles is the world's addiction to flying.
25 Jan 17 - The world's biggest oil conglomerate says it expects global energy demand to increase by a quarter in the next 23 years.
25 Jan 17 - By 2040, the number of electric cars in the world could have reached 715 million, says the International Energy Agency.
15 Dec 16 - The Government's plan to cut the emissions intensity from industrial heat generation by 1 per cent a year is just business as usual, and will do little to achieve New Zealand's Paris Agreement...
8 Dec 16 - The ditching of plans for a large geothermally driven wood-processing plant in Northland shows why the Government must sort out New Zealand's bioenergy plan, the industry says.
5 Dec 16 - New Zealand could easily become a Queensland-style biofutures superpower, local industry leaders say.
1 Dec 16 - Old tyres can be completely recycled into low-emission diesel engine oil, says a team of engineers.
11 Nov 16 - President … Donald … Trump. For those on both sides of the aisle who vowed "Never Trump!," that's going to take some getting used to.
26 Sep 16 - New Zealand could meet its Paris Agreement pledge without using foreign carbon credits and develop a $6 billion industry at the same time, says the Bioenergy Association.
---