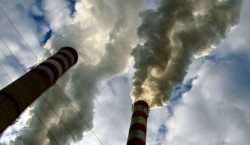 21 Dec 18 - The Government says the current cap on the price of carbon needs to stay in place while the Emissions Trading Scheme is reviewed.

13 Dec 18 - Record carbon prices have failed to convince the Government that the price cap should be lifted immediately.

13 Dec 18 - Insider trading is to be banned from New Zealand's carbon market.

12 Dec 18 - A cap on emissions, a system to manage carbon credits supply and prices, the inclusion of permanent forests, and the possibility of a price a price floor are the major changes to the Emissions Trading Scheme just announced by the Government.

12 Dec 18 - New Zealand's efforts on climate change remain "highly insufficient" and consistent with twice the level of warming that scientists say we should not go beyond.

27 Nov 18 - New Zealand should keep producing food and buy international carbon credits to cover its greenhouse gas emissions, says fertiliser co-operative Ravensdown.
12 Nov 18 - Climate mismanagement under the National government means New Zealand will have to use international carbon credits to meet its emissions reduction targets, says a leading carbon forestry executive.
---
1 Nov 18 - Buying international carbon credits to meet New Zealand's greenhouse gas emissions reduction commitments will be expensive and should be a last resort, the Government has been told.
31 Oct 18 - A global failure to cut greenhouse gas emissions will see New Zealand farmers face demands for major production cuts, the world's largest milk-producer is warning.
21 Sep 18 - Ditching free carbon credits for trade-exposed heavy emitters could generate $2.1 billion a year in revenue, the Tax Working Group says.
19 Sep 18 - The thorny question of whether land is eligible for carbon forests could soon be solved – with a map.
14 Sep 18 - The man who got politicians from both sides of Parliament to agree on climate change says there might be a third option for dealing with New Zealand's greenhouse gas emissions.
7 Sep 18 - Claims by the farming sector that cutting agricultural greenhouse gas emissions will cost farmers $230,000 a year by 2050 are wrong, the Productivity Commission says.
4 Sep 18 - The carbon market should be managed by a special authority, the Productivity Commission says.
4 Sep 18 - What went wrong with New Zealand's Emissions Trading Scheme? The Productivity Commission spells it out in a report released today.
24 Aug 18 - Trade-exposed heavy emitters should keep getting free carbon credits until 70 per cent of their international competitors face a carbon price, says Export New Zealand.
23 Aug 18 - Half of New Zealanders support carbon trading as a way of cutting the country's greenhouse gas emissions, a survey shows.
22 Aug 18 - The Government might crack down on companies using cheap credits to cover their carbon liabilities while banking or selling credits given to them by taxpayers.
16 Aug 18 - Carbon prices have smashed through the $24 barrier for the first time in nearly a decade of carbon trading in New Zealand, increasing pressure on the Government to lift the $25 price cap.
---