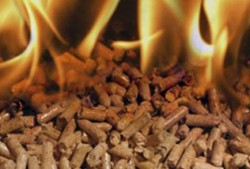 Wednesday - New Zealand's greenhouse gas emissions could be cut by more 640,000 tonnes a year by burning wood instead of coal in boilers in the Otago region alone.

14 May 18 - Taxes should be aiming at keeping human activity within the planet's physical capacity – and that means carbon prices that deliver fast, deep and sustained emissions reductions, the Government's Tax Working Group has been told.

30 Apr 18 - The Productivity Commission might be talking about big things from the energy sector, but the Government doesn't seem to want to know, says Bioenergy Association chief executive BRIAN COX.

24 Apr 18 - The Government is locating sources of international units that could be used to meet New Zealand's international climate obligations – but hasn't decided yet whether to use them.

18 Apr 18 - A new review of the Emissions Trading Scheme will be open for public consultation in August.
27 Mar 18 - Climate minister James Shaw is meeting with some of the country's biggest industrial emitters – but isn't saying what they're discussing.

26 Mar 18 - Climate minister James Shaw says he wants to cut New Zealand's use of fossil fuels, not give the sector carbon credits.
---
21 Mar 18 - New Zealand's largest oil and gas exploration company wants carbon credits for capturing and storing emissions from fossil fuel production – and says it's viable at a carbon price of just $18 a tonne.
15 Mar 18 - Meeting New Zealand's Paris Agreement pledge from domestic emissions cuts alone would put the country on a straight line to carbon-neutrality by 2050, officials have told the Government.
7 Mar 18 - The climate commission should make recommendations on the Emissions Trading Scheme and the number of international credits used to meet New Zealand's targets, but control should stay firmly in the...
7 Mar 18 - The Government says it's not yet formally involved in any moves to link the Emissions Trading Scheme to other markets, but it is talking to them.
6 Mar 18 - The Government knows delaying lifting the carbon price cap could cost taxpayers money, but says it is unlikely to move until next year.
26 Feb 18 - Energy minister Megan Woods today will be told how the country can use biofuels to cut its burgeoning transport emissions.
22 Feb 18 - Government officials appear to be putting more effort into working out how to purchase international carbon credits than into reducing the country's greenhouse gas emissions, says Bioenergy...
20 Feb 18 - The Government could hedge against its $10 billion future carbon bill now – with a money-back guarantee, says carbon trader Nigel Brunel.
19 Feb 18 - Officials are working on linking the Emissions Trading Scheme to schemes in other countries, saying it's the best way to secure the international carbon units New Zealand will need to meet its 2030...
16 Feb 18 - The Government says it is close to securing 50,000 hectares of land for new forests under its Billion Trees programme.
9 Feb 18 - Trade-exposed heavy emitters sitting on free NZUs from taxpayers will be able to keep using them - even if they did contribute to New Zealand's embarrassing "dodgy credits" incident.
8 Feb 18 - China's new carbon market will have a profound impact on electricity companies, says Standard & Poors.
---