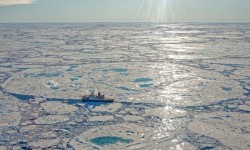 Wednesday - Scientists have found evidence that frozen methane deposits in the Arctic Ocean – known as the "sleeping giants of the carbon cycle" – have started to be released over a large area of the continental slope off the East Siberian coast, the Guardian reveals.

Wednesday - India's southern city of Hyderabad is known as a high-tech hub - but its infrastructure is looking increasingly dated in an era of strengthening climate change impacts.

Wednesday - While this year will be memorable for many reasons, it is now more likely than not that 2020 will also be the warmest year for the Earth's surface since reliable records began in the mid-1800s.

Wednesday - Half a planet apart, one low-lying and the other on the roof of the world, two huge regions confront an increasing dust risk − a menace to jobs, to food and to lives.

Tuesday - Japan's prime minister, Yoshihide Suga, has said the country will become carbon neutral by 2050, heralding a bolder approach to tackling the climate emergency by the world's third-biggest economy.

Tuesday - Twenty-eight countries, one American state and the European Union says they are committed to being carbon-neutral by 2050.

Tuesday - The European Commission will not stand in the way of countries that choose to build new nuclear power stations, said EU climate chief Frans Timmermans.
---
Friday - The World Bank's private lending branch is indirectly backing one of the world's biggest new coal complexes, despite a new green policy.
Friday - Electric cars will cost the same to make as conventional cars, with internal combustion engines, by 2024, according to new research.
Friday - Forests are the planet's biggest carbon "sink" – absorbing more carbon dioxide from the atmosphere than they emit – but their contribution to cooling the earth's climate is currently not fully...
22 Oct 20 - Switzerland has struck a carbon offsetting agreement with Peru, in what the two nations say is the first deal of its kind under Article 6 of the Paris agreement.
22 Oct 20 - Australian company directors want a more radical policy reset to recover from the covid-19 recession including bigger investments in infrastructure, reforms of industrial relations and a Green New...
22 Oct 20 - European Union farm ministers have clinched an early-morning deal on the post-2020 Common Agricultural Policy, touted as 'a paradigm shift in European food policy'.
22 Oct 20 - Once again science has presented evidence that a new geological epoch is here. This human footprint is all our own work.
22 Oct 20 - The European Commission will table new EU-wide regulations this autumn to ensure that batteries manufactured or imported into Europe are "the greenest on this planet".
21 Oct 20 - Nights are warmer. So are northern lakes. And farm livestock are at greater risk of disease, thanks to rising heat.
21 Oct 20 - Oil company ConocoPhillips has a problem; it wants to pump 160,000 more barrels of oil each day from a new project on Alaska's North Slope, but the fossil fuels it and others produce are leading to...
21 Oct 20 - Former Australian Prime Minister Kevin Rudd says the spreading of misinformation about climate change and other issues warrants a Royal Commission investigation into Rupert Murdoch's media monopoly.
20 Oct 20 - China has slammed the United States' environmental and climate record, in an extraordinary public attack less than two weeks before Americans go to the polls.
---