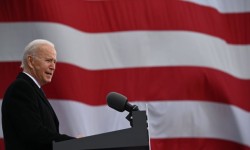 Friday - Joe Biden has moved to reinstate the US to the Paris climate agreement just hours after being sworn in as president, as his administration rolls out a cavalcade of executive orders aimed at tackling the climate crisis.

14 Dec 20 - As 2020 comes to a close, world leaders have sent a signal of their willingness to step up their climate ambition, at a virtual event celebrating the fifth anniversary of the Paris Agreement.

14 Dec 20 - BP, Glencore and Rolls-Royce are among eight FTSE 100 companies who have refused to comply with investor demands to disclose their carbon dioxide emissions, as the UK government prepares to compel firms to report their climate impact.

14 Dec 20 - Rich nations are "lagging badly" on a longstanding pledge to channel $100 billion a year in funding, from 2020 onwards, to help poorer countries develop cleanly and adapt to the worsening impacts of climate change, the U.N. chief said on Saturday.

11 Dec 20 - Scott Morrison has signalled Australia will not be granted a speaking slot at a climate ambition summit this weekend, despite telling Parliament a week ago he would attend to "correct mistruths" about the Government's heavily criticised record on emissions reduction.

11 Dec 20 - The world's wealthiest 1 per cent account for more than twice the combined carbon emissions of the poorest 50 per cent, according to the United Nations.

10 Dec 20 - Greenhouse gas emissions reached a new high last year, putting the world on track for an average temperature rise of 3deg, a new United Nations report shows.
---
10 Dec 20 - Australia's hottest spring on record, which saw temperatures more than 2deg above average, would have been "virtually impossible" without human-caused climate change, new analysis has found.
10 Dec 20 - The grasslands of northern China and Mongolia could be about to lurch into a climate tipping point, an irreversible sequence of heat and drought.
10 Dec 20 - Brazil has announced it will aim for carbon neutrality by 2060, sparking anger among campaigners who say the pledge is meaningless and a deliberate distraction from president Jair Bolsonaro's...
9 Dec 20 - At the end of year dominated by the coronavirus pandemic, world leaders are expected to revive momentum for climate action with fresh commitments to bring the goals of the Paris Agreement closer.
9 Dec 20 - No-one who was in the hall that winter evening in a gloomy conference centre on the outskirts of the French capital will ever forget it. Tension had been building throughout the afternoon, as after...
9 Dec 20 - Japan's greenhouse gas emissions fell 2.7 per cent to a record low in the 2019 financial year that ended March 2020, government figures showed on Tuesday, thanks to growing use of renewable energy...
8 Dec 20 - Deutsche Bank says it will join a small number of financial institutions that link management pay to environmental, social and governance-related criteria.
8 Dec 20 - Corporate pork and dairy producers are producing biogas to reduce methane emissions. But the actual climate benefits are unclear, and often overstated.
8 Dec 20 - The much-loved combination of beer and chips is being harnessed to tackle climate change.
8 Dec 20 - Australian Prime Minister Scott Morrison does not yet have a speaker's spot at a global climate ambition summit this weekend, despite telling his parliament last week he intended to use an appearance...
7 Dec 20 - The UK government has announced it will slash greenhouse gas emissions at least 68 per cent by 2030, compared to 1990 levels, in line with independent advice.
7 Dec 20 - Denmark's climate minister is fairly certain that the deal to close down the nation's oil industry by 2050, announced on Friday morning, marks the biggest moment in his career.
---