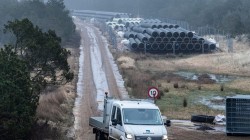 Today 11:15am - Europe is building or planning to build €87 billion worth of fossil gas infrastructure in a continued expansion of pipelines and LNG terminals, despite the need to halve emissions by 2030.

Today 11:15am - Rainforests are prized for storing carbon, but Mexico's cactuses are also vital to climate cooling, and provide leather too.
Today 11:15am - Youth activists are uniting to form a list of demands before President Biden's Earth Day summit.

Today 11:15am - Thirteen thousands scientists have declared that climate change is the biggest environmental emergency to beset the earth in millennia.

Today 11:15am - In Amsterdam, a group of forward-thinking people decided to go with the flow. Schoonschip, a self-sustaining floating community of more than 100 residents, boasts innovative technology like 500 solar panels and a green roof on every house.

Wednesday - THE Northern Territory could lose one-third of its doctors because of the ever-increasing heat, according to a new study ringing alarm bells for all regional areas.

Wednesday - Landscape News reports that the newly popular field of soil microbiome restoration research could provide a major new tool for carbon capture.
---
Wednesday - More than 300 businesses have called on President Joe Biden to nearly double U.S. targets to reduce planet-warming emissions below 2005 levels by 2030.
Wednesday - The world's wealthy must radically change their lifestyles to tackle climate change, a report says.
Wednesday - At any moment, on any school day, the entire future of the Quileute Tribe is at risk.
Tuesday - France is offering the owners of old, exhaust-belching cars the opportunity to hand over their vehicles for scrap in return for a 2,500 euro grant to buy an electric bicycle.
Tuesday - The US is negotiating a multi-billion dollar climate deal with Brazil that observers fear could help the reelection of president Jair Bolsonaro and reward illegal forest clearance in the Amazon.
Tuesday - Over a third of the Antarctic ice shelf is at risk of collapsing as Earth continues to warm.
Tuesday - With support from the Australian government, the Adani corporation is pushing ahead with an environmentally destructive coal mine in Queensland. But the traditional Aboriginal owners of the land, the...
Monday - A new study has found that economic growth and total greenhouse gas emission have been decoupled in 32 developed nations - including New Zealand... just.
Monday - European Union plans to impose taxes on carbon at its border are "discriminatory" and unfair to developing nations, ministers from Brazil, South Africa, India and China have warned.
Monday - The Marshall and Solomon Islands are calling on the International Maritime Organisation to introduce a US$100 levy on GHG emissions.
Monday - A fight over Greenland's rich oil, gas and mineral deposits is raging, as global warming melts ice and exposes rich reserves. Now Greenlanders are struggling to balance economic growth and...
9 Apr 21 - Levels of the two most important anthropogenic greenhouse gases, carbon dioxide and methane, continued their unrelenting rise in 2020 despite the economic slowdown caused by the coronavirus pandemic...
---