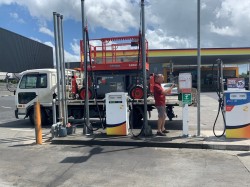 9 Dec 20 - Z Energy is sticking with its dream of selling low-emissions biodiesel, albeit with an Australian product because its own production plant has been mothballed.

1 Dec 20 - Rail operators in Italy and Germany are turning to hydrogen power in an attempt to make their train networks more environmentally friendly, with Deutsche Bahn, partnering up with Siemens, among the trailblazers.

27 Nov 20 - Ten years ago, South Korea said it would have carbon-capture-and-storage technology operating by 2020.

12 Nov 20 - Businesses wanting to stop using coal and gas for heat can tap into a new $70 million fund.

9 Nov 20 - One of the biggest investors in Tesla has defended the explosive growth in the US electric carmaker's share price, arguing that it is "far from an aberration".

4 Nov 20 - A new tool for measuring carbon emissions in small and medium-sized businesses will help decarbonise the country's supply chain, says Toitû Envirocare.

22 Oct 20 - Australian company directors want a more radical policy reset to recover from the covid-19 recession including bigger investments in infrastructure, reforms of industrial relations and a Green New Deal.
---
2 Oct 20 - Investors representing more $1.5 trillion in funds say their enthusiasm for low-carbon strategies hasn't been dented by the economic impacts of the covid-19 pandemic.
29 Sep 20 - Picking winners has been anathema to Australian policy-making for decades. The federal government's technology investment roadmap bucks the trend, targeting public investments in specific...
29 Sep 20 - Veteran New South Wales Labor right-winger Joel Fitzgibbon has threatened to quit the shadow cabinet if the opposition adopts a medium-term emissions reduction target he cannot live with.
17 Sep 20 - Ten years ago, a group of New Zealand chief executives was talking to former World Bank chief economist Lord Nicholas Stern about how this country could lead the world in low-carbon technology.
14 Sep 20 - Ten years ago, LanzaTech – then a New Zealand company – had signed a deal with one of China's largest coal producers to make fuels and chemicals from waste.
31 Aug 20 - Ten years ago, New Zealand companies were racing to develop sustainable plastics and polymers.
28 Aug 20 - A new study has uncovered scant disclosure by green bond issuers of their environmental impact, and a lack of social safeguards to protect communities from unintended consequences of financed...
25 Aug 20 - Scientists have developed a method to 3D-print greener buildings using local soil that they say has the potential to revolutionise the construction industry.
4 Aug 20 - Pumped-hydro, a "blind" focus on renewable electricity instead of cutting emissions from all energy systems, and the closure of the Tiwai Point aluminium smelter are all on the agenda at this year's...
27 Jul 20 - Paying industry not to use electricity during peak demand should be considered as an alternative to a multi-billion-dollar new hydro scheme, an energy expert says.
22 Jul 20 - Coronavirus border restrictions mean six Niwa staff face four straight months at sea in a bid to keep an international ocean research project afloat.
22 Jul 20 - As with other parts of the global economy, covid-19 has led to rapid changes in transport trends.
---