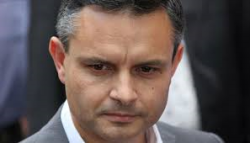 12 Mar 19 - The Government will release details of its climate change policy timetable on Friday.

12 Mar 19 - A decision to replace two coal-fired boilers at Christchurch Hospital with boilers that burn wood will help to create confidence in the woody biomass market, the Bioenergy Association says.
8 Mar 19 - It mightn't be greener, but Australia is cleaner than New Zealand, a new report says.

28 Feb 19 - New Zealand could slash five million tonnes off its annual greenhouse gas emissions through the use of biomass energy in factories and for heavy transport, new figures show.
25 Feb 19 - A National government might give fewer free carbon credits to trade-exposed industrial emitters but is unlikely to force a large-scale reduction in biological emissions from agriculture, according to a new paper.

25 Feb 19 - Ten years ago, New Zealand companies were in the United States trying to win a share of President Barack Obama's $300 billion investment in renewable energy.

14 Feb 19 - New Zealand clean-tech pioneer Aquaflow (now called NZT Fuels) was confident of raising $20 million from a share float.
---
8 Feb 19 - New Zealand has fallen down the international rankings for action on climate change.
8 Feb 19 - Transitioning to a low-carbon economy is at the top of the Government's budget priorities this year.
7 Feb 19 - A Labour-New Zealand First coalition agreement clause that guarantees farmers they will not pay as much as other sectors for their greenhouse gas emissions – if anything at all - is being challenged...
7 Feb 19 - Ten years ago, New Zealand's first wood-to-bio-oil plant was about to open.
1 Feb 19 - The chemical process used by Scuba divers can efficiently strip carbon dioxide out of the residue of coal-fired electricity generation, scientists say.
30 Jan 19 - The head of the Planning Institute says the Government needs to step up and show the way for communities to plan for the impacts of climate change.
19 Dec 18 - Cutting methane and nitrous oxide emissions from farming are critical to keeping the world to no more than 1.5deg of warming, scientists say in new research.
18 Dec 18 - New Zealand is to strengthen its carbon market ties with Europe.
14 Dec 18 - A group set up to advise the Government on the role of forestry in cutting greenhouse gas emissions says the real answer is reducing livestock numbers.
12 Dec 18 - A cap on emissions, a system to manage carbon credits supply and prices, the inclusion of permanent forests, and the possibility of a price a price floor are the major changes to the Emissions...
10 Dec 18 - Climate minister James Shaw arrives in Poland today for international climate negotiations. This time last year he was a brand-new minister, just three weeks into the job and announcing on the world...
5 Dec 18 - Angel investor and independent director Cecilia Tarrant is to head the Government's $100 million Green Investment Fund.
---