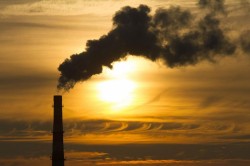 18 Jul 18 - Consultation on the next review of the Emissions Trading Scheme will start next month.

13 Jul 18 - New central bank head Adrian Orr is warning of financial crisis and mass social unrest if the world doesn't urgently address climate change.

20 Jun 18 - By JONATHAN McKEOWN | It is always refreshing when structures and processes work as they were designed to. It's an absolute triumph when it involves the public sector, an industry body and business.

12 Jun 18 - Climate minister James Shaw has invited the National Party to help him to draft the Zero Carbon Act.

17 May 18 - Another organisation is telling the Government to shift the tax burden from the production of private wealth to the consumption of public wealth, aka the environment.

10 May 18 - Natural gas is not a transition fuel to a low-carbon economy – and the Government should go further than just banning all new offshore exploration licences, a new report says.

30 Apr 18 - Soaring emissions from the industrial sector can be cut through improved efficiency and using lower-emissions fuels, but there's no easy fix, the Productivity Commission says.
---
29 Mar 18 - An immediate carbon price cap of $100 a tonne and a $25 price floor is needed if New Zealand is to be carbon-neutral by 2050, says former Environment Secretary Dr Roger Blakeley.
28 Feb 18 - Mike Bennetts is determined his company, Z Energy, will not have a Kodak moment.
16 Feb 18 - The Southern Hemisphere's biggest deployment of pure-battery electric cars has been launched in Christchurch.
30 Jan 18 - Climate minister James Shaw has outlined economic changes on the scale of those brought in by Michael Joseph Savage in 1935 and Roger Douglas in 1984.
11 Dec 17 - Leading chief financial officers, chairs of pension funds and the chief executives of global accounting bodies – including one from New Zealand - are calling for transparency about carbon exposure.
1 Dec 17 - New Zealand is being challenged to show the world how to decarbonise without tanking.
13 Nov 17 - A billionaire's campaign has seen half of US coal plants close in six years. Now he is targeting Europe and beyond to fight climate change and air pollution.
3 Nov 17 - Wellingtonians want rooftop gardens – and the idea is being investigated by the city's university.
10 Oct 17 - New Zealanders are buying bigger cars, damaging the country's chances of cutting greenhouse gas emissions, say Toyota New Zealand chief Alistair Davis.
5 Oct 17 - Carbon prices of $100 a tonne - and possibly as high as $225 – are being foreshadowed in a new report.
5 Oct 17 - New Zealand will be stuck with high-emitting technologies if it doesn't move to cut emissions soon, the Parliamentary Commissioner for the Environment is warning.
10 Aug 17 - New Zealand's lack of a carbon cap is one of the issues on the table for the Productivity Commission.
---