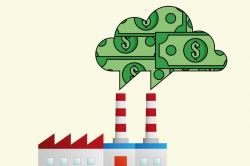 Friday - Officials are calculating the number of dodgy carbon credits New Zealand used in meeting its emissions reduction target, raising the prospect that the country might yet make good on its actions.

Wednesday - The Bioenergy Association wants farmers who cut greenhouse gas emissions to be eligible for carbon credits now.

Monday - The Labour Party is building a campaign base to push through the zero-carbon legislation.

Monday - Ten years ago, we got the first hint that the Maori Party was going to support changes to the Emissions Trading Scheme.
10 Jul 19 - The Government is gearing up to auction carbon units from the end of next year at the latest.
8 Jul 19 - Local authorities want to be able to take climate impacts into account when they are considering applications under the Resource Managements Act.

8 Jul 19 - Ten years ago, the forestry sector was urging the Government to follow Australia's lead and allow the Emissions Trading Scheme to recognise carbon stored in harvested wood products.
---
4 Jul 19 - Farmers say they are prepared to cut methane emissions by 10 per cent by 2050 – well short of the target the Government intends imposing.
4 Jul 19 - The Government is coming under increasing pressure to provide local councils with the skills and resources they need to deal with the impacts of climate change.
3 Jul 19 - Ten years ago, forestry company boss Roger Dickie was warning that "carbon counters of the future" would be in for a nasty surprise if continued delays to the Emissions Trading Scheme meant new...
1 Jul 19 - The prospect of having to cut methane emissions by 10 per cent over the next decade is depressing otherwise optimistic farmers.
28 Jun 19 - Carbon forestry returns for post-1989 are due this weekend – and officials are urging people to get them right.
24 Jun 19 - Ten years ago, Green Party co-leader Jeanette Fitzsimons was predicting the worthless-carbon-unit scandal that hit New Zealand in 2016.
20 Jun 19 - Ten years ago, hopes for a cross-Parliament agreement on climate change were growing, with the minority National Government talking to both Labour and the Greens about support for changes to the...
19 Jun 19 - Ten years ago, a committee looking at how the Emissions Trading Scheme could be changed announced it was delaying its report-back, prompting the Government to change reporting dates for forest owners...
18 Jun 19 - Ten years ago, Australian mining companies – some operating in New Zealand – were under fire over attempts to scuttle the Rudd Government's plans to introduce an emissions trading scheme.
17 Jun 19 - The National Party says it will continue to oppose bringing agricultural emissions into the Emissions Trading Scheme.
13 Jun 19 - Ten years ago, one of the world's largest carbon traders decided it would set up shop in New Zealand after all.
11 Jun 19 - Just one per cent of global greenhouse gas emissions are at prices likely to drive the emissions cuts needed to preserve life as we know it, the World Bank says.
---