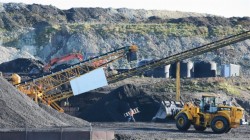 Monday - The Ministry for the Environment has given the Government no advice on the climate implications of developing 13 new coal mines.

Thursday - Planning to cut New Zealand's greenhouse gas emissions in line with the country's Paris Agreement commitments has been delayed because of the Ministry for the Environment's heavy workload, confidential papers show.

18 Jul 17 - Officials will put a plan to cut New Zealand's appalling transport emissions to the Government before the end of the year.

17 Jul 17 - A billion-dollar Green Infrastructure Fund and New Zealand at net-zero emissions by 2050 will be priorities for the Green Party in government.

17 Jul 17 - It's runs on the board this week for two leaders in The Count, our weekly tally of public statements about climate change by party leaders in the lead-up to the general election.

14 Jul 17 - Using wood instead of coal to provide industrial heat would cut New Zealand's greenhouse gas emissions by 460,000 tonnes and save more than $11 million a year in carbon credits, a new report says.

5 Jul 17 - Official advice on changes to the Emissions Trading Scheme has made its way from officials to ministers.
---
4 Jul 17 - Lack of political certainty is damaging the effectiveness of carbon markets, says new research.
30 Jun 17 - New Zealand's Motu Research has been named one of the 10 best climate policy think-tanks in the world.
26 Jun 17 - Federated Farmers is warning politicians of "consequences" if agricultural emissions are brought into the Emissions Trading Scheme before other countries put a carbon price on farming.
21 Jun 17 - Parts of the agricultural sector are calling for farming to be included in the Emissions Trading Scheme and for a price on water.
20 Jun 17 - New Zealand's two largest cities are failing to cut greenhouse gas emissions because of the Government's lack of action on climate change, new research shows.
15 Jun 17 - The dairy industry is acknowledging it needs to cut greenhouse gas emissions.
23 May 17 - An international carbon trading organisation says British companies should stay in the European Emissions Trading Scheme until at least 2020, despite Brexit.
16 May 17 - Free carbon credits for trade-exposed heavy emitters have cost taxpayers nearly $1.7 billion.
15 May 17 - The Government is getting ready to enact provisions that will actually cut New Zealand's greenhouse gas emissions.
11 May 17 - A price range for carbon and a promise that changes to the Emissions Trading Scheme will be backdated would get landowners planting carbon-sequestering trees now, says the Forest Owners' Association.
10 May 17 - Parliament has again been told that the Government is getting advice on bringing agricultural emissions into the Emissions Trading Scheme.
4 May 17 - Officials are investigating whether a price should be put on agricultural greenhouse gas emissions, despite the issue being specifically excluded from the current review of the Emissions Trading...
---