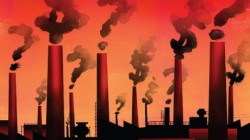 Thursday - Record carbon prices have failed to convince the Government that the price cap should be lifted immediately.

Thursday - Permanent forests are to come into the Emissions Trading Scheme, but there's no decision yet on recognising the carbon stored in timber products and whether landowners will be able to average out carbon stored in their forests.

Thursday - Insider trading is to be banned from New Zealand's carbon market.

Wednesday - A cap on emissions, a system to manage carbon credits supply and prices, the inclusion of permanent forests, and the possibility of a price a price floor are the major changes to the Emissions Trading Scheme just announced by the Government.

Wednesday - Using revenue from the Emissions Trading Scheme to fund carbon sequestration by farmers is one of the options the Government is considering as it opens discussion with other countries on ways of dealing with agricultural greenhouse gas emissions.

Wednesday - New Zealand's efforts on climate change remain "highly insufficient" and consistent with twice the level of warming that scientists say we should not go beyond.
Monday - Climate minister James Shaw arrives in Poland today for international climate negotiations. This time last year he was a brand-new minister, just three weeks into the job and announcing on the world stage that New Zealand would be carbon-neutral by 2050.
---
Monday - New Zealand's largest farmer, State-owned Pamu, has triggered outrage in some circles by telling the Government's Tax Working Group that it supports some environmental taxes.
7 Dec 18 - Another report has confirmed that New Zealand cannot meet its Paris Agreement commitments without reducing the number of farm animals – and says that carbon prices up to $80 a tonne are needed to do...
4 Dec 18 - New Zealand will lead discussions at international climate talks in Poland on upping emissions reductions from farming.
30 Nov 18 - Treasury has suggested the Government delay setting a 2050 emissions reduction target, saying giving the decision to the yet-to-be-established climate commission would allow more time to decide by...
28 Nov 18 - A report out today saying that global emissions are rising again because of economic growth should be the bomb needed to blast us out of our self-congratulatory complacency.
15 Nov 18 - Businesses will soon be able to price and trade carbon without the help of governments by using blockchain technology, says a social enterprise about to launch a new carbon platform.
12 Nov 18 - Climate mismanagement under the National government means New Zealand will have to use international carbon credits to meet its emissions reduction targets, says a leading carbon forestry executive.
9 Nov 18 - The Government's overhaul of the Resource Management Act will include the way it deals with climate change.
7 Nov 18 - Environmental impact bonds encouraging the planting of native forests could help to cut New Zealand's greenhouse gas emissions, Treasury says.
31 Oct 18 - A global failure to cut greenhouse gas emissions will see New Zealand farmers face demands for major production cuts, the world's largest milk-producer is warning.
26 Oct 18 - Changes to the Crown Minerals Act that will see most new oil and gas exploration banned are the type of signals businesses need, says one of the people heading a ground-breaking finance sector...
24 Oct 18 - A carbon investment fund six years in the making is open for business.
---