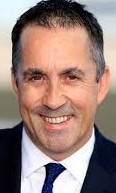 Tuesday - The Government could hedge against its $10 billion future carbon bill now – with a money-back guarantee, says carbon trader Nigel Brunel.

Monday - Officials are working on linking the Emissions Trading Scheme to schemes in other countries, saying it's the best way to secure the international carbon units New Zealand will need to meet its 2030 emissions reduction target.
15 Feb 18 - Taxpayers could get a hefty carbon bill if the Government doesn't urgently lift the carbon price cap, a gathering of Emissions Trading Scheme experts has heard.

12 Feb 18 - Neoliberalism is failing to protect New Zealand's environment, warns a new paper on the future of environmental law.

9 Feb 18 - Trade-exposed heavy emitters sitting on free NZUs from taxpayers will be able to keep using them - even if they did contribute to New Zealand's embarrassing "dodgy credits" incident.

8 Feb 18 - China's new carbon market will have a profound impact on electricity companies, says Standard & Poors.

2 Feb 18 - Changes to the Emissions Trading Scheme are needed now, not at the end of next year, if the Government wants Maori land owners to plant carbon-sequestering forests, says a specialist in climate change and Maori development.
---
23 Jan 18 - Any further changes to the Emissions Trading Scheme – including getting rid of free credits to heavy emitters and changing forestry rules – will not be made until the end of next year, the Government...
22 Jan 18 - New Zealand's one-for-two carbon subsidy is almost gone.
22 Jan 18 - Government policies – including the Emissions Trading Scheme - are expected to start making a dent in New Zealand's agricultural emissions over the next 12 years.
13 Dec 17 - In late 2015, officials gave new climate minister Paula Bennett as list of five things they thought should be done over the next two years.
12 Dec 17 - Climate minister James Shaw says the new climate commission will play a role in dealing with agricultural greenhouse gas emissions.
11 Dec 17 - New Zealand's approach to negotiating carbon-trading relationships with other countries is drawing fire.
8 Dec 17 - Officials are working on getting New Zealand access to international carbon markets when they develop – but they don't want their activities made public.
6 Dec 17 - Understanding why farmers are not taking advantage of ways to make more money while cutting greenhouse gas emissions is critical to getting New Zealand's emissions down, says a leading scientist.
4 Dec 17 - New climate minister James Shaw has a clear message for business: get your house in order because New Zealand is decarbonising ... fast.
30 Nov 17 - The climate commission – one of the Government's promises for its first 100 days in office – is likely to play a role in setting carbon prices, the new climate minister says.
22 Nov 17 - Climate change and other environmental risks now rank higher than economic issues in the minds of business and political leaders, according to a new report by New Zealand's dairy industry.
20 Nov 17 - Entities with future carbon liabilities should be thinking about hedging with European units – and that includes the country itself, says a leading carbon broker.
---