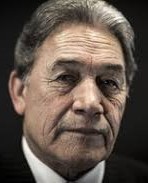 Monday - A party which has vowed to get rid of the Emissions Trading Scheme now holds the balance of power in New Zealandís Parliament.

Wednesday - All political parties except National told an audience in Auckland last night that they rank climate change as the biggest issue they face.
19 Sep 17 - Ditching the Emissions Trading Scheme in favour of a carbon tax will not solve New Zealandís emissions woes, a new report says.

18 Sep 17 - United Futureís new leader says he supports the Emissions Trading Scheme, the Zero Carbon Act and wants New Zealand to be carbon netural by 2050.

14 Sep 17 - Companies operating in New Zealand have been named as some of the most obstructive to global action on climate change.

11 Sep 17 - Two of the parties that could be involved in any centre-left coalition after the election want to scrap the Emissions Trading Scheme.

11 Sep 17 - The refusal by TVNZ to include The Opportunities Party in televised election debates does the public a disservice.
---
7 Sep 17 - New Zealand wonít get more carbon-sequestering forests until land prices fall.
6 Sep 17 - National is taking a business-as-usual approach to climate policy, warning that Labour and the Greens would go too far if they got into government.
5 Sep 17 - New Zealand has signed a statement calling for renewed co-operation on carbon markets.
4 Sep 17 - New Zealand First leader Winston Peters has pulled ahead of Labour leader Jacinda Ardern in The Count, but the Greensí James Shaw is looking unassailable.
30 Aug 17 - New Zealand is supporting a new $400,000 scholarship programme to build global expertise on climate change and food security.
29 Aug 17 - Three-and-a-bit weeks out from the general election, what do we know about the partiesí approach to climate change?
25 Aug 17 - What will the political parties vying to run our country do about renewable energy?
23 Aug 17 - Rising carbon prices mean carbon farming, backed by manuka honey production, is becoming a viable use of Maori land, says the head of a Ruatoria charitable company.
22 Aug 17 - Is taxing or trading the best way to get New Zealandís emissions down?
15 Aug 17 - New Zealand Steel is once again the big winner in the Governmentís allocation of free carbon credits to industrial emitters.
11 Aug 17 - New Zealandís reported greenhouse gas emissions are on the rise again, new figures show.
10 Aug 17 - New Zealandís lack of a carbon cap is one of the issues on the table for the Productivity Commission.
---