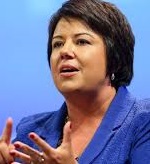 Wednesday - New Zealand has received the strongest indication yet of cross-party agreement on climate change, with climate minister and deputy prime minister Paula Bennett saying she can work with a new far-reaching report on how the country can be carbon-neutral.

21 Mar 17 - The OECD says New Zealand needs to put a price on greenhouse gases from the agricultural sector.

20 Mar 17 - Windflow Technology, the unprofitable wind turbine manufacturer, has widened its first-half loss and says it needs new injections of capital.

17 Mar 17 - Work on developing carbon-trading links between New Zealand and China is continuing, despite a report this week that China might go to a carbon tax instead of a national emissions trading scheme.

10 Mar 17 - The Opportunities Party would put a cap on New Zealand's greenhouse gas emissions, get rid of the $25 carbon price cap and free credits for heavy emitters and bring some agricultural emissions into the Emissions Trading Scheme.
2 Mar 17 - New Zealand's own scientists' advice – that the country must move urgently to a low-carbon energy system – has been endorsed by the International Energy Agency, albeit in a sanitised way.

1 Mar 17 - New Zealand risks damaging its clean-and-green reputation by failing to cut its greenhouse gas emissions, the International Energy Agency warns.
---
27 Feb 17 - The European Parliament has lost patience with shipping industry inaction over climate change and has outlined plans to include vessels in its Emissions Trading System.
23 Feb 17 - Farmers want research into alternative land uses to help them to cope with climate change, and greater incentives to plant carbon-storing trees on their farms.
20 Feb 17 - New Zealand and China have held their first ministerial meeting under the bilateral carbon agreement.
16 Feb 17 - A little of Treasury's thinking on how to protect the economy from carbon exposure has been revealed – including a hint that it wants to talk to the business community.
15 Feb 17 - The Government's energy policies take a battering in new research from Otago University.
9 Feb 17 - New Zealand cannot rely on international carbon credits to meet its emissions reductions targets after 2030, officials have told the Government, warning that credits could be expensive and in short...
3 Feb 17 - Our former climate ambassador says that agriculture should be brought into the Emissions Trading Scheme – even if it is treated differently.
1 Feb 17 - New Zealand could cut the cost of meeting its international emissions reductions targets by linking its carbon market to emerging markets in Asia.
27 Jan 17 - Carbon credits sitting in private accounts are a $2.1 billion liability to the Government.
27 Jan 17 - Mexico is drawing on international business experience to develop the country's emissions trading scheme.
26 Jan 17 - New Zealand shipping companies say it is unfair they are paying for their greenhouse gas emissions but international companies competing with them on coastal routes are not.
19 Dec 16 - The climate portfolio is now held by the deputy prime minister – the highest ranking it has ever had in New Zealand.
---