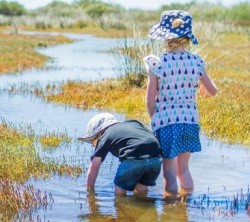 Thursday - Dairy farmers will have to disclosure how much synthetic nitrogen fertiliser they are putting on their land under new rules expected to clean up waterways and cut greenhouse gas emissions.

Thursday - New Zealand is to work with Singapore on developing international carbon markets and low-carbon technology such as hydrogen.
Thursday - Climate change is the top priority for sustainability professionals working in New Zealand, new research shows.

Thursday - Ten years ago, power companies were building maximum carbon prices into their charges – despite being able to buy units much cheaper.

Wednesday - A rethink on the risks of low-level radiation would imperil the nuclear industry's future − perhaps why there's never been one.

Tuesday - Ten years ago, the head of one of Australia's biggest power companies said coal was back in town after the country's plans for an emissions trading scheme were spiked.

Tuesday - The Climate Action Tracker international climate science coalition holds an online summit today on achieving net-zero emissions energy systems.
---
Monday - Australian businesses, unions, investors and environmentalists are joining forces in a call for a covid-19 pandemic economic recovery programme based on energy efficiency.
Monday - Horizons Regional Council is expected to approve its 2020/21 annual plan today, with $175,000 going to assessing the region's vulnerability to climate change.
Monday - Uniper is threatening to sue the Dutch government over a plan to phase out coal power by 2030, in a case experts warn could have a chilling effect on climate ambition internationally.
22 May 20 - The outcome of National's leadership stoush today is unlikely to affect the party's approach to climate policy.
22 May 20 - Waste Management has cut greenhouse gas emissions from its own operations – but emissions from the rubbish it deals with are climbing.
21 May 20 - New Zealand's dream of a hydrogen-powered economy is being driven by greedy oil industry investors and "enchanted" government officials, an energy analyst says.0
21 May 20 - Today is the last day for submissions on a new law aimed at smoothing out the supply of logs for the domestic wood industry.
20 May 20 - The global economic shutdown caused by the covid-19 pandemic cut the world's greenhouse gas by nearly 18 million tonnes a day – and the second-highest rate of reduction was in New Zealand.
20 May 20 - Submissions on the Forestry (Regulation of Log Traders and Advisers) Amendment Bill, introduced as part of last week's Budget, close tomorrow, when the Environment Select Committee will meet to...
19 May 20 - MPs take a break from Parliament this week, but will be back in the House next week.
18 May 20 - The Sustainable Business Council is calling for aa cross-party consensus over the spending of covid-19 pandemic recovery money on decarbonising the economy.
15 May 20 - Environmental Defence Society: A Green New Deal. Pleased with $1.1 billion to create 11,000 jobs "restoring the natural world". Hopes this reset of economic thinking will flow through to the...
---