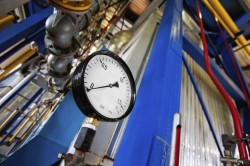 9 Aug 18 - Carbon prices rarely influence businesses' decisions to install energy-efficient plant, according to a new report examining the market's failure to drive down greenhouse gas emissions in the energy sector.

8 Aug 18 - Allowing the world to warm by even 2deg could threaten the existence of humans.

7 Aug 18 - Unchecked climate change will cost New Zealand nearly $6 billion a year in lost earnings, researchers have calculated.

3 Aug 18 - Hydrogen-powered trains could play a big part in cutting New Zealand's greenhouse gas emissions, KiwiRail says.

31 Jul 18 - Green Party co-leader James Shaw might be the climate minister, but it's in his statistics portfolio that he is about to change everything.
30 Jul 18 - National Party leader Simon Bridges is promising to have "the best ideas" on the environment.

25 Jul 18 - New Zealand and Australian investors with $10 trillion worth of assets are calling for a suite of policies to direct finance into the low-carbon economy.
---
23 Jul 18 - Cross-party talks on the Zero Carbon Bill could be under way within a month.
20 Jul 18 - China's action on climate change makes New Zealand look like its "pussy-footing around", says climate minister James Shaw.
18 Jul 18 - Consultation on the next review of the Emissions Trading Scheme will start next month.
17 Jul 18 - Ngai Tahu is planting a million native trees and converting some of its farms to horticulture as part of its strategy to deal with climate change.
16 Jul 18 - Banks can expect pressure from the country's largest urban authorities to get their money out of fossil-fuel investment.
13 Jul 18 - New central bank head Adrian Orr is warning of financial crisis and mass social unrest if the world doesn't urgently address climate change.
12 Jul 18 - Details of support for the Zero Carbon Bill by businesses responsible for half the country's greenhouse gas emissions have emerged today.
6 Jul 18 - One of the 53 big companies stepping up to publicly support the Zero Carbon Bill says it doesn't want New Zealand's climate policy to end up like that of Australia.
29 Jun 18 - Keeping organic waste out of rubbish dumps will double its carbon footprint and deny the country an important source of renewable energy, says the country's largest landfill operator.
28 Jun 18 - Fifty-three of New Zealand's biggest companies - including major players in the farming, forestry and fishing industries - appear to be ready to announce their support for the Zero Carbon Bill.
27 Jun 18 - The future of low-emissions transport is not necessarily electric, car makers are telling the Government.
27 Jun 18 - By Toyota NZ chief executive ALASTAIR DAVIS | The Productivity Commission's draft on the move to a low-carbon emission economy through a Zero Carbon Act is a sound report on what lies ahead.
---