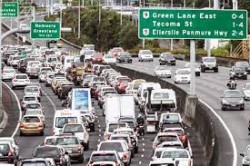 Today 12:00pm - The Government is pre-empting likely criticism from the Climate Change Commission by today announcing a suite of policies tackling greenhouse gas emissions from transport.

Today 12:00pm - New Zealand's new carbon-auctioning seems to be working smoothly.

Today 12:00pm - United States president Joe Biden has unveiled a radical change in direction from the Trump era by halting fossil fuel activity on public lands and directing the United States government to start a full-frontal effort to lower planet-heating emissions.

Wednesday - BlackRock, the world's biggest investment fund manager, has threatened to sell shares in the worst corporate polluters in a bid to support the goal of net-zero carbon dioxide emissions by 2050.

Wednesday - Improving energy efficiency creates far more jobs than generating it, and at the same time provides a way out of the covid crisis by bringing prosperity.

Tuesday - The European Investment Bank says it will end all funding for fossil fuels before the end of the year.

Tuesday - Fossil-fuel industry leaders and a controversial economist have joined a committee responsible for ensuring the integrity of projects that get climate funding in Australia.
---
Tuesday - In one of his first acts of office, United States President Joe Biden has issued an executive order that effectively kills the Keystone XL pipeline project.
14 Dec 20 - A training course on how to take part in the first Government auction of carbon credits will be held on Thursday.
11 Dec 20 - A major shareholder in New Zealand's only oil refinery says it should be converted to producing renewable fuels.
11 Dec 20 - The Government is expected to update Southland today on talks to stop – or at least delay – the closing of the Tiwai Point aluminium smelter.
11 Dec 20 - The world's wealthiest 1 per cent account for more than twice the combined carbon emissions of the poorest 50 per cent, according to the United Nations.
10 Dec 20 - A training course on how to take part in the first Government auction of carbon credits will be held next Thursday.
9 Dec 20 - The operator of the Huntly coal-and-gas-fired power station says it will cut greenhouse gas emissions in line with the Paris Agreement.
9 Dec 20 - Z Energy is sticking with its dream of selling low-emissions biodiesel, albeit with an Australian product because its own production plant has been mothballed.
9 Dec 20 - New Zealand dairy producers and food processors have a great opportunity to benefit from recent emission-reduction pledges by global brands, Synlait Milk said.
9 Dec 20 - Today is the fifth anniversary of the Paris Agreement on climate change – an event being marked by the group Parents for Climate Aotearoa (formerly Millions of Mothers) with a lunchtime toy picnic at...
9 Dec 20 - Ten years ago, State-owned coal miner Solid Energy was promising it would take responsibility for greenhouse gas emissions from a proposed lignite mine in Southland.
9 Dec 20 - Japan's greenhouse gas emissions fell 2.7 per cent to a record low in the 2019 financial year that ended March 2020, government figures showed on Tuesday, thanks to growing use of renewable energy...
---