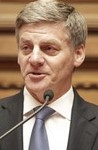 Today 10:00am - New Zealand's mayors want a national emissions reduction plan and a stocktake of the likely cost to the country of climate change – something Prime Minister Bill English has steadfastly rejected.

Today 10:00am - Climate change will mean more extreme El Niño summers – the weather pattern that causes droughts in the east of New Zealand and storms in the west.

Monday - The Ministry for the Environment has given the Government no advice on the climate implications of developing 13 new coal mines.

Thursday - The next generation will have to pay a $535 trillion bill to tackle climate change, relying on unproven and speculative technology.

19 Jul 17 - Redundant North Sea energy workers are being offered free football tickets to build revolutionary new electricity storage systems.

17 Jul 17 - A billion-dollar Green Infrastructure Fund and New Zealand at net-zero emissions by 2050 will be priorities for the Green Party in government.

12 Jul 17 - The Government has been looking at approving new coal mines by creating special economic zones bypassing usual planning rules, Forest & Bird says.
---
11 Jul 17 - New Zealanders are buying electric vehicles in "record" numbers, but they are not making a dent in the country's greenhouse gas emissions.
10 Jul 17 - Climate change policy is not a priority for the Employers and Manufacturers' Association in this election.
5 Jul 17 - G20 countries have stepped up green finance, but their investment in fossil fuels remains so high that the "well below 2 degree" warming limits set in the Paris Agreement will be missed by a wide...
5 Jul 17 - Yet another study has exposed the cruel cost of climate change as it increases US poverty. It could be worse than the Great Recession.
4 Jul 17 - Lack of political certainty is damaging the effectiveness of carbon markets, says new research.
4 Jul 17 - It's one thing to harness a river. It's quite another to build a series of Amazon dams and control the life of the planet's richest habitat.
3 Jul 17 - Climate change wasn't on the agenda for public statements by any of our political leaders last week.
3 Jul 17 - Using surplus electricity from renewables to make hydrogen fuel is starting a new era for all forms of heavy transport.
3 Jul 17 - A week in Antarctica gives Sustainable Business Council chair and Toyota New Zealand chief executive ALISTAIR DAVIS hope that humans can and will act on climate change.
29 Jun 17 - The Government needs to put its new energy efficiency strategy into place – and State-owned operations are the place to start, says the Bioenergy Assocation.
28 Jun 17 - The Government is dealing with criticism of its industrial emissions target by turning it into a bottom line instead of a goal.
28 Jun 17 - US academics are arguing with ferocity about how to achieve a fossil fuel phase out. But, for now, the debate is entirely academic.
---