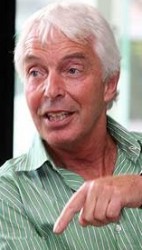 Today 10:00am - Two major reports on climate change – one on the likely impacts on New Zealand, the other on ways the country can cut emissions – were released a year ago by the country's top scientific body, the Royal Society. Energy expert RALPH SIMS, who chaired the report committee, reflects on progress.

Today 10:00am - Scientists have long been aware of a forest's ability to absorb carbon, but a new US study has discovered trees that emit methane.

Thursday - Water quality in New Zealand's rivers is getting worse, says an official government report out today – and there's yet another warning that the country is running up against its environmental limits.

21 Apr 17 - The Government is scrapping the Energy Star rating on home appliances.

21 Apr 17 - Toyota has again won the World Green Car-of-the-Year Award.

21 Apr 17 - New York's thousands of food carts are generating carbon credits.

20 Apr 17 - Higher carbon prices and a ban on new fossil-fuel electricity generation plants are the cornerstones of the Green Party's plan to get New Zealand to 100 per cent renewable generation by 2030.
---
20 Apr 17 - The Harvard scientist who pioneered a "bionic leaf" that could generate the production of fuel has taken artificial photosynthesis a step further.
19 Apr 17 - Ekos founder Dr Sean Weaver is working on a new project – a non-market mechanism to raise private capital to fund climate-change adaptation projects in developing countries.
19 Apr 17 - Auckland swimming pool operator Northern Arena says switching to electric heat-pumps for its pools has been good for swimmers and good for the climate.
18 Apr 17 - Any lingering hope that a worldwide nuclear power renaissance would contribute to combating climate change appears to have been dashed by US company Westinghouse, the largest provider of nuclear...
13 Apr 17 - Queensland's economy and tourism sector could suffer a billion-dollar hit, if extreme coral bleaching on the Great Barrier Reef continues, says a new report.
11 Apr 17 - European and US scientists have worked out how the Northern hemisphere keeps cool − so be grateful for the trees, and especially for the forests.
10 Apr 17 - The world is "meandering into a failed future" because of its unwillingness to take decisive action on climate change, a leading UK academic has warned.
10 Apr 17 - The warming of the atmosphere by greenhouse gases is slowing the jet streams which drive the northern hemisphere's weather.
7 Apr 17 - Uncertainty over the Government's plans to implement the Paris Agreement on climate change is keeping New Zealand's energy executives awake at night, says the World Energy Council.
7 Apr 17 - Brexit is undermining Europe's switch to renewable energy, the World Energy Council says.
7 Apr 17 - In a case of gamekeeper-turned-poacher, New Zealand's Green Building Council has improved the environmental performance of its own office.
6 Apr 17 - The state of New Zealand's environment is on the agenda for the country's politicians today.
---