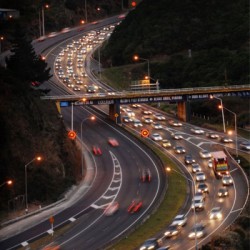 Today 9:00am - The climate benefits of New Zealandís increasing use of renewable electricity generation are being wiped out by our love affair with road transport.

Friday - New Zealandís greenhouse gas emissions fell slightly in 2015 - but only because a drought forced dairy farmers to cut production.

Thursday - The $14.2 billion being bandied about this week as the cost of ≠≠≠New Zealand's Paris Agreement pledge is not solely attributable to the purchase of international carbon credits.
Wednesday - New Zealand should hedge its international carbon risk by buying European carbon units, a broker says.

23 May 17 - Substantial cuts to greenhouse gas emissions now will prevent New Zealanders alive today being exposed to temperatures they have never experienced before, says the New Zealand lead author of research published today.

23 May 17 - An international carbon trading organisation says British companies should stay in the European Emissions Trading Scheme until at least 2020, despite Brexit.

19 May 17 - Emissions resulting from potential new coal mines on the Buller plateau could put as much carbon dioxide into the atmosphere as another three million cars on New Zealandís roads for the next 20 years, an environmental group warns.
---
19 May 17 - Leaving the EU treaty that prevents radioactive waste falling into the wrong hands could prove costly for the UK nuclear industry.
18 May 17 - Slow-steaming - the most effective method of cutting shipping emissions Ė will cause problems for New Zealandís fresh food exporters, Cabinet has been told.
18 May 17 - Fewer than a third of Americans support President Donald Trumpís rollback of clean energy plans, a new survey shows.
16 May 17 - SWEEPING climate policy rollbacks by US President Donald Trump will be outweighed by cuts to coal consumption in India and China, a new analysis shows.
15 May 17 - With oil prices remaining low, hopes of combating climate change through emissions reduction are improving as the oil industry shrinks.
12 May 17 - The Wood Energy South energy efficiency programme has prevented just 530 tonnes of carbon dioxide emissions being released, Parliament has heard.
12 May 17 - Australia could emulate California on climate change policy by bringing in improved energy and fuel efficiency standards to drive large-scale reductions in greenhouse gas emissions, a new report says.
11 May 17 - Sydney City is planting $8 million worth of trees to try to keep the city cool.
10 May 17 - Staggering sums of money involved in the long-term challenge of solving the worldís nuclear waste problems make it a booming business.
9 May 17 - Long-term institutional investors with nearly $22 trillion in assets are calling on G7 members to stand by the Paris Agreement.
8 May 17 - The benefits of better home insulation are being cancelled out by the trend toward bigger houses.
8 May 17 - Ingenuity in laboratories worldwide is harnessing microbes, water and hot air to produce different types of renewable energy from greenhouse gas.
---