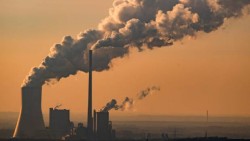 Thursday - New climate minister James Shaw might have wowed the world with his rhetoric at international climate talks last week, but it's on the policies of his predecessor that New Zealand is still being judged.

Wednesday - Deciding whether to let a new opencast coal mine go ahead on the West Coast will be the first real test of the new government's conservation policy, says an anti-coal mining lobby group.

Tuesday - New Zealand scientists are among more than 15,000 warning humans they have precious little time left to change their ways and avoid environmental and social disaster.

Tuesday - A German utility is planning a string of electric vehicle fast chargers every 120 to 180 kilometers along highways in seven European countries, from Italy to Norway.

Monday - Norway's $1 trillion fund is to consider divesting from oil and gas stocks to protect the country's economy from oil price risk.

Monday - Plans for more wired, networked, connected urban areas face challenges if they fail to account for existing, local, non-digital elements such as government and socioeconomic conditions.

Monday - Elon Musk has unveiled Tesla's first electric semi-truck at an event in Los Angeles that also included the surprise reveal of a new Tesla sports car.
---
17 Nov 17 - New Zealand has just committed itself on the world stage to being carbon-neutral by 2050 and being a Pacific leader on climate change.
17 Nov 17 - New Zealand has signed up to a plan to cut methane and black carbon emissions from agriculture and waste.
15 Nov 17 - Fonterra says it is turning its back on coal as part of a drive towards being carbon-neutral by 2050.
13 Nov 17 - Livestock emissions will have to be cut if the world is to keep warming down to Paris Agreement levels, two top New Zealand scientists are warning.
13 Nov 17 - Just five years ago it would have been almost unthinkable that one of the world's biggest mining companies would not dig any coal. It's now likely to become a reality.
13 Nov 17 - A billionaire's campaign has seen half of US coal plants close in six years. Now he is targeting Europe and beyond to fight climate change and air pollution.
10 Nov 17 - The new energy minister expects carbon to be priced into all energy projects.
10 Nov 17 - Changes to the Emissions Trading Scheme have won New Zealand a Carbon Pricing Champion Award at international climate negotiations in Bonn.
10 Nov 17 - Contact Energy is getting a lot of attention for its pioneering green borrowing programme, certified by Climate Bonds Initiatives and launched in mid-August.
8 Nov 17 - New Zealand's clean electricity supply has won Auckland 48th place in the 2017 Smart City Index – but its traffic congestion and lack of environmental protection have let it down.
8 Nov 17 - A Polish bid to siphon off up to €29bn of EU carbon market money for ageing coal plants has been slapped down in a backroom statement by the UK, France, Germany and four other countries.
8 Nov 17 - The Church of England should "show moral leadership" and immediately sell its investments in the oil giant ExxonMobil, according to a group of bishops and other clergy.
---