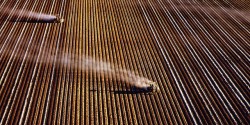 Today 9:00am - One of the biggest contributors to climate change is the agricultural food industry, but the political will to tackle the issue is lacking.

Friday - The Government's Budget will not get landowners planting trees on the scale needed to meet New Zealand's Paris Agreement commitments, forest owners say.

Thursday - The Government is putting $4 million into figuring out how New Zealand can cut its greenhouse gas emissions.

23 May 17 - A company turning wood waste into products like mulch and animal bedding has won a Government grant to help it to process bigger volumes.

12 May 17 - The Wood Energy South energy efficiency programme has prevented just 530 tonnes of carbon dioxide emissions being released, Parliament has heard.
11 May 17 - A price range for carbon and a promise that changes to the Emissions Trading Scheme will be backdated would get landowners planting carbon-sequestering trees now, says the Forest Owners' Association.

10 May 17 - Parliament has again been told that the Government is getting advice on bringing agricultural emissions into the Emissions Trading Scheme.
---
9 May 17 - Planting forests to clean up waterways could cut New Zealand's net greenhouse gas emissions from land use by 80 per cent.
3 May 17 - The Productivity Commission is to investigate the cost of decarbonising New Zealand's economy.
28 Apr 17 - Scientists have long been aware of a forest's ability to absorb carbon, but a new US study has discovered trees that emit methane.
27 Apr 17 - Applications for the latest round of the Government's Afforestation Grants Scheme close tomorrow.
26 Apr 17 - Landowners with 10,000 hectares of native forest could earn $1.5 million a year in carbon credits, a new report says.
19 Apr 17 - Ekos founder Dr Sean Weaver is working on a new project – a non-market mechanism to raise private capital to fund climate-change adaptation projects in developing countries.
11 Apr 17 - European and US scientists have worked out how the Northern hemisphere keeps cool − so be grateful for the trees, and especially for the forests.
5 Apr 17 - Myrtle rust – a fungus disease that could kill native and commercial trees – is in New Zealand.
4 Apr 17 - By 2020, fossil fuels will no longer be subsidised by the taxpayer, anywhere in the world. And by then, carbon dioxide emissions worldwide will have started to fall.
30 Mar 17 - Officials will report to the Government in the middle of the year on the next round of changes to the Emissions Trading Scheme.
29 Mar 17 - Landowners are planting forests again – and farmers looking to offset emissions appear to be among them.
28 Mar 17 - New Zealand and China are to work together on developing an Asia-Pacific carbon market, and will double-team over the way agriculture is treated in international climate negotiations.
---