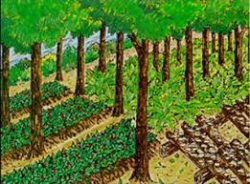 Today 10:00am - Paying landowners not to cut down trees is cheaper than the carbon-related costs the destruction of the forests would cause, new research shows.

Thursday - Planning to cut New Zealandís greenhouse gas emissions in line with the countryís Paris Agreement commitments has been delayed because of the Ministry for the Environmentís heavy workload, confidential papers show.

14 Jul 17 - Using wood instead of coal to provide industrial heat would cut New Zealandís greenhouse gas emissions by 460,000 tonnes and save more than $11 million a year in carbon credits, a new report says.

13 Jul 17 - The pan-political Globe climate group says cutting New Zealandís greenhouse gas emissions to net-zero by 2050 is worth serious discussion.

5 Jul 17 - Official advice on changes to the Emissions Trading Scheme has made its way from officials to ministers.

29 Jun 17 - The Government needs to put its new energy efficiency strategy into place Ė and State-owned operations are the place to start, says the Bioenergy Assocation.

23 Jun 17 - New Zealandís coal consumption is climbing.
---
20 Jun 17 - The winners of an annual worldwide competition to spread clean energy have been urged to see it as a sustainability revolution.
20 Jun 17 - Adaptation is about survival. Mitigation is about finding and implementing solutions to prevent the need to go into survival mode, says DR ANN SMITH chief executive of Enviro-Mark Solutions
13 Jun 17 - New Zealand could have a thriving biofutures industry, producing clean products from waste and cutting greenhouse gas emissions, if it put as much effort into addressing climate change as it puts...
30 May 17 - Nothing, not even the creation of huge plantations of trees to absorb carbon dioxide, is a viable alternative to drastic cuts in greenhouse gas emissions.
29 May 17 - One of the biggest contributors to climate change is the agricultural food industry, but the political will to tackle the issue is lacking.
26 May 17 - The Governmentís Budget will not get landowners planting trees on the scale needed to meet New Zealandís Paris Agreement commitments, forest owners say.
25 May 17 - The Government is putting $4 million into figuring out how New Zealand can cut its greenhouse gas emissions.
23 May 17 - A company turning wood waste into products like mulch and animal bedding has won a Government grant to help it to process bigger volumes.
12 May 17 - The Wood Energy South energy efficiency programme has prevented just 530 tonnes of carbon dioxide emissions being released, Parliament has heard.
11 May 17 - A price range for carbon and a promise that changes to the Emissions Trading Scheme will be backdated would get landowners planting carbon-sequestering trees now, says the Forest Ownersí Association.
10 May 17 - Parliament has again been told that the Government is getting advice on bringing agricultural emissions into the Emissions Trading Scheme.
9 May 17 - Planting forests to clean up waterways could cut New Zealandís net greenhouse gas emissions from land use by 80 per cent.
---