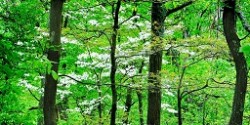 Today 10:00am - Scientists have long been aware of a forest's ability to absorb carbon, but a new US study has discovered trees that emit methane.

Thursday - Applications for the latest round of the Government's Afforestation Grants Scheme close tomorrow.

Wednesday - Landowners with 10,000 hectares of native forest could earn $1.5 million a year in carbon credits, a new report says.

19 Apr 17 - Ekos founder Dr Sean Weaver is working on a new project – a non-market mechanism to raise private capital to fund climate-change adaptation projects in developing countries.

11 Apr 17 - European and US scientists have worked out how the Northern hemisphere keeps cool − so be grateful for the trees, and especially for the forests.

5 Apr 17 - Myrtle rust – a fungus disease that could kill native and commercial trees – is in New Zealand.
4 Apr 17 - By 2020, fossil fuels will no longer be subsidised by the taxpayer, anywhere in the world. And by then, carbon dioxide emissions worldwide will have started to fall.
---
30 Mar 17 - Officials will report to the Government in the middle of the year on the next round of changes to the Emissions Trading Scheme.
29 Mar 17 - Landowners are planting forests again – and farmers looking to offset emissions appear to be among them.
28 Mar 17 - New Zealand and China are to work together on developing an Asia-Pacific carbon market, and will double-team over the way agriculture is treated in international climate negotiations.
24 Mar 17 - A cross-party report on how New Zealand can get to net-zero emissions in the second half of the century ignores some immediate opportunities, the Bioenergy Association says.
22 Mar 17 - New Zealand has received the strongest indication yet of cross-party agreement on climate change, with climate minister and deputy prime minister Paula Bennett saying she can work with a new...
21 Mar 17 - Two reports out today signal a sea-change for New Zealand. One says the New Zealand's economy is reaching its environmental limits. The other says New Zealand cannot meet its Paris Agreement...
21 Mar 17 - New Zealand cannot cut greenhouse gas emissions in line with the Paris Agreement and keep farming the way it is now.
17 Mar 17 - Air New Zealand and Virgin Australia say they now have a shortlist of companies to supply them with biofuels.
15 Mar 17 - Landowners wanting to plant small-to-medium-sized new forests might be able to get some government funding to help them.
10 Mar 17 - The Opportunities Party would put a cap on New Zealand's greenhouse gas emissions, get rid of the $25 carbon price cap and free credits for heavy emitters and bring some agricultural emissions into...
10 Mar 17 - Researchers have reminded the world's governments that forests will play a vital role in mitigating the effects of climate change – provided policies are robustly pursued and reported with...
8 Mar 17 - New Zealand needs to broaden use of renewable energy beyond the electricity generation, says the new energy minister - but she expects fossil fuels to stay in the mix.
---