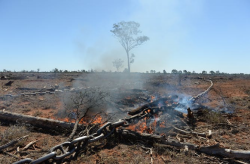 Monday - Eastern Australia ranks in the top 10 of the world's major deforestation fronts – the only area in a developed nation.

15 Nov 17 - Fonterra says it is turning its back on coal as part of a drive towards being carbon-neutral by 2050.

10 Nov 17 - The new energy minister expects carbon to be priced into all energy projects.

6 Nov 17 - By PATTRICK SMELLIE | As international delegations descend on Bonn for the November 6-17 annual global climate change summit, spare a thought for the other country that calls itself China but, instead of claiming a leadership­ position in the global debate, is shut out on the sidelines.

6 Nov 17 - INTERNATIONAL NEGOTIATIONS to put meat on the bones of the Paris Agreement start in Bonn today, with Fiji in the presidency.

3 Nov 17 - Protecting the world's forests could achieve a quarter of the greenhouse gas emissions cuts needed to meet the 1.5°C Paris target, scientists say.
1 Nov 17 - Former climate minister Paula Bennett sought advice on forming a cross-party agreement on climate change.
---
27 Oct 17 - The Government's plan to plant an extra 50,000 hectares of new forest a year is "optimistic but achievable", say forest owners.
20 Oct 17 - Carbon prices are rising on the back of the new government, hitting their highest level in a year within an hour of the market opening today.
17 Oct 17 - Acting climate minister Paula Bennett will deliver New Zealand's opening statement at the pre-COP climate talks in Fiji today.
10 Oct 17 - A large swathe of the East Coast will be at risk of fire for at least half of the year by the end of the century, a conference in Auckland has heard.
6 Oct 17 - Brisbane is set to become a hub for sustainable aviation fuel under an agreement between Virgin Australia and United States-based biofuel producer Gevo.
5 Oct 17 - New Zealand will be stuck with high-emitting technologies if it doesn't move to cut emissions soon, the Parliamentary Commissioner for the Environment is warning.
4 Oct 17 - The head of the National Party's Bluegreens policy advisory group says pine trees should be planted on Department of Conservation land to offset New Zealand's greenhouse gas emissions.
20 Sep 17 - New Zealand could meet a large chunk of its Paris Agreement emissions reduction target through cuts in emissions at home, a new report says.
11 Sep 17 - Two of the parties that could be involved in any centre-left coalition after the election want to scrap the Emissions Trading Scheme.
11 Sep 17 - Week 12 of The Count ... and Prime Minister Bill English is still in the starting blocks.
7 Sep 17 - New Zealand won't get more carbon-sequestering forests until land prices fall.
5 Sep 17 - The Green Party wants a regional research institute to develop high-value wood products as part of a strategy to reduce greenhouse gas emissions.
---