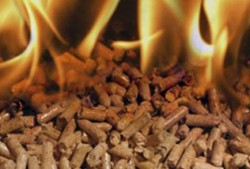 Wednesday - New Zealand's greenhouse gas emissions could be cut by more 640,000 tonnes a year by burning wood instead of coal in boilers in the Otago region alone.

17 May 18 - Another organisation is telling the Government to shift the tax burden from the production of private wealth to the consumption of public wealth, aka the environment.

11 May 18 - The Government will set aside an extra $15 million in next week's Budget to boost the capacity of the new forestry fervice.

10 May 18 - KiwiRail says the new government hasn't told it to reverse plans to replace electric locomotives on the Main Trunk Line with diesel engines.

10 May 18 - New Zealand's land-based primary industries need to get ready for more serious crop diseases as climate change causes longer droughts, warns new research.

4 May 18 - By publisher ADELIA HALLETT | Did the Government consult the oil industry before announcing there would be no new licences granted for oil and gas exploration?

1 May 18 - The Productivity Commission is badly under-estimating the potential to cut greenhouse gas emissions from the steel and iron industries, says a New Zealand company with technology to do just that.
---
30 Apr 18 - Soaring emissions from the industrial sector can be cut through improved efficiency and using lower-emissions fuels, but there's no easy fix, the Productivity Commission says.
30 Apr 18 - The Productivity Commission might be talking about big things from the energy sector, but the Government doesn't seem to want to know, says Bioenergy Association chief executive BRIAN COX.
10 Apr 18 - Businesses ignore carbon liability at the country's peril, an international investment organisation is warning.
29 Mar 18 - An immediate carbon price cap of $100 a tonne and a $25 price floor is needed if New Zealand is to be carbon-neutral by 2050, says former Environment Secretary Dr Roger Blakeley.
27 Mar 18 - Climate minister James Shaw is meeting with some of the country's biggest industrial emitters – but isn't saying what they're discussing.
22 Mar 18 - The wood industry is in love with its new forestry minister.
20 Mar 18 - Scientists have sequenced the genomes of the micro-organisms that make sheep and cattle emit methane.
19 Mar 18 - The Government is looking at ending oil and gas exploration.
19 Mar 18 - Climate and energy expert Professor RALPH SIMS explains why natural gas is not a "bridging" fuel between dirtier fossil fuels and low-carbon energy. Searching for it and using it, he says, will delay...
19 Mar 18 - … the Government was getting ready to plead New Zealand's case to allow the owners of pre-1990 forests to clear them without facing a carbon penalty, BP was warning against introducing a compulsory...
15 Mar 18 - Meeting New Zealand's Paris Agreement pledge from domestic emissions cuts alone would put the country on a straight line to carbon-neutrality by 2050, officials have told the Government.
1 Mar 18 - Fifteen per cent of global greenhouse gas emissions are now covered by trading schemes.
---