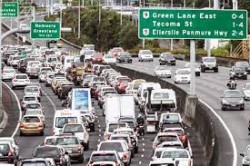 Today 12:00pm - The Government is pre-empting likely criticism from the Climate Change Commission by today announcing a suite of policies tackling greenhouse gas emissions from transport.

Today 12:00pm - Testing of the country's new carbon-auction regime continues today.

Wednesday - The country's new carbon-auctioning regime is being put through its paces today and tomorrow with a simulated auction. The first real auction will be on March 17.

Tuesday - Simulated auctions of NZUs to test the new regime will be held tomorrow and on Thursday.

11 Dec 20 - A major shareholder in New Zealand's only oil refinery says it should be converted to producing renewable fuels.

10 Dec 20 - A second regional authority is calling for non-forestry carbon sequestration like wetland restoration to earn carbon credits.

10 Dec 20 - The grasslands of northern China and Mongolia could be about to lurch into a climate tipping point, an irreversible sequence of heat and drought.
---
10 Dec 20 - Brazil has announced it will aim for carbon neutrality by 2060, sparking anger among campaigners who say the pledge is meaningless and a deliberate distraction from president Jair Bolsonaro's...
9 Dec 20 - Z Energy is sticking with its dream of selling low-emissions biodiesel, albeit with an Australian product because its own production plant has been mothballed.
8 Dec 20 - Greater Wellington Regional Council will debate today whether it should sell millions of dollars worth of carbon credits or hold them and wait for prices to go higher.
4 Dec 20 - Ten years ago, New Zealand was at the heart of a row at international climate talks in Cancun.
3 Dec 20 - Ten years ago, former All Black captain Taine Randell was predicting that the Emissions Trading Scheme could deliver more money to Maori than entire Treaty of Waitangi envelope.
2 Dec 20 - Following today's planned climate emergency declaration, New Zealand will have to face up to the fact it has one of the worst climate records of industrialised nations.
1 Dec 20 - Tomorrow's expected declaration by Parliament of a climate emergency in New Zealand should see an immediate scaling-up of investment in climate change funding and policies, businesses are telling...
23 Nov 20 - One of New Zealand biggest carbon farmers say New Zealand can have its carbon cake and eat it too.
20 Nov 20 - Carbon tariffs at the border are on the Government's agenda this term to protect the country's steel, aluminium and cement industries as they decarbonise.
18 Nov 20 - The great climate change challenge should consider the world's trees.
12 Nov 20 - Businesses wanting to stop using coal and gas for heat can tap into a new $70 million fund.
12 Nov 20 - Kaikoura MP Stuart Smith is National's new climate spokesperson, replacing Coromandel MP Scott Simpson.
---