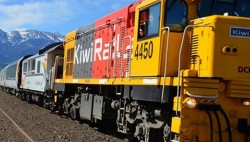 Friday - There's no word yet on whether KiwiRail's plans to replace electric engines with diesel will go ahead.

Thursday - Government officials appear to be putting more effort into working out how to purchase international carbon credits than into reducing the country's greenhouse gas emissions, says Bioenergy Association chief executive Brian Cox.
Wednesday - Got a good idea to cut greenhouse gas emissions in your business or in the transport sector? The Government wants to give you money.

16 Feb 18 - The Government says it is close to securing 50,000 hectares of land for new forests under its Billion Trees programme.

2 Feb 18 - Changes to the Emissions Trading Scheme are needed now, not at the end of next year, if the Government wants Maori land owners to plant carbon-sequestering forests, says a specialist in climate change and Maori development.

2 Feb 18 - Australian companies have struck the first long-term deal in that country to sell carbon credits generated from plantation forestry.

31 Jan 18 - Landowners will keep the carbon credits and liability under proposed new production forestry joint ventures with the Government as part of its One Billion Trees programme.
---
25 Jan 18 - The new government will not officially increase the country's 2020 emissions reduction target.
23 Jan 18 - Any further changes to the Emissions Trading Scheme – including getting rid of free credits to heavy emitters and changing forestry rules – will not be made until the end of next year, the Government...
23 Jan 18 - Giving the Overseas Investment Office approval of the sale of forestry cutting rights will jeopardise the Government's billion trees plan, forest owners say.
23 Jan 18 - Twenty new electric vehicle projects, including a 58-tonne truck to carry dairy products and developing a qualification for EV technicians, are to receive government funding.
22 Jan 18 - New Zealand's greenhouse gas emissions blow-out continues unabashed, with net emissions expected to more than double by 2030, despite international pledges to cut them.
22 Jan 18 - Government policies – including the Emissions Trading Scheme - are expected to start making a dent in New Zealand's agricultural emissions over the next 12 years.
13 Dec 17 - In late 2015, officials gave new climate minister Paula Bennett as list of five things they thought should be done over the next two years.
12 Dec 17 - Climate minister James Shaw says the new climate commission will play a role in dealing with agricultural greenhouse gas emissions.
5 Dec 17 - Researchers have confirmed once again that a good forest is a mixed forest, a natural one, with a diversity of species.
4 Dec 17 - Decades of unsustainable logging has created an "extinction debt" in Victoria's central highlands that will trigger an ecosystem-wide collapse within 50 years without urgent intervention.
30 Nov 17 - The climate commission – one of the Government's promises for its first 100 days in office – is likely to play a role in setting carbon prices, the new climate minister says.
22 Nov 17 - Air New Zealand wants to set up a private afforestation scheme under the Emissions Trading Scheme to offset some of its greenhouse gas emissions.
---