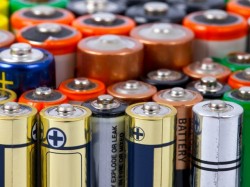 Friday - New Zealand researchers have created a new plant-based electrolyte that could be the key to making safer and more environmentally friendly batteries.
Monday - Climate mismanagement under the National government means New Zealand will have to use international carbon credits to meet its emissions reduction targets, says a leading carbon forestry executive.

9 Nov 18 - The Governmentís overhaul of the Resource Management Act will include the way it deals with climate change.

8 Nov 18 - Ships operating in New Zealand might soon be liable to tough new rules on air pollution and greenhouse gas emissions.

8 Nov 18 - New oil and gas exploration is now banned from New Zealandís waters and from most of its land.

5 Nov 18 - The Governmentís partial ban on new oil and gas exploration could become law this week.

2 Nov 18 - Business New Zealand doesnít support any of the Governmentís proposed 2050 emissions reduction targets, saying they are based on wishful thinking and magic.
---
30 Oct 18 - Decarbonising the New Zealand economy cannot be a repeat of Rogernomics, says Environment Secretary Vicky Robertson.
26 Oct 18 - Changes to the Crown Minerals Act that will see most new oil and gas exploration banned are the type of signals businesses need, says one of the people heading a ground-breaking finance sector...
25 Oct 18 - Tougher resource management rules and incentives to store carbon in native forests are among just-released recommendations to protect New Zealandís native species from climate change.
24 Oct 18 - New Zealand and Japan are working together to transition away from a reliance on fossil fuels with the signing of an agreement on hydrogen, says energy minister Megan Woods.
23 Oct 18 - Key companies and government officials are joining forces to prepare New Zealandís financial system for the low-carbon economy.
19 Oct 18 - New Zealandís consumption of fossil fuels is climbing, new figures show.
19 Oct 18 - An Auckland company which promises to take back its products has won a Government grant to help it to recycle.
18 Oct 18 - Air pollution from vehicles and woodfires is affecting the climate and threatens the health of New Zealanders, a new report shows.
16 Oct 18 - By ADELIA HALLETT | Today is the funeral of a man who pushed, to the best of his scientific and political ability, to get action on climate change.
12 Oct 18 - By publisher ADELIA HALLETT | Depending on your viewpoint, the world moved closer to Ė or further away from Ė climate destruction this week.
11 Oct 18 - Climate change has cost New Zealand at least $840 million over the past decade Ė prompting warnings at a business conference that adaptation to now-unavoidable impacts could cost more than cutting...
10 Oct 18 - Cutting global emissions by 6 per cent a year should keep warming to no more than 1.5deg, one of New Zealandís top mathematicians has calculated.
---