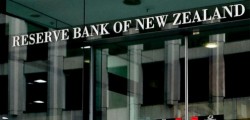 Thursday - The Reserve Bank is reviewing the carbon footprint of its sovereign investments.

Thursday - The Bank of England's remit has been changed to include a duty to support the country's net-zero carbon ambition.

Tuesday - European banks should publish a "green-asset ratio" as a core measure of their climate-friendly business activities, says the European Union's banking watchdog.

1 Mar 21 - The leaders of the International Monetary Fund and the World Bank are vowing to step up efforts to combat climate change by looking more closely at climate-related financial stability risk and using other tools at their disposal.

25 Feb 21 - Taxing carbon dioxide emissions would be popular with British voters, polling suggests, as the government moots ways to put a price on carbon that could help tackle the climate crisis and fund a green recovery from the coronavirus pandemic.

22 Feb 21 - Flood walls in Samoa financed by the UN's flagship climate fund are inadequate and could put people in danger, experts warn.

22 Feb 21 - Vulnerability to climate change is bad for sovereign credit ratings, says the International Monetary Fund.
---
22 Feb 21 - Ten years ago, American investors were starting to ask hard questions about fossil-fuel firms' exposure to climate risk.
19 Feb 21 - Taxes on international transport could provide finance to help developing countries cut greenhouse gas emissions and cope with the impacts of climate breakdown, a group of climate finance experts...
19 Feb 21 - Amundi, Europe's biggest asset manager, say it will seek more specifics from companies at upcoming shareholder meetings about their plans to reduce emissions.
16 Feb 21 - Major financial investors are to be urged by the world's largest shareholder advisory firm to vote against company board members if they fail to address global heating in their roles.
5 Feb 21 - Ten years ago, business was describing the Government's establishment of a Green Growth Advisory Group as "vanilla".
3 Feb 21 - Biodiversity is declining faster than at any time in human history, says a report calling for a new economic framework recognising the importance of ecology.
27 Jan 21 - BlackRock, the world's biggest investment fund manager, has threatened to sell shares in the worst corporate polluters in a bid to support the goal of net-zero carbon dioxide emissions by 2050.
14 Dec 20 - BP, Glencore and Rolls-Royce are among eight FTSE 100 companies who have refused to comply with investor demands to disclose their carbon dioxide emissions, as the UK government prepares to compel...
14 Dec 20 - Rich nations are "lagging badly" on a longstanding pledge to channel $100 billion a year in funding, from 2020 onwards, to help poorer countries develop cleanly and adapt to the worsening impacts of...
8 Dec 20 - Deutsche Bank says it will join a small number of financial institutions that link management pay to environmental, social and governance-related criteria.
4 Dec 20 - The Christchurch office of the Accident Compensation Corporation is the target of 350 Aotearoa's fossil fuel-divestment campaign today.
3 Dec 20 - The Government will decide in March whether a carbon-neutral public service will include the State's investment portfolios.
---