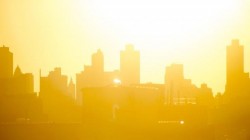 Today 10:00am - New Zealand's greenhouse gas emissions blow-out continues unabashed, with net emissions expected to more than double by 2030, despite international pledges to cut them.

Today 10:00am - New Zealand's one-for-two carbon subsidy is almost gone.

Today 10:00am - Government policies – including the Emissions Trading Scheme - are expected to start making a dent in New Zealand's agricultural emissions over the next 12 years.

15 Dec 17 - Lack of government leadership means New Zealand business, society, infrastructure and the land itself are exposed to billions of dollars worth of potential damage from the impacts of climate change, the Government has been told.

13 Dec 17 - In late 2015, officials gave new climate minister Paula Bennett as list of five things they thought should be done over the next two years.

13 Dec 17 - The biggest New Zealand and Australia institutional investors are among more than 225 global investors with more than $37.5 trillion in assets under management promising to "engage" the world's largest emitting companies to act on climate change.
12 Dec 17 - Climate minister James Shaw says the new climate commission will play a role in dealing with agricultural greenhouse gas emissions.
---
11 Dec 17 - Neither Prime Minister Jacinda Ardern nor climate minister James Shaw will be at the One Planet Summit Day in Paris tomorrow.
11 Dec 17 - Leading chief financial officers, chairs of pension funds and the chief executives of global accounting bodies – including one from New Zealand - are calling for transparency about carbon exposure.
7 Dec 17 - Floods, fires, droughts, storms, slips, pests and diseases are Auckland's future, threatening primary production and human health, warns a new report.
5 Dec 17 - New Zealand needs to start planning now for the impacts climate change will have on its oceans and fisheries, scientists say.
4 Dec 17 - New climate minister James Shaw has a clear message for business: get your house in order because New Zealand is decarbonising ... fast.
1 Dec 17 - New Zealand is being challenged to show the world how to decarbonise without tanking.
30 Nov 17 - The climate commission – one of the Government's promises for its first 100 days in office – is likely to play a role in setting carbon prices, the new climate minister says.
29 Nov 17 - As many as one in six species faces extinction as a result of climate change, scientists are warning in a new report.
29 Nov 17 - Karaka leaves gathered by naturalists on board HM Bark Endeavour nearly 250 years ago are helping today's researchers to understand climate change.
24 Nov 17 - Parts of New Zealand are on track for the driest November on record.
23 Nov 17 - New climate minister James Shaw might have wowed the world with his rhetoric at international climate talks last week, but it's on the policies of his predecessor that New Zealand is still being...
22 Nov 17 - Climate change and other environmental risks now rank higher than economic issues in the minds of business and political leaders, according to a new report by New Zealand's dairy industry.
---