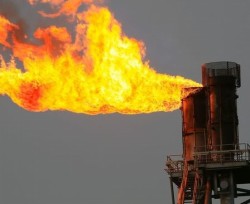 Wednesday - Five of the country's biggest users of natural gas want the Government's ban on exploration for new reserves put on hold while a "detailed" assessment of the role of gas is carried out.
16 Oct 18 - By ADELIA HALLETT | Today is the funeral of a man who pushed, to the best of his scientific and political ability, to get action on climate change.

15 Oct 18 - New Zealand's monetary policy system is a good model for the Zero Carbon Act, says the country's stock exchange.

15 Oct 18 - The nation's mayors might on the front line for dealing with the impacts of climate change, but that doesn't mean they're going carbon-neutral in their choice of mayoral car.

12 Oct 18 - By publisher ADELIA HALLETT | Depending on your viewpoint, the world moved closer to – or further away from – climate destruction this week.

11 Oct 18 - Climate change has cost New Zealand at least $840 million over the past decade – prompting warnings at a business conference that adaptation to now-unavoidable impacts could cost more than cutting emissions.

10 Oct 18 - Cutting global emissions by 6 per cent a year should keep warming to no more than 1.5deg, one of New Zealand's top mathematicians has calculated.
---
10 Oct 18 - The National Party says it's going through a "metamorphosis" on climate change – and it appears to include accepting that the way New Zealand uses its land is going to change.
9 Oct 18 - The Government backs emissions cuts in line with keeping global warming to no more than 1.5deg, and says negotiations with the National Party for cross-party agreement on climate policy are going...
8 Oct 18 - The International Panel on Climate Change's 1.5deg report delivers a wake-up call for two of New Zealand's biggest industries – agriculture and tourism.
8 Oct 18 - Keeping global warming to no more than 1.5deg is possible and sensible, but it will not be easy, the International Panel on Climate Change says.
4 Oct 18 - The Government's plans to lock climate policy into long-term legislation – and to include all methane – has overwhelming public support.
3 Oct 18 - By publisher ADELIA HALLETT | One of the most important scientific papers ever produced will be released on Monday, and the ramifications for New Zealand could be huge.
2 Oct 18 - Political and energy sector leaders from across Asia and the Pacific will converge in Wellington later this month to talk about the implications on the region's energy systems of the low-carbon...
1 Oct 18 - The world must return to multilateralism if it is to combat climate change, says Prime Minister Jacinda Ardern.
28 Sep 18 - Companies are being told to take a hard look at what they can do for New Zealand's struggling biodiversity – because it's good for business.
28 Sep 18 - Another report just released says companies are slow to disclose the financial implications of climate risk for their businesses.
27 Sep 18 - Prime Minister Jacinda Ardern has told world leaders they will have to compromise their country's positions if the Paris Agreement is to come into force.
26 Sep 18 - The Ministry for the Environment says it likes environmental taxes – especially for dealing with climate change and water problems.
---