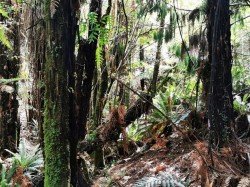 Friday - Forest and Bird is calling on the government to return a million hectares of marginal land to native bush in the wake a Ministry of the Environment report showing native eco-systems continuing to shrink.

Friday - The New Zealand Herald has published a series of articles in recent days as its contribution to Covering Climate Now's "Living Through the Climate Emergency" week of coverage in the lead up to Earth Day.

Friday - Federal Reserve Chair Jerome Powell on Wednesday defended the Fed's increasing scrutiny of the threat that climate change could pose to the health of the United States' banks.
Friday - Climate change appears to be high on the agenda for tech billionaires like Elon Musk, Jeff Bezos and Bill Gates but some are questioning whether they're focusing their efforts on the right areas.

Friday - Media Release - Oxygen Consulting in collaboration with the Sustainable Business Council (SBC), Sustainable Business Network (SBN) and Auckland University of Technology (AUT) have launched their 2021 Insights on New Zealand's Sustainability Professionals.

Thursday - BY JEREMY ROSE - When Andy Dynan set himself up as an independent electrician, just over a year ago, he did what most tradies do and bought himself a 4 x 4 Toyota Hilux. The ute – New Zealand's most popular vehicle - is now on TradeMe and Andy's getting around on an e-bike.

Thursday - Rainforests are prized for storing carbon, but Mexico's cactuses are also vital to climate cooling, and provide leather too.
---
Wednesday - More than 300 businesses have called on President Joe Biden to nearly double U.S. targets to reduce planet-warming emissions below 2005 levels by 2030.
Wednesday - The world's wealthy must radically change their lifestyles to tackle climate change, a report says.
Wednesday - Media Release - When Dr Christopher Cornwall began his biological research career, three unanswered questions bothered him about how climate change might affect marine organisms.
Tuesday - Agriculture and the energy sector accounted for 90 per cent of New Zealand's gross greenhouse gas emissions in 2019, according to the Ministry of the Environment's Greenhouse Gas Inventory 1990 –...
Tuesday - A Bill requiring the financial sector to disclose the impact of climate change on their business and explain how they manage climate-related risks has its first reading in Parliament this week.
Tuesday - The US is negotiating a multi-billion dollar climate deal with Brazil that observers fear could help the reelection of president Jair Bolsonaro and reward illegal forest clearance in the Amazon.
Monday - Unions are calling for large-scale public investment as part of a "just transition" to a carbon-zero future in their submissions to the Climate Commission's draft report.
Monday - A fight over Greenland's rich oil, gas and mineral deposits is raging, as global warming melts ice and exposes rich reserves. Now Greenlanders are struggling to balance economic growth and...
9 Apr 21 - The good news is that New Zealand's greenhouse gas emissions were down in the year to December 2020, the not so good news is that that same month saw household emissions reach their highest ever...
9 Apr 21 - The week that was: The PM accepts invite to virtual climate summit; slow burn on coal boiler shutdown; renewable energy stocks tumble, and the kids hit the streets.
9 Apr 21 - Every week journalists across the New Zealand media produce dozens of stories about climate change. We thought we'd start linking to some of the best from the preceding week each Friday. Here goes...
9 Apr 21 - Just over a week since submissions closed on the Climate Change Commission's first draft advice to the Government, the commission says it is making good progress on reviewing feedback.
---