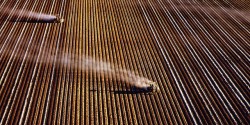 Today 9:00am - One of the biggest contributors to climate change is the agricultural food industry, but the political will to tackle the issue is lacking.

Friday - More money for research in Antarctica will help scientists to understand how global warming is affecting Antarctica, says Science New Zealand chief executive Anthony Scott
Wednesday - New Zealand should hedge its international carbon risk by buying European carbon units, a broker says.

Wednesday - In the next 25 years, more than half of all of Switzerland's small glaciers will disappear − and Canada could lose 70 per cent of the volume of its frozen rivers by 2100.

23 May 17 - Substantial cuts to greenhouse gas emissions now will prevent New Zealanders alive today being exposed to temperatures they have never experienced before, says the New Zealand lead author of research published today.

22 May 17 - New Zealand is giving Fiji $1.3 million and the services of our top climate ambassador to help to chair international climate negotiations later this year.

19 May 17 - Emissions resulting from potential new coal mines on the Buller plateau could put as much carbon dioxide into the atmosphere as another three million cars on New Zealand's roads for the next 20 years, an environmental group warns.
---
18 May 17 - Fewer than a third of Americans support President Donald Trump's rollback of clean energy plans, a new survey shows.
17 May 17 - New Zealand's Yellow-eyed penguins – the world's rarest penguin - could be extinct on the mainland by 2060 as climate change puts extra pressure on the already endangered birds, scientists are...
16 May 17 - Failing to hold climate warming to 1.5deg could spell disaster for New Zealand's ancient West Coast podocarps forests, new research shows.
16 May 17 - Scientists warn that alpine flowers and plants could face extinction as warming forces them higher up into hostile rocky mountain terrain.
16 May 17 - An eye-tracking study reveals that stress levels affect how much attention people pay to climate change imagery, even if they are supportive of environmental issues.
15 May 17 - With oil prices remaining low, hopes of combating climate change through emissions reduction are improving as the oil industry shrinks.
12 May 17 - Australia could emulate California on climate change policy by bringing in improved energy and fuel efficiency standards to drive large-scale reductions in greenhouse gas emissions, a new report says.
11 May 17 - A price range for carbon and a promise that changes to the Emissions Trading Scheme will be backdated would get landowners planting carbon-sequestering trees now, says the Forest Owners' Association.
10 May 17 - What will New Zealand do when 12,000 climate refugees from Tuvalu arrive on its doorstep?
9 May 17 - The World Bank says New Zealand should accept more migrants from the Pacific to pre-empt a flood of climate refugees.
9 May 17 - Long-term institutional investors with nearly $22 trillion in assets are calling on G7 members to stand by the Paris Agreement.
8 May 17 - Work on the rules that will drive the Paris Agreement is under way.
---