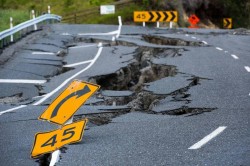 Thursday - Climate change will have long-term impacts on New Zealand's land-based industries and biodiversity – but we don't have enough information to predict what will happen.

Thursday - The Government is moving to protect New Zealand's best growing soils in the wake of a report that shows they're compacted, contaminated and being washed away at an alarming rate.

Wednesday - A new review of the Emissions Trading Scheme will be open for public consultation in August.

Tuesday - The interim climate commission has just been announced.
13 Apr 18 - The Government is fleshing out plans to finance decarbonisation of the economy.

11 Apr 18 - The marine heatwave which has seen penguins, prions and other New Zealand birds dying this summer is part of a new "normal" caused by climate change, scientists say.

10 Apr 18 - Businesses ignore carbon liability at the country's peril, an international investment organisation is warning.
---
9 Apr 18 - New Zealand is calling for deeper emissions cuts from the international shipping industry.
6 Apr 18 - An end to economic growth must be considered a distinct possibility if New Zealand is to decarbonise, the Government has been told.
5 Apr 18 - Climate change mightn't be all bad news for New Zealand's tourism industry.
3 Apr 18 - Environment minister David Parker says if you want to get his measure, look at the America's Cup deal he's just done.
29 Mar 18 - An immediate carbon price cap of $100 a tonne and a $25 price floor is needed if New Zealand is to be carbon-neutral by 2050, says former Environment Secretary Dr Roger Blakeley.
29 Mar 18 - All four of New Zealand's largest banks have received fail marks in a new climate change report analysing bank lending to fossil-fuel investments.
26 Mar 18 - Climate minister James Shaw says he wants to cut New Zealand's use of fossil fuels, not give the sector carbon credits.
20 Mar 18 - National Party climate spokesman Nick Smith was talking about an integrated carbon market with Australia, while his boss, then-Opposition leader John Key, was backing the Emissions Trading Scheme.
19 Mar 18 - By publisher ADELIA HALLETT | When it comes to action on climate change, we're pretty much back to where we were 10 years ago, when Carbon News started publishing.
19 Mar 18 - Climate and energy expert Professor RALPH SIMS explains why natural gas is not a "bridging" fuel between dirtier fossil fuels and low-carbon energy. Searching for it and using it, he says, will delay...
13 Mar 18 - The Government is looking to fund projects that boost the circular economy.
12 Mar 18 - Climate change and the environment have failed to make new Opposition leader Simon Bridges' front bench.
---