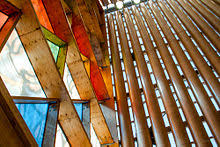 Friday - The mining industry possibly got more than it bargained for when it decided to hold its annual dinner in Christchurch's Cardboard Cathedral this month – a climate change debate with the Anglican Church.

Wednesday - All political parties except National told an audience in Auckland last night that they rank climate change as the biggest issue they face.
18 Sep 17 - With less than one week left in the election campaign, Prime Minister Bill English has yet to mention climate change in any of his formal speeches or statements.

18 Sep 17 - United Future's new leader says he supports the Emissions Trading Scheme, the Zero Carbon Act and wants New Zealand to be carbon netural by 2050.

15 Sep 17 - The most commonly grown variety of kiwifruit around Te Puke will not be commercially viable in the area by the end of the century, say scientists.

14 Sep 17 - Companies operating in New Zealand have been named as some of the most obstructive to global action on climate change.

12 Sep 17 - If Sir Geoffrey Palmer had had his way, New Zealand would have already cut greenhouse gas emissions by 40 per cent.
---
11 Sep 17 - The refusal by TVNZ to include The Opportunities Party in televised election debates does the public a disservice.
11 Sep 17 - Week 12 of The Count ... and Prime Minister Bill English is still in the starting blocks.
7 Sep 17 - New Zealand won't get more carbon-sequestering forests until land prices fall.
7 Sep 17 - Maori need to get involved in fighting climate change, says Maori Party Kelston candidate Cinnamon Whitlock.
7 Sep 17 - A business initiative that safely disposes of climate-damaging gases from the refrigeration and air conditioning industries has had its accreditation as a product stewardship scheme extended.
6 Sep 17 - National is taking a business-as-usual approach to climate policy, warning that Labour and the Greens would go too far if they got into government.
5 Sep 17 - New Zealand has signed a statement calling for renewed co-operation on carbon markets.
5 Sep 17 - The Green Party wants a regional research institute to develop high-value wood products as part of a strategy to reduce greenhouse gas emissions.
4 Sep 17 - A climate change report the Government didn't want public yet has been released by the Green Party.
4 Sep 17 - New Zealand First leader Winston Peters has pulled ahead of Labour leader Jacinda Ardern in The Count, but the Greens' James Shaw is looking unassailable.
1 Sep 17 - Heavily redacted documents give little clue what advice the Ministry for the Environment gave the Government on the scrapping of KiwiRail's electric engines.
30 Aug 17 - The Government's refusal to release a report on the impacts of climate change suggests it might contain something politically damaging, says constitutional law expert and former Prime Minister Sir...
---