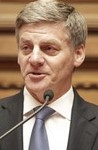 Today 10:00am - New Zealand's mayors want a national emissions reduction plan and a stocktake of the likely cost to the country of climate change – something Prime Minister Bill English has steadfastly rejected.

Today 10:00am - Climate change will mean more extreme El Niño summers – the weather pattern that causes droughts in the east of New Zealand and storms in the west.

Today 10:00am - Climate change campaigns that focus on correcting public beliefs about scientific consensus are likely to backfire and undermine policy efforts, according to an expert commentary.

Monday - The Ministry for the Environment has given the Government no advice on the climate implications of developing 13 new coal mines.

Monday - Climate change wasn't on the lips of New Zealand's political leaders last week, despite serious flooding in Canterbury and Otago and financial warnings from the world's first professor of the economics of disasters.

Monday - Profligate fossil fuel use could cause Asian temperatures to rise by 6deg , bringing floods and food shortages for hundreds of millions.

Friday - Threats from climate change-induced sea-level rise and storms are not reflected in the market value of coastal New Zealand property, putting many people at risk of financial disaster.
---
Thursday - Planning to cut New Zealand's greenhouse gas emissions in line with the country's Paris Agreement commitments has been delayed because of the Ministry for the Environment's heavy workload,...
Thursday - The next generation will have to pay a $535 trillion bill to tackle climate change, relying on unproven and speculative technology.
19 Jul 17 - Redundant North Sea energy workers are being offered free football tickets to build revolutionary new electricity storage systems.
18 Jul 17 - Officials will put a plan to cut New Zealand's appalling transport emissions to the Government before the end of the year.
17 Jul 17 - Summer in Auckland could, by the end of the century, be as hot as summer in Yokohama is now, a new report says.
17 Jul 17 - It's runs on the board this week for two leaders in The Count, our weekly tally of public statements about climate change by party leaders in the lead-up to the general election.
14 Jul 17 - Using wood instead of coal to provide industrial heat would cut New Zealand's greenhouse gas emissions by 460,000 tonnes and save more than $11 million a year in carbon credits, a new report says.
13 Jul 17 - Climate scientists will be able to more accurately study Earth's temperature changes, thanks to a global database.
13 Jul 17 - Climate history locked in stalagmite evidence warns of 10,000 years of drought – 100 centuries – to come in the Middle East.
12 Jul 17 - Climate change could affect labour productivity – at least in the wine industry, new research suggests.
11 Jul 17 - Climate change could cast a dark shadow over the bees of Europe, with global warming posing sex problems for the sea turtles of the Atlantic.
10 Jul 17 - Climate-related disasters have cost New Zealand more than $150 million this year.
---