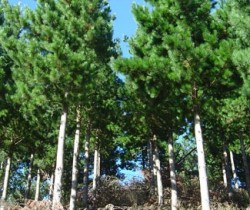 Today 11:00am - The Government has finally unveiled its proposals for changing the way forestry is treated under the Emissions Trading Scheme – including a proposal for new permanent forestry provisions.

8 Aug 18 - Allowing the world to warm by even 2deg could threaten the existence of humans.

8 Aug 18 - More details of the Government's new "well-being" approach to setting the nation's budget are emerging.

7 Aug 18 - Unchecked climate change will cost New Zealand nearly $6 billion a year in lost earnings, researchers have calculated.

6 Aug 18 - Carbon-risk disclosure by companies should not be prescriptive, the External Reporting Board is warning.
30 Jul 18 - National Party leader Simon Bridges is promising to have "the best ideas" on the environment.

27 Jul 18 - Most New Zealand companies are not disclosing their carbon risk – despite ranking the environment and climate change as their top priorities, a new survey shows.
---
25 Jul 18 - Maori in Taranaki say they will oppose climate-damaging activities like oil and gas extraction and intensive farming.
25 Jul 18 - New Zealand and Australian investors with $10 trillion worth of assets are calling for a suite of policies to direct finance into the low-carbon economy.
23 Jul 18 - Cross-party talks on the Zero Carbon Bill could be under way within a month.
20 Jul 18 - China's action on climate change makes New Zealand look like its "pussy-footing around", says climate minister James Shaw.
19 Jul 18 - New Zealand's support for Pacific countries threatened by climate change will be under the spotlight in Fiji next week.
18 Jul 18 - Consultation on the next review of the Emissions Trading Scheme will start next month.
17 Jul 18 - Ngai Tahu is planting a million native trees and converting some of its farms to horticulture as part of its strategy to deal with climate change.
16 Jul 18 - Banks can expect pressure from the country's largest urban authorities to get their money out of fossil-fuel investment.
13 Jul 18 - New central bank head Adrian Orr is warning of financial crisis and mass social unrest if the world doesn't urgently address climate change.
12 Jul 18 - Details of support for the Zero Carbon Bill by businesses responsible for half the country's greenhouse gas emissions have emerged today.
12 Jul 18 - Farmers could be interested into opting into the Emissions Trading Scheme – if the settings are right.
11 Jul 18 - Farmers should be able to opt into the Emissions Trading Scheme so they can get credit for introducing climate-friendly practices, says the Greater Wellington Regional Council.
---