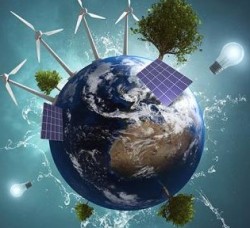 Monday - Rules governing the development of international carbon markets will be top of the agenda at international climate talks this week.

Thursday - Ten years ago, one of the world's largest carbon traders decided it would set up shop in New Zealand after all.
Wednesday - Ten years ago, a Japanese bank bought New Zealand AAUs in what was the world's first international trade in Kyoto Protocol forestry units.

16 May 19 - The Government's new Tourism Strategy released today says the sector must "play its role" in dealing with climate change.

15 May 19 - Technologies like turning human waste into electricity could meet a large chunk of the Government's 2030 methane reduction target.

13 May 19 - Organic farmer and former Green Party co-leader JEANETTE FITZSIMONS says farmers can cut methane now while increasing farm profits.

12 Apr 19 - Ten years ago, New Zealanders were in support of signing up to the second part of the Kyoto Protocol.
---
11 Apr 19 - New Zealand's greenhouse gas emissions are growing again, following the global trend.
3 Apr 19 - Let's talk about Canada. It's easier than talking about our own country.
25 Mar 19 - Shipowners want out of the Emissions Trading Scheme, saying it won't be fair if they have to pay twice for their emissions.
21 Mar 19 - Ten years ago, China was rejecting an American proposal to impose tariffs on goods from countries with no price on carbon.
8 Mar 19 - New Zealand's mayors have been asked whether they believe humans are causing the climate to change.
6 Mar 19 - Ten years ago, economists were being told to come to an agreement on the likely costs of the Emissions Trading Scheme.
11 Feb 19 - The Government's top climate research organisation says New Zealand's methane emissions from agriculture should be carbon-neutral.
5 Feb 19 - Linkages between emissions trading scheme in Europe and New Zealand are on the agenda – but it's China that Europe is really interested in.
17 Dec 18 - Climate minister James Shaw is optimistic that rules governing carbon markets will be settled next year.
12 Dec 18 - New Zealand's efforts on climate change remain "highly insufficient" and consistent with twice the level of warming that scientists say we should not go beyond.
15 Nov 18 - Businesses will soon be able to price and trade carbon without the help of governments by using blockchain technology, says a social enterprise about to launch a new carbon platform.
12 Nov 18 - Climate mismanagement under the National government means New Zealand will have to use international carbon credits to meet its emissions reduction targets, says a leading carbon forestry executive.
---