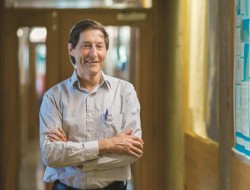 8 Nov 17 - New Zealand's winters are a month shorter than they were 80 years ago, NIWA scientists say.

8 Nov 17 - India is on course to surpass China as the world's largest emitter of anthropogenic sulphur dioxide.

7 Nov 17 - Evidence that this year will be one of the hottest on record is alarming, says one of New Zealand's leading climate experts.

7 Nov 17 - The World Meteorological Organisation says 2017 is among the three warmest years recorded, with human wellbeing facing mounting risks.

6 Nov 17 - This year's annual UN climate summit, the twenty-third Conference of the Parties to the United Nations Framework Convention on Climate Change (https://cop23.unfccc.int/) in UN jargon (or COP23 for short), starts on 6 November – and for once it may have an unusual spring in its step.

6 Nov 17 - By ERIK NORDMAN | Cape Verde, the small island archipelago nation off Africa's northwest coast, has set itself a very bold renewable energy target - to obtain 100 per cent of its electricity from renewale resources by 2025.

3 Nov 17 - Wellingtonians want rooftop gardens – and the idea is being investigated by the city's university.
---
3 Nov 17 - Protecting the world's forests could achieve a quarter of the greenhouse gas emissions cuts needed to meet the 1.5°C Paris target, scientists say.
27 Oct 17 - Much of New Zealand's $20 billion worth of stormwater and wastewater systems will not cope with the impacts of climate change, an expert is warning.
26 Oct 17 - The Productivity Commission is being told not to let economic growth rule its investigation into cutting New Zealand's greenhouse gas emissions.
18 Oct 17 - New Zealand's Emissions Trading Register is ready to trade in other "environmental commodities" such as water.
16 Oct 17 - Spending up to $20 billion on buying foreign carbon credits will be a "severe imposition" on the economy and will delay New Zealand's decarbonisation, warns our former climate ambassador.
4 Oct 17 - Scientists in Hong Kong have developed new technology that enables polyester to be harvested from unwanted textiles and recycled into new clothes.
29 Sep 17 - The next three years are more than an electoral cycle; they make up the period that could determine – quite literally – what sort of world we live in. And that's what should be on the minds of...
18 Sep 17 - United Future's new leader says he supports the Emissions Trading Scheme, the Zero Carbon Act and wants New Zealand to be carbon netural by 2050.
15 Sep 17 - The most commonly grown variety of kiwifruit around Te Puke will not be commercially viable in the area by the end of the century, say scientists.
14 Sep 17 - Companies operating in New Zealand have been named as some of the most obstructive to global action on climate change.
12 Sep 17 - If Sir Geoffrey Palmer had had his way, New Zealand would have already cut greenhouse gas emissions by 40 per cent.
12 Sep 17 - National is promising to almost triple the money it allocates to the Sustainable Farming Fund if it is returned to power.
---