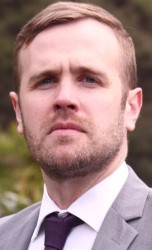 18 Sep 17 - United Future's new leader says he supports the Emissions Trading Scheme, the Zero Carbon Act and wants New Zealand to be carbon netural by 2050.

15 Sep 17 - The most commonly grown variety of kiwifruit around Te Puke will not be commercially viable in the area by the end of the century, say scientists.

14 Sep 17 - Companies operating in New Zealand have been named as some of the most obstructive to global action on climate change.

12 Sep 17 - If Sir Geoffrey Palmer had had his way, New Zealand would have already cut greenhouse gas emissions by 40 per cent.

12 Sep 17 - National is promising to almost triple the money it allocates to the Sustainable Farming Fund if it is returned to power.

11 Sep 17 - The refusal by TVNZ to include The Opportunities Party in televised election debates does the public a disservice.

5 Sep 17 - The soil bacteria that help to keep methane emissions under control are tougher than scientists thought, opening new possibilities for converting greenhouse gases to fuels.
---
30 Aug 17 - New Zealand is supporting a new $400,000 scholarship programme to build global expertise on climate change and food security.
28 Aug 17 - Prime Minister Bill English says climate change is not a major concern for most New Zealanders.
24 Aug 17 - The extraction and burning of fossil fuels is responsible for much more methane in the atmosphere than scientists thought, research published today shows.
24 Aug 17 - Misty rain is giving way to fear of flash floods as Brazilian downpours cause chaos in the country's biggest city.
15 Aug 17 - The deep past has cruel lessons for the near future, for example how ocean oxygen depletion can stifle the marine world. It could recur.
15 Aug 17 - New studies confirm climate change's triple risk to Europe. The heat is on, lives are at risk and the floods are arriving earlier.
10 Aug 17 - It was freshwater at 10 paces on the first day of the Environmental Defence Society's Tipping Points conference yesterday, with both National and Labour releasing their policies.
31 Jul 17 - Seven weeks out from the general election, we've finally got a political leader talking climate change policy – and it's Winston Peters.
25 Jul 17 - Paying landowners not to cut down trees is cheaper than the carbon-related costs the destruction of the forests would cause, new research shows.
25 Jul 17 - Climate change campaigns that focus on correcting public beliefs about scientific consensus are likely to backfire and undermine policy efforts, according to an expert commentary.
17 Jul 17 - Summer in Auckland could, by the end of the century, be as hot as summer in Yokohama is now, a new report says.
13 Jul 17 - Climate scientists will be able to more accurately study Earth's temperature changes, thanks to a global database.
---