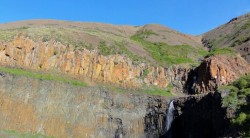 Tuesday - Geologists have linked one of the planet's most devastating events to the burning of fossil fuels, as ancient coal fires set in train a global extinction wave.

Tuesday - If microplastics can enter the food web on King George Island, they can probably do so almost anywhere on earth.

25 Jun 20 - New Zealand will take the proposed ground-breaking Agreement on Climate Change, Trade and Sustainability to the table in trade talks with the United Kingdom.

25 Jun 20 - Scientists analysing end-of-summer snowline survey photos say that in three years, 13 million cubic metres of ice – equivalent to the amount of water drunk by New Zealanders over that time - were lost from just one South Island glacier.

19 Jun 20 - Hospital operating theatres could be a new frontier in the battle to cut greenhouse gas emissions.

18 Jun 20 - A report on the global dairy industry hugely overstates Fonterra's carbon footprint, the New Zealand co-operative says.

15 Jun 20 - Worst-case global heating scenarios may need to be revised upwards in light of a better understanding of the role of clouds, scientists have said.
---
15 Jun 20 - It could soon be safe to think with nostalgia of the snows of yesteryear. Snowstorms in the future in the US could happen less often, with less intensity. And they would be of a smaller size.
12 Jun 20 - Humans see sand as an infinite resource. We are astounded to discover there are more stars in the universe than grains of sand on our beaches.
12 Jun 20 - Scientists have set a record for carbon capture and storage using new sponge-like technology that can capture carbon directly from the air.
11 Jun 20 - Chemical engineers have found a new way to turn carbon dioxide emissions from cement-making and other industrial processes into useful products like fuel and plastics.
8 Jun 20 - As graphs go, the Keeling Curve is simple, but it clearly illustrates the planet's vexing global warming challenge.
2 Jun 20 - Climate change means many health risks. Any one of them raises the danger. What happens when extreme heat meets bad air?
28 May 20 - Climate change is the top priority for sustainability professionals working in New Zealand, new research shows.
26 May 20 - The Climate Action Tracker international climate science coalition holds an online summit today on achieving net-zero emissions energy systems.
26 May 20 - Bricks, concrete and other construction materials could one day be made from recycled PVC, waste plant-fibre or sand, thanks to a remarkable new kind of rubber polymer.
25 May 20 - Horizons Regional Council is expected to approve its 2020/21 annual plan today, with $175,000 going to assessing the region's vulnerability to climate change.
22 May 20 - The outcome of National's leadership stoush today is unlikely to affect the party's approach to climate policy.
21 May 20 - Today is the last day for submissions on a new law aimed at smoothing out the supply of logs for the domestic wood industry.
---