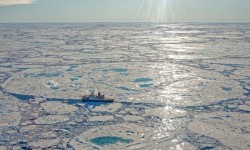 Wednesday - Scientists have found evidence that frozen methane deposits in the Arctic Ocean – known as the "sleeping giants of the carbon cycle" – have started to be released over a large area of the continental slope off the East Siberian coast, the Guardian reveals.

Wednesday - India's southern city of Hyderabad is known as a high-tech hub - but its infrastructure is looking increasingly dated in an era of strengthening climate change impacts.

Wednesday - While this year will be memorable for many reasons, it is now more likely than not that 2020 will also be the warmest year for the Earth's surface since reliable records began in the mid-1800s.

Wednesday - Half a planet apart, one low-lying and the other on the roof of the world, two huge regions confront an increasing dust risk − a menace to jobs, to food and to lives.

22 Oct 20 - Once again science has presented evidence that a new geological epoch is here. This human footprint is all our own work.

21 Oct 20 - Nights are warmer. So are northern lakes. And farm livestock are at greater risk of disease, thanks to rising heat.

21 Oct 20 - Oil company ConocoPhillips has a problem; it wants to pump 160,000 more barrels of oil each day from a new project on Alaska's North Slope, but the fossil fuels it and others produce are leading to global heating, and the Arctic is melting.
---
20 Oct 20 - Three weeks after China told the world it is aiming for carbon neutrality, an important study outlines a roadmap to that goal, and challenges along the way.
16 Oct 20 - United States supreme court nominee Amy Coney Barrett refused to say whether she accepts the science of climate change, under questioning from Kamala Harris, saying she lacked the expertise to know...
13 Oct 20 - Extreme weather events have increased dramatically in the past 20 years, taking a heavy human and economic toll worldwide, and are likely to wreak further havoc, the UN has said.
13 Oct 20 - Policymakers urgently need ideas on ways to end hunger. But a global review of the literature finds that most researchers have had the wrong priorities.
13 Oct 20 - Hearing eco-friendly tips such as riding bikes instead of driving and going vegan to save the planet actually makes people less likely to do anything about climate change, new research shows.
8 Oct 20 - As the world dices with the climate emergency, businesses and governments are starting to push funding towards technology that aims to trap planet-heating gases rather than let them saturate the...
7 Oct 20 - This year has been hell on earth, in more ways than one. Catastrophic blazes have spanned the planet from Australia to the Arctic, and wildfires have torched large swaths of the western United...
6 Oct 20 - By the end of this century Greenland's ice loss will probably be higher than in any century during the last 12,000 years.
1 Oct 20 - A super-enzyme that degrades plastic bottles six times faster than before has been created by scientists and could be used for recycling within a year or two.
29 Sep 20 - UNITED STATES scientists have worked out how to feed nine billion people and save wild life from extinction, both at the same time – thanks to healthy lentils.
17 Sep 20 - Change in the far north is happening so fast that soon the Arctic won't be arctic any more.
15 Sep 20 - SIR DAVID ATTENBOROUGH returns to television screens this with a landmark new production - but the tone is very different from his usual work.
---