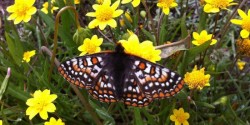 Thursday - Scientists in California who turned a patch of natural grassland into a laboratory have established a subtle link between flowering times and the mix of species in an ecosystem – indicating that global warming could change planetary biology and disrupt ecosystems in hitherto unsuspected ways.

Wednesday - If anything, it's worse than expected: sweeping cutbacks to environmental programmes; an abandonment of efforts aimed at cleaning up air and water pollution around the US; and, most worrying for the world in general, an end to multimillion-dollar funding for satellite launches and other science projects aimed at tackling climate change.

16 Mar 17 - Scientists have worked out how to combat climate change and improve human health, one mouthful at a time.
14 Mar 17 - By 2030, sea level rise driven by global warming could be costing the Netherlands city of Rotterdam $US240 million a year.

14 Mar 17 - The biggest and worst droughts might not stay fixed in one place but can travel thousands of kilometres from their origin, according to a new study.

10 Mar 17 - Atmospheric carbon dioxide in the Southern Hemisphere continues to rise, with testing at Wellington's Baring Head now consistently recording around 401 parts per million.

10 Mar 17 - Researchers have reminded the world's governments that forests will play a vital role in mitigating the effects of climate change – provided policies are robustly pursued and reported with transparency.
---
7 Mar 17 - The effects of climate change on fish are being studied in a world-first trial at Niwa's Bream Bay marine science centre.
6 Mar 17 - Climate scientists, struggling with the enduring problem of the carbon budget, may have to think again as a result of new research findings.
1 Mar 17 - Climate change will mean more poisonous algal blooms in New Zealand's rivers and lakes, a scientist is warning.
1 Mar 17 - When it comes to reducing carbon emissions, one of the biggest hurdles is the world's addiction to flying.
27 Feb 17 - New Zealand urgently needs to understand the likely impacts of climate change on the economy, environment and society, says a new government paper.
20 Feb 17 - Glaciers on Canada's Queen Elizabeth Islands are melting at an ever faster rate. Between 2005 and 2015, ice loss accelerated massively from three billion tonnes a year to 30 billion, according to new...
20 Feb 17 - President Trump has made it clear he intends to dismantle the Obama administration's policies for reducing US greenhouse gas emissions.
17 Feb 17 - Here is a vision of the future in a warming world without fossil fuels:
17 Feb 17 - Climate change may be about to set a trap for African penguins and send them foraging for food in places that the fish have departed, according to satellite trackers.
15 Feb 17 - One of the most unexpected political developments in recent months has been the political awakening of scientists in the United States.
14 Feb 17 - The Deep South National Science Challenge has announced funding totalling about $2 million for five new research projects to help New Zealanders to better understand their future climate.
14 Feb 17 - America's power supply could one day falter just when customers need it most.
---