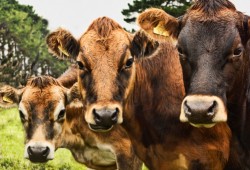 19 Dec 18 - Cutting methane and nitrous oxide emissions from farming are critical to keeping the world to no more than 1.5deg of warming, scientists say in new research.

14 Dec 18 - A group set up to advise the Government on the role of forestry in cutting greenhouse gas emissions says the real answer is reducing livestock numbers.

13 Dec 18 - Permanent forests are to come into the Emissions Trading Scheme, but there's no decision yet on recognising the carbon stored in timber products and whether landowners will be able to average out carbon stored in their forests.

12 Dec 18 - Using revenue from the Emissions Trading Scheme to fund carbon sequestration by farmers is one of the options the Government is considering as it opens discussion with other countries on ways of dealing with agricultural greenhouse gas emissions.

12 Dec 18 - New Zealand's efforts on climate change remain "highly insufficient" and consistent with twice the level of warming that scientists say we should not go beyond.
10 Dec 18 - Climate minister James Shaw arrives in Poland today for international climate negotiations. This time last year he was a brand-new minister, just three weeks into the job and announcing on the world stage that New Zealand would be carbon-neutral by 2050.

5 Dec 18 - Angel investor and independent director Cecilia Tarrant is to head the Government's $100 million Green Investment Fund.
---
3 Dec 18 - New Zealand is on a list of countries being called on to cut emissions as an example to the world.
29 Nov 18 - A new science paper spelling out why animal agriculture will have to be severely curtailed if the Paris Agreement targets are to be met could have huge implications for New Zealand.
28 Nov 18 - A report out today saying that global emissions are rising again because of economic growth should be the bomb needed to blast us out of our self-congratulatory complacency.
19 Nov 18 - Forestry's value to New Zealand's climate change effort is not in carbon storage but in powering the low-carbon economy, says our leading forest research institute.
16 Nov 18 - New Zealand researchers have created a new plant-based electrolyte that could be the key to making safer and more environmentally friendly batteries.
5 Nov 18 - Waste Management is to make sustainable procurement a priority.
30 Oct 18 - Decarbonising the New Zealand economy cannot be a repeat of Rogernomics, says Environment Secretary Vicky Robertson.
26 Oct 18 - Changes to the Crown Minerals Act that will see most new oil and gas exploration banned are the type of signals businesses need, says one of the people heading a ground-breaking finance sector...
26 Oct 18 - Need help deciding whether or not to buy an electric vehicle?
25 Oct 18 - Tougher resource management rules and incentives to store carbon in native forests are among just-released recommendations to protect New Zealand's native species from climate change.
24 Oct 18 - New Zealand and Japan are working together to transition away from a reliance on fossil fuels with the signing of an agreement on hydrogen, says energy minister Megan Woods.
23 Oct 18 - Key companies and government officials are joining forces to prepare New Zealand's financial system for the low-carbon economy.
---