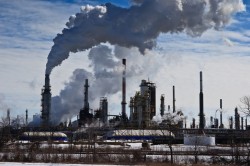 10 Aug 17 - New Zealand's lack of a carbon cap is one of the issues on the table for the Productivity Commission.

7 Aug 17 - Hopes of a nuclear revival to combat climate change have been dashed as another prestige project runs into trouble.

4 Jul 17 - Lack of political certainty is damaging the effectiveness of carbon markets, says new research.

4 May 17 - A new study provides evidence that humans are capable of radically altering the world around us, and offers hope in the face of climate change.

20 Feb 17 - President Trump has made it clear he intends to dismantle the Obama administration's policies for reducing US greenhouse gas emissions.

1 Feb 17 - New Zealand could cut the cost of meeting its international emissions reductions targets by linking its carbon market to emerging markets in Asia.

16 Dec 16 - Hybrid cars have been brought into the voluntary greenhouse gas report regime for the first time.
---
13 Dec 16 - Squeezed budgets and rising energy demand will significantly heighten the demand and use of renewable and energy efficiency technologies across the Middle East, says a new white paper.
9 Dec 16 - An international economist is in New Zealand preparing a report on how the country can cut all greenhouse gas emissions by 2050.
6 Dec 16 - Australian investors want clear climate policy that delivers certainty – and access to international carbon markets, says the Investor Group on Climate Change.
30 Nov 16 - Climate policies will keep chipping away at fossil fuels' role as the mainstay of global energy use, despite Donald Trump's appointment as United States president in 2017, according to a new report...
17 Nov 16 - All key sectors– including commercial agriculture – must have major emissions cuts under way by 2020 if the world is to keep global warming within the Paris Agreement's 1.5deg limit, a new report...
8 Nov 16 - The Government is pricing carbon into its forward projections at up to $152 a tonne in 2030.
15 Sep 16 - The Paris Agreement not only signalled social change but also sent the market a strong signal to move away from carbon-intensive investment.
15 Sep 16 - A hardwood substitute has been developed to effectively end the need to log native forests.
16 Aug 16 - Some of New Zealand's largest carbon emitters, along with forestry companies and even iwi are among the organisations that used cheap EURs to meet their liabilities under the Emissions Trading...
20 Jul 16 - The transition to a clean-energy future is upon us, as shown by the huge uptake of solar panels and by the Turnbull government's decision to set up a A$1 billion Clean Energy Innovation Fund. But...
7 Jul 16 - Three years ago, the United Nations passed a resolution declaring 2016 the International Year of the Pulse.
1 Jul 16 - The shock waves felt round the world at the UK's decision in a referendum to leave the European Union will have unexpected consequences for some major projects linked to climate change.
---