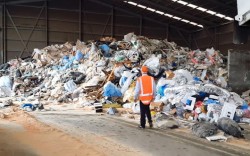 Today 11:00am - The cost of dumping waste in landfills will rise as the Government tries to tackle the country's mounting rubbish problem.

Today 11:00am - The Pre-Election Fiscal and Economic Update (known affectionately as the Prefu) will be released on August 20 – a month before the country goes to the polls.

Monday - The future of the Marsden Point oil refinery, the Glenbrook steel mill and large-scale wood processing are all at risk as New Zealand decarbonises, infrastructure and regional development minister Shane Jones is warning.

Monday - The Green Party wants coal-fired industrial boilers outlawed within five years.

7 Jul 20 - A push to cut greenhouse gas emissions from the construction sector will inevitably lead to more wood in buildings, forest owners say.

7 Jul 20 - The livestock sector is being singled out in new research for hugely increasing global nitrogen pollution.

1 Jul 20 - Infrastructure minister Shane Jones says New Zealand should be focusing its climate-change action on preparing for the impacts of a warming climate.
---
26 Jun 20 - The third leg of the Government's climate change legislation trifecta came home this week.
24 Jun 20 - The Climate Change Commission has again told the Government that assessing the climate impact of projects should be mandatory under a new fast-track consenting process.
22 Jun 20 - A powerful public-private lobby group – including the head of the Ministry for the Environment – wants money generated by the Emissions Trading Scheme put into a $2 billion fund to help companies to...
19 Jun 20 - By GAVIN EVANS | New funding deals New Zealand Green Investment Finance is working up will show a variety of low-carbon benefits from a range of sectors, chief executive Craig Weise says.
18 Jun 20 - A report on the global dairy industry hugely overstates Fonterra's carbon footprint, the New Zealand co-operative says.
18 Jun 20 - New Zealand has its own version of Boaty McBoatface – Sparky the tugboat.
18 Jun 20 - The Environment Committee today discusses annex VI of the International Convention for the Prevention of Pollution from Ships (known as the Marpol Convention).
17 Jun 20 - Parliament has passed major changes to the Emissions Trading Scheme, bringing agricultural emissions into the scheme and, for the first time, setting a cap on emissions.
17 Jun 20 - The Climate Change Commission will be consulted about projects being fast-tracked through resource consent as part of the covic-19 pandemic economic recovery.
16 Jun 20 - Fossil-fuel companies might be talking about an energy revolution, but their financial projections show they are largely ignoring it, a new report reveals.
11 Jun 20 - Chemical engineers have found a new way to turn carbon dioxide emissions from cement-making and other industrial processes into useful products like fuel and plastics.
28 May 20 - Dairy farmers will have to disclose how much synthetic nitrogen fertiliser they are putting on their land under new rules expected to clean up waterways and cut greenhouse gas emissions.
---