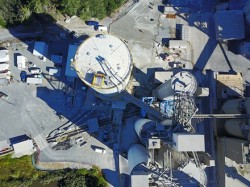 Today 11:00am - One of New Zealand's largest emitters has made it on to the Dow Jones Asia-Pacific Sustainability Index.

17 Nov 20 - Urgent reforms of the Bank of England are needed to help decarbonise the financial system and boost green investment as Britain recovers from the covid-19 pandemic, a group of leading academics has said.

17 Nov 20 - Russia has no plans to achieve carbon neutrality before the end of the century and is betting on Asian demand to support a huge expansion of its Arctic gas industry.

12 Nov 20 - Businesses wanting to stop using coal and gas for heat can tap into a new $70 million fund.

11 Nov 20 - Large companies and financial institutions in the UK will have to come clean about their exposure to climate risks within five years under the terms of a tougher regime announced.

9 Nov 20 - One of the biggest investors in Tesla has defended the explosive growth in the US electric carmaker's share price, arguing that it is "far from an aberration".

5 Nov 20 - Spot NZUs opened at $35.10 bid and $35.15 offered on CommTrade this morning, after last fixing at $35.12.
---
5 Nov 20 - The United States is now officially the only country in the world refusing to participate in global climate efforts, with the fate of the crisis hanging on the still uncalled presidential election.
4 Nov 20 - A new tool for measuring carbon emissions in small and medium-sized businesses will help decarbonise the country's supply chain, says Toitû Envirocare.
27 Oct 20 - Twenty-eight countries, one American state and the European Union says they are committed to being carbon-neutral by 2050.
12 Oct 20 - Back in pre-COVID times last year, when New Zealand passed the Zero Carbon Act, Prime Minister Jacinda Ardern insisted "New Zealand will not be a slow-follower" on climate change. But how has she...
5 Oct 20 - The English city of York plans to build Britain's biggest zero-carbon housing project, boasting 600 homes in car-free cycling paradises full of fruit trees and allotments.
2 Oct 20 - Investors representing more $1.5 trillion in funds say their enthusiasm for low-carbon strategies hasn't been dented by the economic impacts of the covid-19 pandemic.
29 Sep 20 - Picking winners has been anathema to Australian policy-making for decades. The federal government's technology investment roadmap bucks the trend, targeting public investments in specific...
29 Sep 20 - UNITED STATES scientists have worked out how to feed nine billion people and save wild life from extinction, both at the same time – thanks to healthy lentils.
29 Sep 20 - Veteran New South Wales Labor right-winger Joel Fitzgibbon has threatened to quit the shadow cabinet if the opposition adopts a medium-term emissions reduction target he cannot live with.
18 Sep 20 - China is considering carbon neutrality as part of its long term climate plan, the country's foreign ministry announced following a summit with EU leaders.
17 Sep 20 - Ten years ago, a group of New Zealand chief executives was talking to former World Bank chief economist Lord Nicholas Stern about how this country could lead the world in low-carbon technology.
15 Sep 20 - The Asian Infrastructure Investment Bank is promising to end all coal financing, but has yet to write this into policy.
---