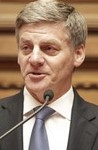 Today 10:00am - New Zealand's mayors want a national emissions reduction plan and a stocktake of the likely cost to the country of climate change – something Prime Minister Bill English has steadfastly rejected.

Monday - The Ministry for the Environment has given the Government no advice on the climate implications of developing 13 new coal mines.

Thursday - Planning to cut New Zealand's greenhouse gas emissions in line with the country's Paris Agreement commitments has been delayed because of the Ministry for the Environment's heavy workload, confidential papers show.

18 Jul 17 - Officials will put a plan to cut New Zealand's appalling transport emissions to the Government before the end of the year.

13 Jul 17 - The pan-political Globe climate group says cutting New Zealand's greenhouse gas emissions to net-zero by 2050 is worth serious discussion.

10 Jul 17 - Climate-related disasters have cost New Zealand more than $150 million this year.

5 Jul 17 - Official advice on changes to the Emissions Trading Scheme has made its way from officials to ministers.
---
22 Jun 17 - The Government is refusing to release briefing papers on proposed new coal mines on the Buller Plateau.
25 May 17 - The Government is putting $4 million into figuring out how New Zealand can cut its greenhouse gas emissions.
24 May 17 - New Zealand should hedge its international carbon risk by buying European carbon units, a broker says.
10 May 17 - Parliament has again been told that the Government is getting advice on bringing agricultural emissions into the Emissions Trading Scheme.
29 Mar 17 - Energy efficiency is a subject unlikely to grab the headlines, but there is a quiet revolution under way that is changing the electricity industry and helping to save the planet from climate change.
16 Feb 17 - A little of Treasury's thinking on how to protect the economy from carbon exposure has been revealed – including a hint that it wants to talk to the business community.
7 Feb 17 - OPINION | Tourism can be a force for good – depending how you do it, say World Tourism Organisation director-general TALEB RIFAI, United Nations Environment executive-director ERIK SOLHEIM and UNFCCC...
1 Feb 17 - New Zealand could cut the cost of meeting its international emissions reductions targets by linking its carbon market to emerging markets in Asia.
23 Nov 16 - A first report on how New Zealand can adapt to climate change – including environmentally sustainable economic growth - should be with the Government by May.
9 Nov 16 - New research reveals that the ability of New Zealand's land biosphere to absorb carbon could be 50 per cent more than currently estimated.
31 Oct 16 - A capital gains tax on rural land and letting farmers sell future carbon credits when they plant trees could help New Zealand to cut agricultural emissions, a new paper says.
20 Oct 16 - PRIME MINISTER John Key says New Zealand can cut greenhouse gas emissions while increasing agricultural production, despite advice to the contrary.
---