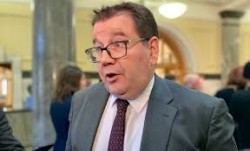 Friday - Finance Minister Grant Robertson says the ClimCom draft advice on climate change is the most significant report in his lifetime.

Thursday - The Bank of England's remit has been changed to include a duty to support the country's net-zero carbon ambition.

Wednesday - United Nations Secretary-General Antonio Guterres on Tuesday called on wealthy nations to end coal use by 2030 so the world can meet its goals to curb global warming, urging G7 nations to make that commitment before or at a leaders' summit in June.

1 Mar 21 - Updated plans to reduce emissions barely make a dent in the huge cuts needed to meet global climate goals and the United Nations is calling for redoubled efforts.

23 Feb 21 - Big companies donated to climate deniers in the US Congress—even while claiming to care about climate change. When those same lawmakers denied the results of the presidential election, the bill came due.

22 Feb 21 - Flood walls in Samoa financed by the UN's flagship climate fund are inadequate and could put people in danger, experts warn.

18 Feb 21 - New Zealand's vast native forests may yet help the country meet its emissions reduction commitments under the Paris Agreement.
---
17 Feb 21 - Scientists have looked at conditions in just nine of the world's 200 nations and found that − if the world keeps its Paris climate promises, of containing global heating to "well below" 2deg by...
9 Feb 21 - Critical negotiations to prepare for November's Cop26 climate summit will need to take place virtually as the coronavirus pandemic is still not allowing in-person meetings and further delay is not an...
31 Jan 21 - New Zealand will increase its 2030 emissions reduction target, the Government has just announced.
29 Jan 21 - Australia will effectively be abandoning the Paris agreement unless it makes at least a 50 per cent cut in greenhouse gas emissions by 2030 and reaches net zero well before 2050, according to an...
27 Jan 21 - The United States will "make good" on financial commitments to developing countries struggling with climate change, top US climate envoy John Kerry has told a summit of world leaders.
26 Jan 21 - Welcome to 2021 – the year in which we will get our first hard look at the size of the job in front of us.
22 Jan 21 - The United States' return to the Paris Agreement is vital to the next round of negotiations, says former New Zealand climate ambassador Dr Adrian Macey.
22 Jan 21 - Joe Biden has moved to reinstate the US to the Paris climate agreement just hours after being sworn in as president, as his administration rolls out a cavalcade of executive orders aimed at tackling...
14 Dec 20 - Believe it or not, a 54 per cent rise in the price of NZUs this year does not make 2020 the year of the biggest gains.
14 Dec 20 - As 2020 comes to a close, world leaders have sent a signal of their willingness to step up their climate ambition, at a virtual event celebrating the fifth anniversary of the Paris Agreement.
14 Dec 20 - Rich nations are "lagging badly" on a longstanding pledge to channel $100 billion a year in funding, from 2020 onwards, to help poorer countries develop cleanly and adapt to the worsening impacts of...
11 Dec 20 - Officials will represent New Zealand at this weekend's Sprint to Glasgow event marking the fifth anniversary of the Paris Agreement.
---