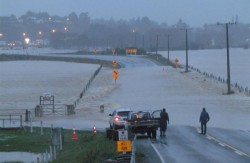 Monday - Climate change wasn't on the lips of New Zealand's political leaders last week, despite serious flooding in Canterbury and Otago and financial warnings from the world's first professor of the economics of disasters.

Thursday - The next generation will have to pay a $535 trillion bill to tackle climate change, relying on unproven and speculative technology.

17 Jul 17 - A billion-dollar Green Infrastructure Fund and New Zealand at net-zero emissions by 2050 will be priorities for the Green Party in government.

13 Jul 17 - The pan-political Globe climate group says cutting New Zealand's greenhouse gas emissions to net-zero by 2050 is worth serious discussion.

12 Jul 17 - The Government has been looking at approving new coal mines by creating special economic zones bypassing usual planning rules, Forest & Bird says.

10 Jul 17 - The public statements of world leaders might have been focused on climate change over the past week, but that doesn't mean it has been on the agenda for New Zealand's political leaders.

7 Jul 17 - By publisher ADELIA HALLETT | Two political actions this week give us some hope that New Zealand might one day get the leadership it needs to survive and prosper in a carbon-constrained world.
---
4 Jul 17 - Lack of political certainty is damaging the effectiveness of carbon markets, says new research.
3 Jul 17 - The National Party's youth arm supports legislation to make New Zealand carbon-neutral by 2050, saying climate change is "bigger than politics".
3 Jul 17 - Climate change wasn't on the agenda for public statements by any of our political leaders last week.
26 Jun 17 - Australia's Climate Council is calling for the backlog of the nation's emissions data to be urgently released, with the Federal Government failing to provide the nation's quarterly data for more than...
8 Jun 17 - A serious political crisis over demands for its president to step down is adding to the threats to Brazil's environment.
29 May 17 - One of the biggest contributors to climate change is the agricultural food industry, but the political will to tackle the issue is lacking.
19 May 17 - Leaving the EU treaty that prevents radioactive waste falling into the wrong hands could prove costly for the UK nuclear industry.
4 May 17 - A new study provides evidence that humans are capable of radically altering the world around us, and offers hope in the face of climate change.
3 May 17 - The 400 million people who depend on the predictability of the River Nile face an uncertain future as global warming delivers more extreme weather.
26 Apr 17 - Landowners with 10,000 hectares of native forest could earn $1.5 million a year in carbon credits, a new report says.
18 Apr 17 - Climate minister Paula Bennett says carbon prices need to go higher, but she won't be putting a price on agricultural emissions and she doesn't think New Zealand needs a climate commission.
18 Apr 17 - Simon Upton's nomination to be the next Parliamentary Commissioner for the Environment has been confirmed by Parliament, but it wasn't unanimous.
---