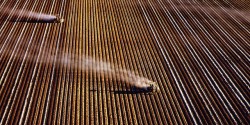 Today 9:00am - One of the biggest contributors to climate change is the agricultural food industry, but the political will to tackle the issue is lacking.

19 May 17 - Leaving the EU treaty that prevents radioactive waste falling into the wrong hands could prove costly for the UK nuclear industry.

4 May 17 - A new study provides evidence that humans are capable of radically altering the world around us, and offers hope in the face of climate change.

3 May 17 - The 400 million people who depend on the predictability of the River Nile face an uncertain future as global warming delivers more extreme weather.

26 Apr 17 - Landowners with 10,000 hectares of native forest could earn $1.5 million a year in carbon credits, a new report says.

18 Apr 17 - Climate minister Paula Bennett says carbon prices need to go higher, but she won't be putting a price on agricultural emissions and she doesn't think New Zealand needs a climate commission.

18 Apr 17 - Simon Upton's nomination to be the next Parliamentary Commissioner for the Environment has been confirmed by Parliament, but it wasn't unanimous.
---
18 Apr 17 - Any lingering hope that a worldwide nuclear power renaissance would contribute to combating climate change appears to have been dashed by US company Westinghouse, the largest provider of nuclear...
13 Apr 17 - Today could see one of the most important debates Parliament has ever had – a special session on proposals to make New Zealand carbon-neutral by the second half of the century.
10 Apr 17 - Proposals for a carbon-neutral New Zealand will go before Parliament this week, as the nation's youth start to apply political pressure over the world they will inherit.
7 Apr 17 - The Government's changes to the Resource Management Act scraped through Parliament last night.
6 Apr 17 - The state of New Zealand's environment is on the agenda for the country's politicians today.
5 Apr 17 - Debate on changes to the Resource Management Act will continue in Parliament today.
4 Apr 17 - By 2020, fossil fuels will no longer be subsidised by the taxpayer, anywhere in the world. And by then, carbon dioxide emissions worldwide will have started to fall.
30 Mar 17 - Officials will report to the Government in the middle of the year on the next round of changes to the Emissions Trading Scheme.
27 Mar 17 - Pollution of waterways by agriculture must be tackled to protect the world's fresh water, the OECD is warning.
22 Mar 17 - New Zealand has received the strongest indication yet of cross-party agreement on climate change, with climate minister and deputy prime minister Paula Bennett saying she can work with a new...
20 Mar 17 - Two major environmental reports and a new sustainability law are on the agenda this week.
20 Mar 17 - Windflow Technology, the unprofitable wind turbine manufacturer, has widened its first-half loss and says it needs new injections of capital.
---