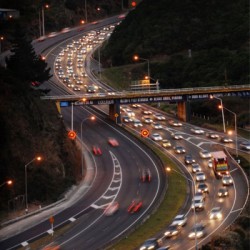 Today 9:00am - The climate benefits of New Zealandís increasing use of renewable electricity generation are being wiped out by our love affair with road transport.

Today 9:00am - One of the biggest contributors to climate change is the agricultural food industry, but the political will to tackle the issue is lacking.

Friday - New Zealandís greenhouse gas emissions fell slightly in 2015 - but only because a drought forced dairy farmers to cut production.

23 May 17 - Substantial cuts to greenhouse gas emissions now will prevent New Zealanders alive today being exposed to temperatures they have never experienced before, says the New Zealand lead author of research published today.

18 May 17 - Slow-steaming - the most effective method of cutting shipping emissions Ė will cause problems for New Zealandís fresh food exporters, Cabinet has been told.

16 May 17 - Failing to hold climate warming to 1.5deg could spell disaster for New Zealandís ancient West Coast podocarps forests, new research shows.

4 May 17 - Officials are investigating whether a price should be put on agricultural greenhouse gas emissions, despite the issue being specifically excluded from the current review of the Emissions Trading Scheme.
---
4 May 17 - A new study provides evidence that humans are capable of radically altering the world around us, and offers hope in the face of climate change.
3 May 17 - The Productivity Commission is to investigate the cost of decarbonising New Zealandís economy.
28 Apr 17 - Two major reports on climate change Ė one on the likely impacts on New Zealand, the other on ways the country can cut emissions Ė were released a year ago by the countryís top scientific body, the...
11 Apr 17 - Do you wear runners, drink coffee or own a mobile phone? The chances are that these products cruised to you on a ship.
7 Apr 17 - Uncertainty over the Governmentís plans to implement the Paris Agreement on climate change is keeping New Zealandís energy executives awake at night, says the World Energy Council.
4 Apr 17 - Researchers from Ohio State University have found a way to recycle food waste, specifically eggshells and tomato skin, into car tyres, replacing carbon black, a petroleum-based filler used in...
3 Apr 17 - The man likely to be the next Parliamentary Commissioner for the Environment says there might not be enough international carbon credits available to meet New Zealandís Paris Agreement targets.
28 Mar 17 - New Zealandís greenhouse gas emissions from energy fell overall in the December quarter Ė but the rising use of liquid fossil fuels means emissions from transport are climbing.
24 Mar 17 - A cross-party report on how New Zealand can get to net-zero emissions in the second half of the century ignores some immediate opportunities, the Bioenergy Association says.
21 Mar 17 - New Zealand cannot cut greenhouse gas emissions in line with the Paris Agreement and keep farming the way it is now.
20 Mar 17 - Two major environmental reports and a new sustainability law are on the agenda this week.
20 Mar 17 - NZ Windfarms says its new commercial director, John Worth, will assume full responsibility for the company's daily operations, taking over from acting chief executive Stuart Bauld.
---