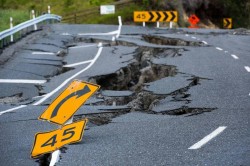 Thursday - Climate change will have long-term impacts on New Zealand's land-based industries and biodiversity – but we don't have enough information to predict what will happen.

Monday - New Zealand can get to net-zero emissions by 2050, the Productivity Commission says.

13 Apr 18 - Increased hydro-electricity generation and a 1.5 million fall in the national sheep flock has led to a slight fall in New Zealand's greenhouse gas emissions.
9 Apr 18 - New Zealand is calling for deeper emissions cuts from the international shipping industry.

4 Apr 18 - Frequent, affordable public transport is in and highways are out as the government battles to get New Zealand's runaway transport emissions under control.

29 Mar 18 - An immediate carbon price cap of $100 a tonne and a $25 price floor is needed if New Zealand is to be carbon-neutral by 2050, says former Environment Secretary Dr Roger Blakeley.

22 Mar 18 - The wood industry is in love with its new forestry minister.
---
19 Mar 18 - By publisher ADELIA HALLETT | When it comes to action on climate change, we're pretty much back to where we were 10 years ago, when Carbon News started publishing.
19 Mar 18 - Climate and energy expert Professor RALPH SIMS explains why natural gas is not a "bridging" fuel between dirtier fossil fuels and low-carbon energy. Searching for it and using it, he says, will delay...
15 Mar 18 - Meeting New Zealand's Paris Agreement pledge from domestic emissions cuts alone would put the country on a straight line to carbon-neutrality by 2050, officials have told the Government.
13 Mar 18 - Microplastics are contaminating rivers as well as the ocean, say scientists.
9 Mar 18 - Cities are generating up to 60 per cent more greenhouse gases than thought, thanks to their reliance on goods and services from outside their borders.
8 Mar 18 - Auckland Council could issue green bonds to cover the cost of cutting emissions and adapting to climate change.
6 Mar 18 - The Government knows delaying lifting the carbon price cap could cost taxpayers money, but says it is unlikely to move until next year.
5 Mar 18 - The Ministry for the Environment is looking to form direct partnerships with businesses to cut emissions out of the New Zealand economy.
1 Mar 18 - Fifteen per cent of global greenhouse gas emissions are now covered by trading schemes.
28 Feb 18 - Mike Bennetts is determined his company, Z Energy, will not have a Kodak moment.
27 Feb 18 - Primary industries contribute nearly two-thirds of the country's greenhouse gases but account for less than 8 per cent of economic production, new figures show.
27 Feb 18 - New Zealand could run its heavy vehicles on locally produced low-carbon biofuels – but only if the country decides collectively to act.
---