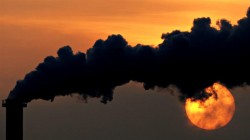 Today 10:00am - The Government might increase New Zealandís 2030 emissions reduction target.

Wednesday - New Zealanders are among the billions of city dwellers who will be hit by the impacts of climate change within three decades, a new report shows.

Wednesday - By JONATHAN McKEOWN | It is always refreshing when structures and processes work as they were designed to. Itís an absolute triumph when it involves the public sector, an industry body and business.

18 Jun 18 - By publisher ADELIA HALLETT | Is Opposition Leader Simon Bridgesí offer to work with the Government on climate change policy worth any more than a dodgy hot-air carbon credit?

12 Jun 18 - Climate minister James Shaw has invited the National Party to help him to draft the Zero Carbon Act.

11 Jun 18 - Entries are open in this yearís Sustainable Business Network awards.

7 Jun 18 - Carbon prices of more than $800 a tonne will be needed if New Zealand doesnít tackle greenhouse gas emissions from agriculture, the Government has been told.
---
29 May 18 - Walking and cycling programmes in New Plymouth and Hastings are paying good returns on investment by cutting greenhouse gas emissions and improving health, a new study shows.
17 May 18 - Another organisation is telling the Government to shift the tax burden from the production of private wealth to the consumption of public wealth, aka the environment.
10 May 18 - KiwiRail says the new government hasnít told it to reverse plans to replace electric locomotives on the Main Trunk Line with diesel engines.
4 May 18 - Auckland is signing up to go fossil fuel-free, pledging to make the city centre emissions-free by 2030 and to clean up the bus fleet.
27 Apr 18 - The Productivity Commissionís draft report will be high on the agenda for the National Partyís Bluegreens forum in Christchurch this weekend.
27 Apr 18 - By publisher ADELIA HALLETT | Debate about whether New Zealand can decarbonise without going bankrupt should now be over.
19 Apr 18 - Climate change will have long-term impacts on New Zealandís land-based industries and biodiversity Ė but we donít have enough information to predict what will happen.
16 Apr 18 - New Zealand can get to net-zero emissions by 2050, the Productivity Commission says.
13 Apr 18 - Increased hydro-electricity generation and a 1.5 million fall in the national sheep flock has led to a slight fall in New Zealandís greenhouse gas emissions.
9 Apr 18 - New Zealand is calling for deeper emissions cuts from the international shipping industry.
4 Apr 18 - Frequent, affordable public transport is in and highways are out as the government battles to get New Zealandís runaway transport emissions under control.
29 Mar 18 - An immediate carbon price cap of $100 a tonne and a $25 price floor is needed if New Zealand is to be carbon-neutral by 2050, says former Environment Secretary Dr Roger Blakeley.
---