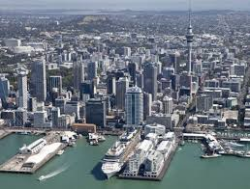 7 Dec 17 - Floods, fires, droughts, storms, slips, pests and diseases are Auckland's future, threatening primary production and human health, warns a new report.

7 Dec 17 - Carmakers putting huge investment into electric vehicles at the behest of governments a having to live with the fear of potentially choking on unsold inventories.

6 Dec 17 - Some of the world's most established carmakers are starting to reveal what they've been working on for the EV world.

5 Dec 17 - Pure electric cars cost less over four years than petrol or diesel cars in the UK, US and Japan, researchers say, but China is set to lead the market.

4 Dec 17 - New climate minister James Shaw has a clear message for business: get your house in order because New Zealand is decarbonising ... fast.

4 Dec 17 - E-mails between the European Commission and Airbus show how the European aircraft manufacturer was offered privileged access to the EU decision-making process, allowing it to write its own environmental rules.

4 Dec 17 - Electric cars remain something of a novelty, commanding premium prices and presenting charging challenges, but another kind of electric vehicle has been gaining momentum: the e-bike.
---
1 Dec 17 - Working with the Red Cross has won New Zealand Post the top prize in the Sustainable Business Network awards this year.
30 Nov 17 - The climate commission – one of the Government's promises for its first 100 days in office – is likely to play a role in setting carbon prices, the new climate minister says.
30 Nov 17 - Almost every sixth car sold in the world will be electric by 2025 ... and those cars are more likely to be emblazoned with Tesla's logo than BMW's.
29 Nov 17 - As many as one in six species faces extinction as a result of climate change, scientists are warning in a new report.
29 Nov 17 - Scientists are closer to making solar-powered jets a reality. They now know how to make jet fuel out of air, sunlight and water.
27 Nov 17 - The Government is in talks to keep electric locomotives on the main trunk line.
27 Nov 17 - Within the next 30 years, there could be another 25 million kilometres of road worldwide – enough to encircle the planet 600 times.
23 Nov 17 - Seeking to curb toxic diesel fumes, London transport officials are hunting for new sources of energy for buses. The latest idea? Coffee grounds.
21 Nov 17 - A German utility is planning a string of electric vehicle fast chargers every 120 to 180 kilometers along highways in seven European countries, from Italy to Norway.
20 Nov 17 - Elon Musk has unveiled Tesla's first electric semi-truck at an event in Los Angeles that also included the surprise reveal of a new Tesla sports car.
10 Nov 17 - Contact Energy is getting a lot of attention for its pioneering green borrowing programme, certified by Climate Bonds Initiatives and launched in mid-August.
8 Nov 17 - New Zealand's clean electricity supply has won Auckland 48th place in the 2017 Smart City Index – but its traffic congestion and lack of environmental protection have let it down.
---