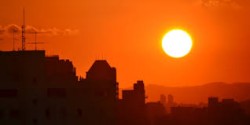 8 Aug 18 - Allowing the world to warm by even 2deg could threaten the existence of humans.

7 Aug 18 - Unchecked climate change will cost New Zealand nearly $6 billion a year in lost earnings, researchers have calculated.

3 Aug 18 - Hydrogen-powered trains could play a big part in cutting New Zealandís greenhouse gas emissions, KiwiRail says.

31 Jul 18 - Green Party co-leader James Shaw might be the climate minister, but itís in his statistics portfolio that he is about to change everything.
30 Jul 18 - National Party leader Simon Bridges is promising to have ďthe best ideasĒ on the environment.

23 Jul 18 - Cross-party talks on the Zero Carbon Bill could be under way within a month.

19 Jul 18 - Finding a place to charge your electric car is about to get easier.
---
18 Jul 18 - Consultation on the next review of the Emissions Trading Scheme will start next month.
16 Jul 18 - Banks can expect pressure from the countryís largest urban authorities to get their money out of fossil-fuel investment.
13 Jul 18 - New central bank head Adrian Orr is warning of financial crisis and mass social unrest if the world doesnít urgently address climate change.
6 Jul 18 - One of the 53 big companies stepping up to publicly support the Zero Carbon Bill says it doesnít want New Zealandís climate policy to end up like that of Australia.
29 Jun 18 - Keeping organic waste out of rubbish dumps will double its carbon footprint and deny the country an important source of renewable energy, says the countryís largest landfill operator.
28 Jun 18 - Revelations that methane emissions from natural gas production in the United States could be 60 per cent higher than officially acknowledged are unlikely to affect New Zealand, officials say.
27 Jun 18 - The future of low-emissions transport is not necessarily electric, car makers are telling the Government.
27 Jun 18 - By Toyota NZ chief executive ALASTAIR DAVIS | The Productivity Commissionís draft on the move to a low-carbon emission economy through a Zero Carbon Act is a sound report on what lies ahead.
25 Jun 18 - The Government might increase New Zealandís 2030 emissions reduction target.
20 Jun 18 - New Zealanders are among the billions of city dwellers who will be hit by the impacts of climate change within three decades, a new report shows.
20 Jun 18 - By JONATHAN McKEOWN | It is always refreshing when structures and processes work as they were designed to. Itís an absolute triumph when it involves the public sector, an industry body and business.
18 Jun 18 - By publisher ADELIA HALLETT | Is Opposition Leader Simon Bridgesí offer to work with the Government on climate change policy worth any more than a dodgy hot-air carbon credit?
---