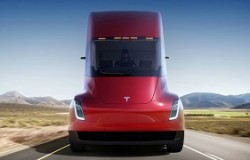 Monday - Elon Musk has unveiled Tesla's first electric semi-truck at an event in Los Angeles that also included the surprise reveal of a new Tesla sports car.

10 Nov 17 - Contact Energy is getting a lot of attention for its pioneering green borrowing programme, certified by Climate Bonds Initiatives and launched in mid-August.

8 Nov 17 - New Zealand's clean electricity supply has won Auckland 48th place in the 2017 Smart City Index – but its traffic congestion and lack of environmental protection have let it down.

7 Nov 17 - A quarter of global oil-refining capacity could become unviable and be forced to close by 2035 as a swelling tide of climate regulations and rapid advances in clean technologies cut oil demand, a new report shows.

6 Nov 17 - INTERNATIONAL NEGOTIATIONS to put meat on the bones of the Paris Agreement start in Bonn today, with Fiji in the presidency.

3 Nov 17 - Wellingtonians want rooftop gardens – and the idea is being investigated by the city's university.

27 Oct 17 - Much of New Zealand's $20 billion worth of stormwater and wastewater systems will not cope with the impacts of climate change, an expert is warning.
---
16 Oct 17 - Spending up to $20 billion on buying foreign carbon credits will be a "severe imposition" on the economy and will delay New Zealand's decarbonisation, warns our former climate ambassador.
10 Oct 17 - A large swathe of the East Coast will be at risk of fire for at least half of the year by the end of the century, a conference in Auckland has heard.
10 Oct 17 - New Zealanders are buying bigger cars, damaging the country's chances of cutting greenhouse gas emissions, say Toyota New Zealand chief Alistair Davis.
5 Oct 17 - Carbon prices of $100 a tonne - and possibly as high as $225 – are being foreshadowed in a new report.
5 Oct 17 - New Zealand will be stuck with high-emitting technologies if it doesn't move to cut emissions soon, the Parliamentary Commissioner for the Environment is warning.
2 Oct 17 - New Zealand will have to use fossil fuel-generated electricity to charge electric cars if it's not careful, Canterbury electricity distribution company Orion is warning.
29 Sep 17 - Z Energy is investing in the carbon-positive car-sharing company Mevo.
28 Sep 17 - A second government department has said New Zealand's current electric vehicle policy won't get people out of fossil fuel-driven cars.
27 Sep 17 - Issuing carbon credits for schemes that cut greenhouse gas emissions could tip the balance in favour of projects like public transport, a consultant says.
18 Sep 17 - United Future's new leader says he supports the Emissions Trading Scheme, the Zero Carbon Act and wants New Zealand to be carbon netural by 2050.
12 Sep 17 - If Sir Geoffrey Palmer had had his way, New Zealand would have already cut greenhouse gas emissions by 40 per cent.
11 Sep 17 - Two of the parties that could be involved in any centre-left coalition after the election want to scrap the Emissions Trading Scheme.
---