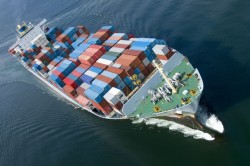 Monday - Shipowners want out of the Emissions Trading Scheme, saying it wonít be fair if they have to pay twice for their emissions.

Friday - Treasury wants to retain the ability to use international carbon credits to meet New Zealandís 2050 emissions reduction target, confidential papers show.

19 Mar 19 - Taranaki is talking up the hydrogen economy to replace its petrochemical wealth.

15 Mar 19 - Four of New Zealandís largest emitters are joining forces to supply their own carbon credits to meet obligations under the Emissions Trading Scheme.

13 Mar 19 - Atmospheric physicist Professor James Renwick is struggling with the idea that the world might really delay action on climate change to the point of disaster.

13 Mar 19 - Nearly 14 per cent of global greenhouse gas emissions will be subject to a carbon price this year, World Bank figures show.

13 Mar 19 - Modern coal-fired power stations produce more ultrafine dust particles than road traffic and can even modify and redistribute rainfall patterns, a new 15-year international study shows.
---
12 Mar 19 - The Government will release details of its climate change policy timetable on Friday.
12 Mar 19 - A decision to replace two coal-fired boilers at Christchurch Hospital with boilers that burn wood will help to create confidence in the woody biomass market, the Bioenergy Association says.
8 Mar 19 - It mightnít be greener, but Australia is cleaner than New Zealand, a new report says.
7 Mar 19 - Councils considering proposals under the Resource Management Act might soon have to take greenhouse gas emissions into account.
5 Mar 19 - A company given millions of dollarsí worth of free carbon credits says the system giving it the units should not be stopped until at least 70 per cent of its competitors also face a carbon price.
28 Feb 19 - New Zealand could slash five million tonnes off its annual greenhouse gas emissions through the use of biomass energy in factories and for heavy transport, new figures show.
27 Feb 19 - The risk of Queensland fruit flies establishing in New Zealand is expecting to increase as the climate warms, threatening the countryís horticultural industry.
27 Feb 19 - Climate minister James Shaw says he doesnít intend explaining climate change to the West Coast Regional Council, which has expressed doubt about whether it is being caused by human activity.
25 Feb 19 - A National government might give fewer free carbon credits to trade-exposed industrial emitters but is unlikely to force a large-scale reduction in biological emissions from agriculture, according to...
21 Feb 19 - Greater environmental taxes and strengthening of the Emissions Trading Scheme are on the way if the Government adopts recommendations from its Tax Working Group.
21 Feb 19 - Applications for the latest round of Government funding for low-carbon transport projects are open.
19 Feb 19 - Treasury expects most emitters to pay the Government a carbon fee this year instead of surrendering carbon credits Ė and that will cost the country money.
---