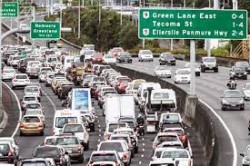 Today 12:00pm - The Government is pre-empting likely criticism from the Climate Change Commission by today announcing a suite of policies tackling greenhouse gas emissions from transport.

Today 12:00pm - United States president Joe Biden has unveiled a radical change in direction from the Trump era by halting fossil fuel activity on public lands and directing the United States government to start a full-frontal effort to lower planet-heating emissions.

14 Dec 20 - A training course on how to take part in the first Government auction of carbon credits will be held on Thursday.

11 Dec 20 - A major shareholder in New Zealand's only oil refinery says it should be converted to producing renewable fuels.

11 Dec 20 - The Government is expected to update Southland today on talks to stop – or at least delay – the closing of the Tiwai Point aluminium smelter.

10 Dec 20 - A training course on how to take part in the first Government auction of carbon credits will be held next Thursday.

9 Dec 20 - The operator of the Huntly coal-and-gas-fired power station says it will cut greenhouse gas emissions in line with the Paris Agreement.
---
9 Dec 20 - Z Energy is sticking with its dream of selling low-emissions biodiesel, albeit with an Australian product because its own production plant has been mothballed.
9 Dec 20 - Today is the fifth anniversary of the Paris Agreement on climate change – an event being marked by the group Parents for Climate Aotearoa (formerly Millions of Mothers) with a lunchtime toy picnic at...
8 Dec 20 - Greater Wellington Regional Council's climate committee meets today.
7 Dec 20 - Denmark's climate minister is fairly certain that the deal to close down the nation's oil industry by 2050, announced on Friday morning, marks the biggest moment in his career.
7 Dec 20 - Parliament sits tomorrow and Wednesday.
4 Dec 20 - The Christchurch office of the Accident Compensation Corporation is the target of 350 Aotearoa's fossil fuel-divestment campaign today.
3 Dec 20 - Climate activists from 350 Aotearoa take their action to the Accident Compensation Corporation's head office in Molesworth St, Wellington today, as they try to convince the State-owned insurer to...
2 Dec 20 - Today is climate emergency day, when Prime Minister Jacinda Ardern will move in Parliament that New Zealand declares a climate emergency.
1 Dec 20 - Rail operators in Italy and Germany are turning to hydrogen power in an attempt to make their train networks more environmentally friendly, with Deutsche Bahn, partnering up with Siemens, among the...
1 Dec 20 - Climate activist organisation 350 Aotearoa will perform street theatre in the Octagon at lunchtime today in a bid to get the government-owned Accident Compensation Corporation to stop investing in...
30 Nov 20 - Joining a New Zealand-led trade pact on climate change could be more effective than putting up trade barriers on carbon, New Zealand will tell Europe and the United Kingdom.
30 Nov 20 - Like hydrogen, ammonia can play a key role in decarbonising Europe's heavy industry and transport. So why isn't it grabbing the headlines in the same way?
---